Welcome To Our Store
It is important that your towing reports have the correct disclaimers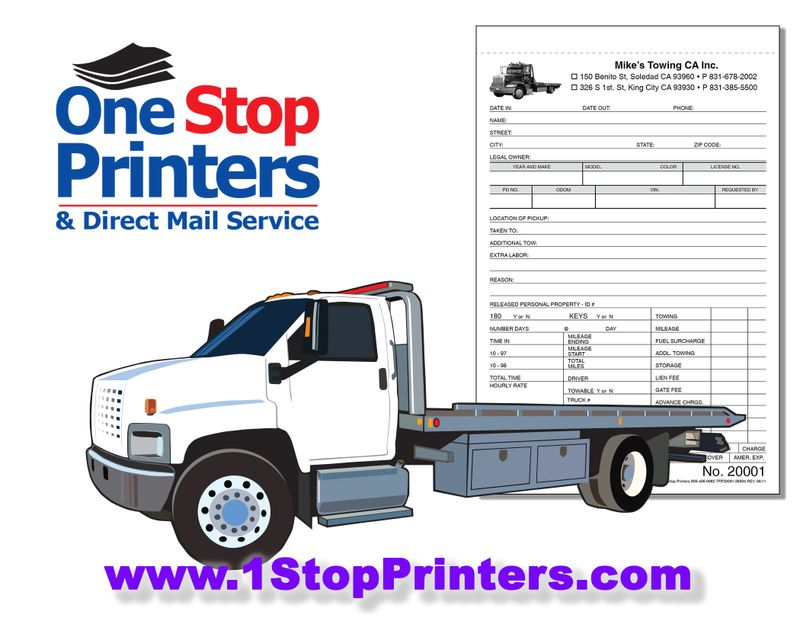 Posted February 28, 2020
I would like to thank Jesus Reyes for having One Stop Printers print Mike's Towing CA Inc's towing receipts. He chose Towing Work Order #TFP20091 because it has disclaimer: Upon request, you are entitled to receive a copy of the towing fees and access notice. You may ask why this is important.
Jesus had received an inspection from the California Highway Patrol and was cited for not having it on his towing invoice. This lead to a problem because citations always come with a deadline; if it isn't met, he loses the ability to tow and the corresponding income. He had contacted his current printer at the time and was told he was using a standard form and they would get back to him with the cost to do a custom form.
Now, for One Stop Printers this is never the case. Although this disclaimer was standard we make any
changes
to our stock towing receipts for
FREE
, or we will create a completely new one for the same price – FREE.
No hassles
, no I will get back to you… just tell us what you need and we do it. We only charge the published prices on our website. It's that simple.
You may think that the sample you send needs to be really detailed. Not really, we have been doing towing tickets for a long time and have a good idea of what is needed. So if you tired of the runaround, give One Stop Printers a call:
800-406-0982
!
---
One Stop Printers New Bill of Lading for Carriers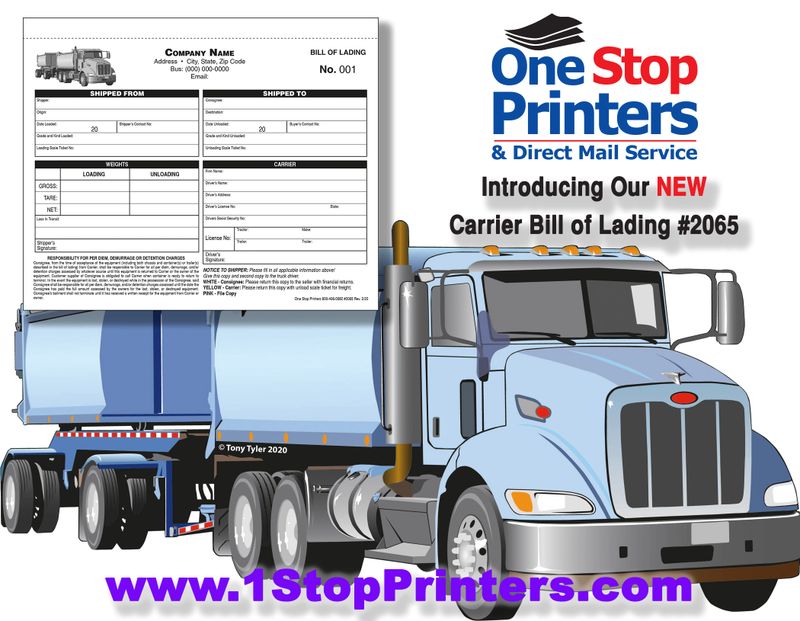 Posted February 25, 2020

If you are not putting miles under your seat and correctly logging terminal wait time, you are loosing money, no worries, One Stop Printers can help you with are Carrier bill of lading weight 2065 receipt. It even includes a disclaimer for detention charges and weight section.

Carrier's bill of lading receipt incorporates a section for recording loaded and empty weights along with capturing all the information necessary to track the truck, trailer and load. This delivery receipt is available if 2 part carbonless (white and yellow sets) and 3 part carbonless (white, yellow, and pink sets). Finish size is 8.5" x 7" with a tear-out size of 8" x 7" making it ideal to book with wraparound cover for easy use in you tractor.

So send us your logo and company information and we will send you back a proof before printing. Don't have a logo? No problem. Just select one of our truck illustrations.

Remember that all of One Stop Printers carrier receipts can be customized to meet your company's requirements for FREE. Or, it you need a custom bill of lading, send us your requirements and we will set it up for FREE, all you pay for is the printing. And we keep it on file for easy reordering. Call today: 800-406-0982.

---
Project a professional image with One Stop Printers pest control receipts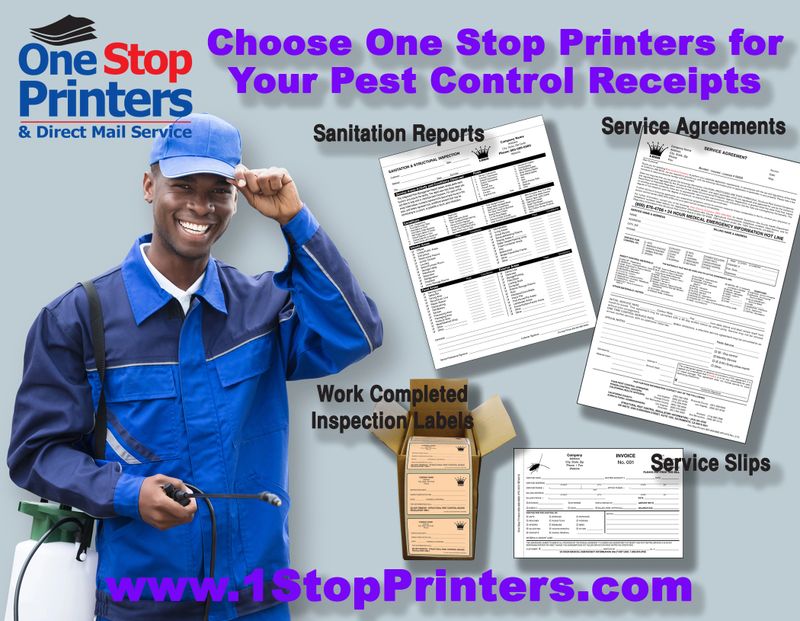 Posted: January 31, 2020
Whether you provide pest control services for home, or apartment owners, restaurants and hotels you must project a professional image, not only with your appearance, equipment, and truck, but also the receipt you provide your clients. Your company's receipts must be easy to understand, contain all the services you provided and the chemical used.
One Stop Printers provides a full range of duplicate and triplicate pest control receipts such as our Pest Control Service Slips PC1072, and Service Agreement PC1073. For those who provide services for restaurants and hotels we have a Sanitation & Structural Inspection Report #2063 which is very informative for both you and your clients. Let's not forget termite companies which require because of the nature of the chemicals used, specialized forms and labels. So check out our Termite Inspection and Work Completed Label 2059.
Don't forget we will customize any form and label for
FREE
or create a completely new one for
FREE
, so you have exactly what you need. All you pay for is the printing. We keep your artwork on file for easy reordering and enclose a reorder form. You won't have to remember any passwords, or how to operate our website; just email, fax or call us (yes we answer the phone) when it is time for more, and we will take it from there.
So call today 800-406-0982
to see how we can assist you!
---
Customized plumbing work orders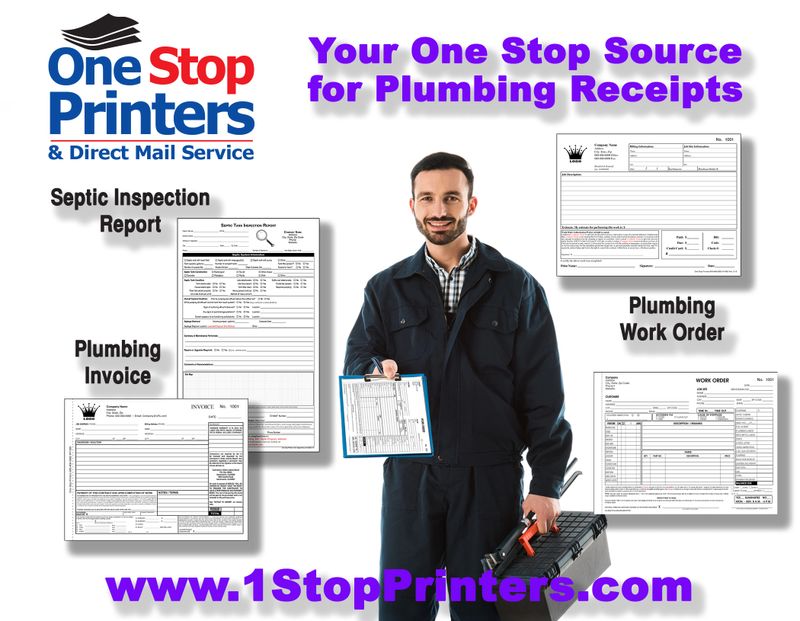 Posted: January 17, 2020
When selecting tools for your plumbing business it is always best to invest in ones that will do the job quickly and are built to last. The same thing can be said for your business receipts, whether you call it an invoice, work order, or job ticket it's a tool, and performs the same function.
It must be portable, contain everything necessary for billing your customer, easy to use, and easy for your customers to understand. This is where One Stop Printers can assist you. We make it easy for you to alter any of our plumbing receipts to fit your company's needs and we do it for
FREE
. In addition, if you need a completely new duplicate or triplicate receipt we will set it up for
FREE
, too.
We archive all jobs for our clients making reordering simple and easy. Included with every order is a reorder form that you can fax, email or just call us when you need more. Yes, we answer the phone and are always please to talk to you. So, don't wait, order today or call us at: 800-406-0982 to find out how we can help you.

---
Give your company a professional image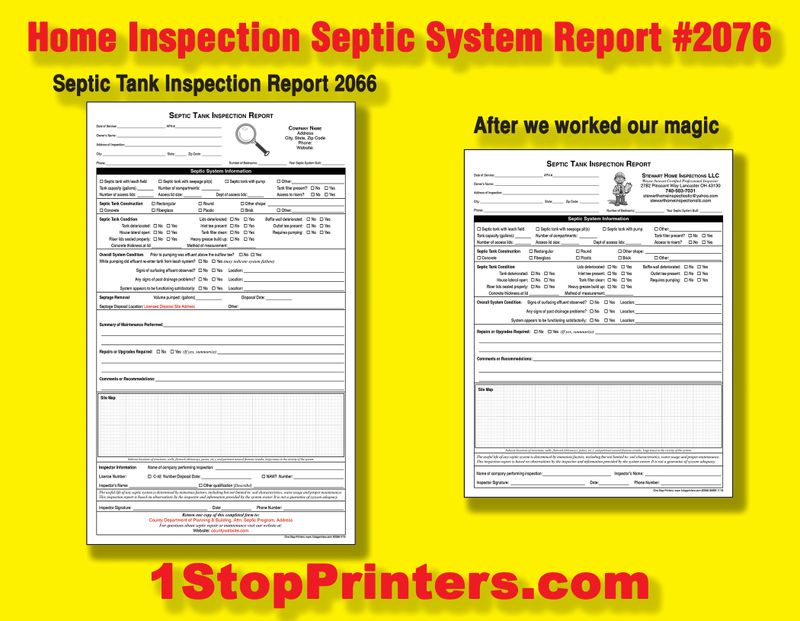 Posted: November 20, 2019
Cari Stewart called me and said she was on our website: 1stopprinters.com and was trying add Stewart Home Inspections LLC's information to our Septic Tank Inspection Report 2066. I told her it was not automated because about 2/3's of my customers make minor to major changes and it is easier if we do it, just send me your information, and logo and I would get her a proof.
The septic system inspection report she was interested in was designed for companies that pump septic systems and do an inspection at the same time, the inspection report is 8.5" x 14" and contains areas to record septage disposal information in addition to inspection. Upon review by our staff it was determined that since Stewart Home Inspections LLC was only doing inspection so we removed the septage disposal information and was able to fit everything on an 8.5" x 11" saving Cari some money for printing, and as always when we make alterations to our existing receipts it is always,
FREE.
We would like to thank Cari and Wayne of Stewart Home Inspections LLC for choosing One Stop Printers to print it's Septic System Inspection Reports and if you have a home in Lancaster Ohio and need home inspection services, give them a call at: 740-503-7031.
Don't forget if you need a completely new custom duplicate or triplicate receipt, give One Stop Printers a call at:
800-406-0982
, we would be please to assist you.
---
Your company image means everything!


Posted November 15, 2019
Get your earth moving company to standout with One Stop Printers unique business card designs. Choose from our standard business card design like, Backhoe Service Business Card #2073, or let us design one especially for your backhoe company. Full color are printed on 14 point matte or UV Coated, with other options available, too.
Choose One Stop Printers to print your business cards and rental agreements like, Earth Moving Invoice & Work Order #1071, it's easy, we do all the work. Just send us the contact information (tony@1stopprinters.com) you want on the card and we take it from there. We understand that when your are not in the field moving dirt, you are not making any money, we have the staff and software to make you card look nice and will send you a proof before printing. Saving you time and money.

---
We will make you look good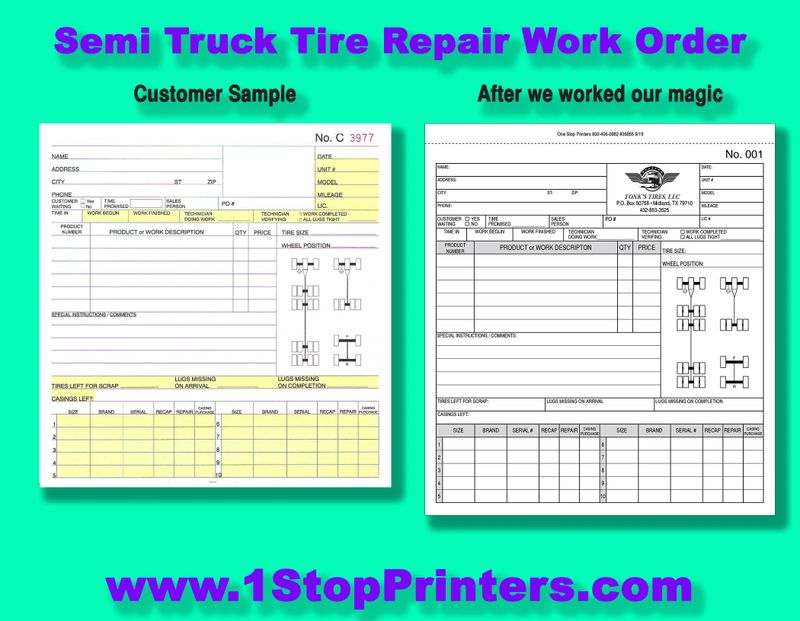 Posted: November 14, 2019
I would like to thank Adam from Tonk's Tires, LLC in Midland Texas for ordering his diesel truck tire repair orders from One Stop Printers. This is not a standard receipt off of our website. He provided a rough sample of a work order he had used before and asked if it was something we could print for him being it was not a standard size form on our website. Well of course!
You never get a second chance at a first impression. We feel strongly that it is very important to have a professional look when our customers are selling their products and services, so we cleaned it up a bit, and we did it for FREE. If you are tired of the runaround from your current printer give us a call at: 800-406-0982 we would be please to assist you with your trucking receipts.
So if you are a trucker and find yourself in Midland Texas with a flat, give Tonk's Tires, LLC a call.

---
You don't get a second chance at a first impression! Make the best of it.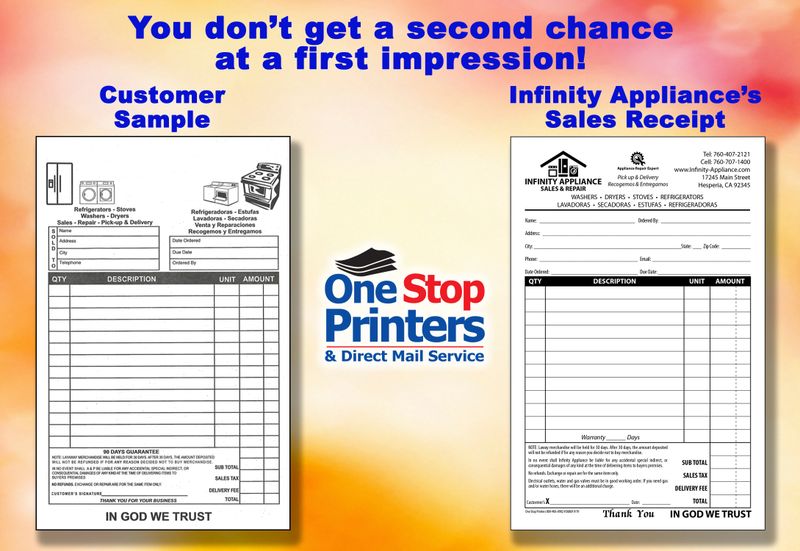 Posted: October 11, 2019
One Stop Printers would like to thank Ismael for choosing us to print Infinity Appliance's Sales & Repair duplicate receipt. I have been saying for years that you don't get a second chance at a first impression. Even something as simple as your receipts need to communicate you are professional and do a good job. Once again it illustrates how we improve our customers' image.
Ismael brought me a sample of what he wanted to have printed for his store. One glance and we knew we could make it more functional and look better. The most important changes were to capture all his customer's information, and fix the disclaimer to match Infinity's company policies.
One Stop Printers makes it easy for you to look good because we do all the artwork and set-up for FREE! All you pay for is the printing. Call us today at: 800-406-0982 to find out how we can assist you.

---
Heavy Equipment Operator Equipment Rental Receipts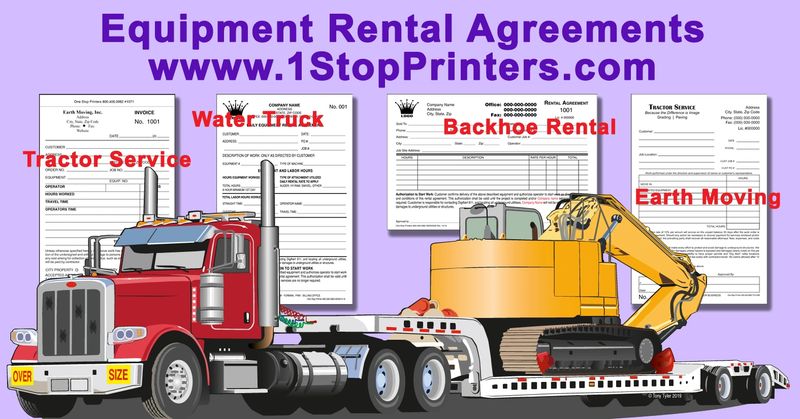 Posted September 11, 2019
You have the heavy equipment and skill to do the job, the only piece of the puzzle you are missing is a work order. Whether you operate a tractor, water truck, backhoe or earth moving equipment, One Stop Printers has a duplicate or triplicate receipt to ensure you record work completed so you can accurately bill you customers. Try our Earth Moving Invoice Work Order # 1071, Tractor Service Work Order TS#1085 or our Daily Equipment Rental Agreement #2048. Don't forget you can make changes and include your logo in black and white for
FREE
. Have you been using the same rental agreement for years and don't want to change, no problem. We will reset the agreement for
FREE
and keep it on file for convenient reordering.
---
Triplicate towing receipts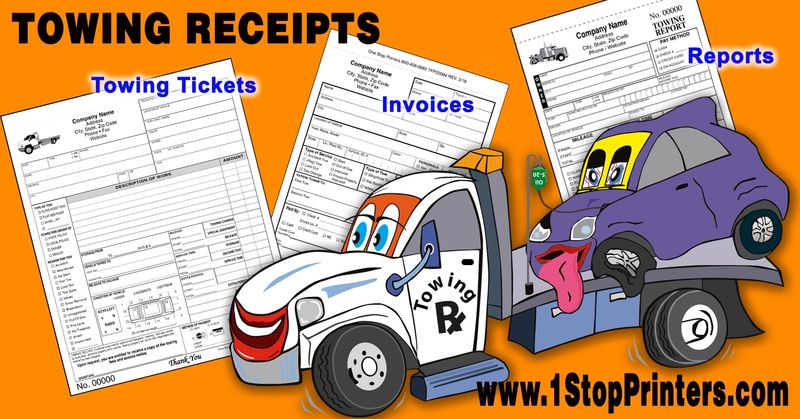 Posted August 21, 2019
You have worked in the towing industry for years and finally took the plunge and bought a tow truck, tada you are now in business. Suddenly you realize you don't have towing receipts. What to do? Simple, contact One Stop Printers at
www.1StopPrinters.com
or call
800-406-0982
, we carry a full line of duplicate invoices or triplicate work orders.
If you don't see anything you like or want to make changes, no problem, we do that for
FREE
. Not only that they are inexpensive and we will ship in less than 5 days. So don't wait, contact One Stop Printers Today!
---
Customize you plumbing work orders!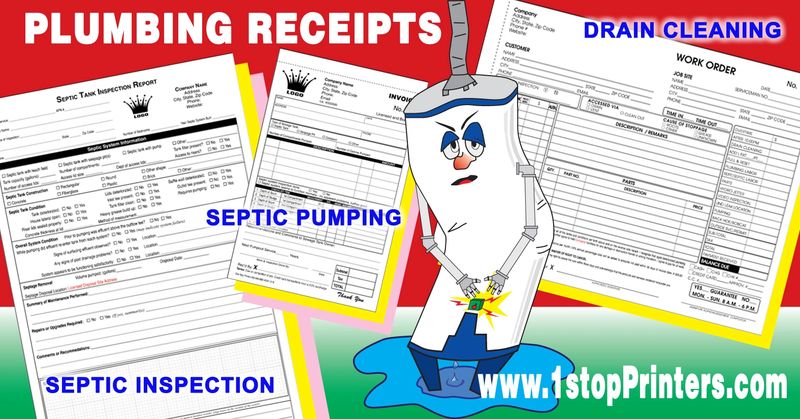 Posted: August 14, 2019
Order your plumbing work orders, invoices, septic inspection reports through One Stop Printers and we will customize it to meet your company's requirements for FREE! Contact us today!

Customer service still rules the day!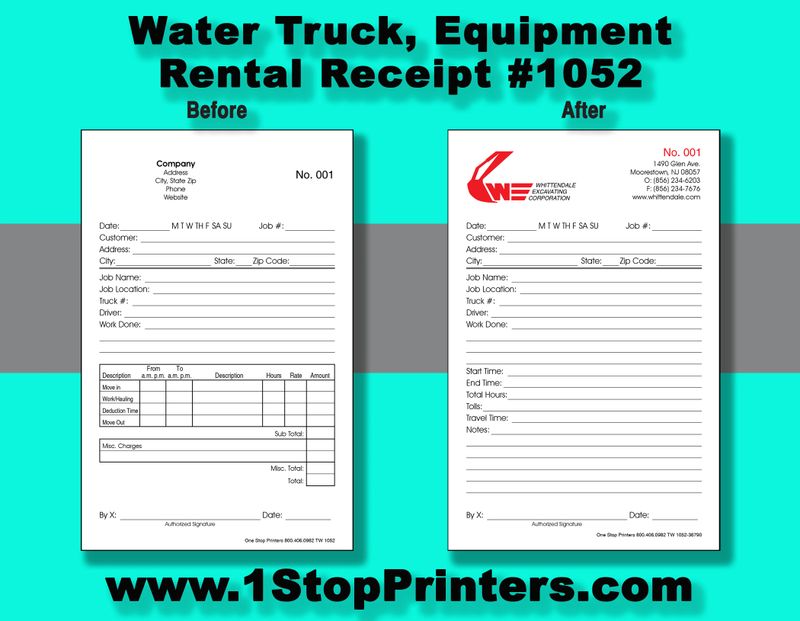 Posted July 24, 2019
We would like to thank Whittendale Excavating Corporation for choosing One Stop Printers to print its equipment rental job receipts. They initially asked to make some minor changes to our Water Truck Invoice #TW1052, drop in the logo and normal contact information, which we did and sent a proof.

After all the partners had a chance to review the proof, it was decided the work order didn't quite work for their operation, and asked that the bottom of it be reworked, giving them more room to write information, and they wanted their logo in color, which we were happy to do. What you see above is the before version and completed receipt on the right.

There is nothing worse than to work with a receipt that doesn't fit your needs, which leads to mistakes in billing or lost dollars. One Stop Printers understands this concept and work to satisfy our customers requirements. Whether you need to make minor changes, major changes or need us to develop a completely new receipt, it's always FREE at One Stop Printers.

If you need help streamlining your receipts, give us a call at: 800-406-0982. Experience the difference, contact us today!

---
Don't get nickel-and-dimed to death for a custom bill of lading!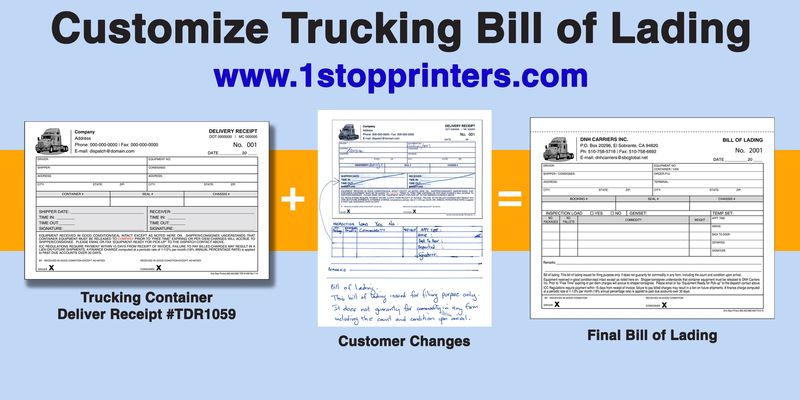 Posted: July 9, 2019

We would like to thank DNR Carriers Inc for recently purchasing its bill of lading from us. When we received a call from them it started out the typical way, "We like your Trucking Container Delivery Receipt # TDR1059 but would like to make some changes, is that possible?"

I think most clients who ask this question are skeptical that we will not charge extra for making changes; are waiting for the exception, and then being told what they want printed, will cost extra. Well, they are always surprised and pleased when we tell them to send us the changes, don't forget to send your logo if you have one, and we will set it up and send a proof. We don't even ask for money up front, we want to ensure that your are completely satisfied with the artwork before the order is placed! It's that simple.

Since the size of the bill of lading had changed from 8.5" x 5.5", to 8.5" x 7" the price changed to our standard cost for that size, plus sales tax and a flat rate of $18.00 for shipping. If you are tired of being nickel-and-dimed to death by those other website's which advertise a cheap price and never deliver on it promise, give us a call to see how we may assist you: 1-800-406-0982.

---
Truck and trailer illustrations for the trucking industry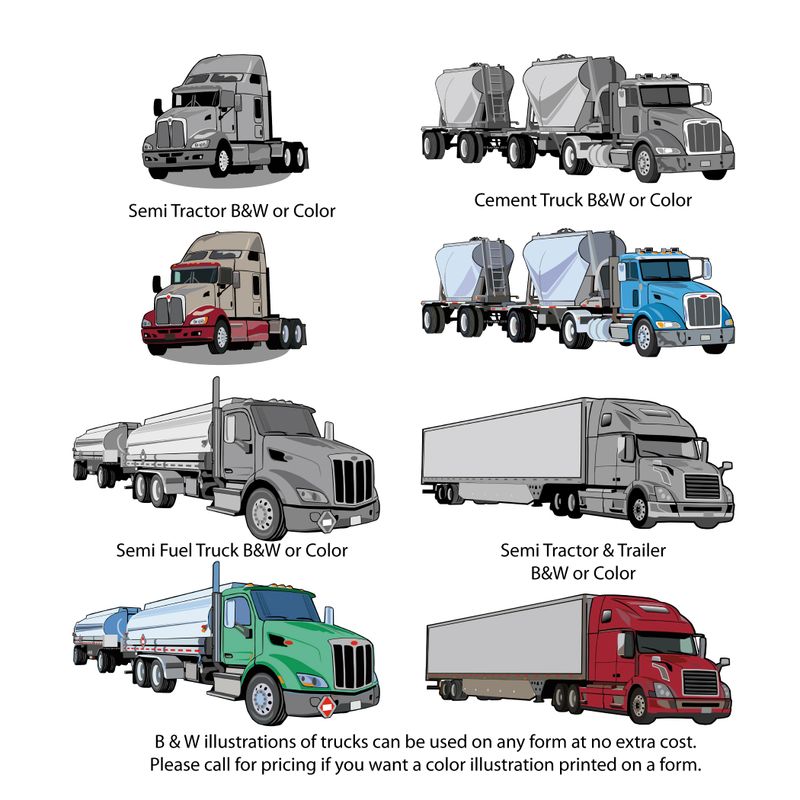 Posted June 21, 2019
In a effort to assist trucking companies improve their image, One Stop Printers has four common truck illustrations to use on Proof of Delivery (POD), bill of lading, delivery receipts and invoices. We will adding more in the future. If you would like one not shown, let us know, and we will see what we can do to help you.

---
Get started today with One Stop Printers Truck & Vehicle Inspection Reports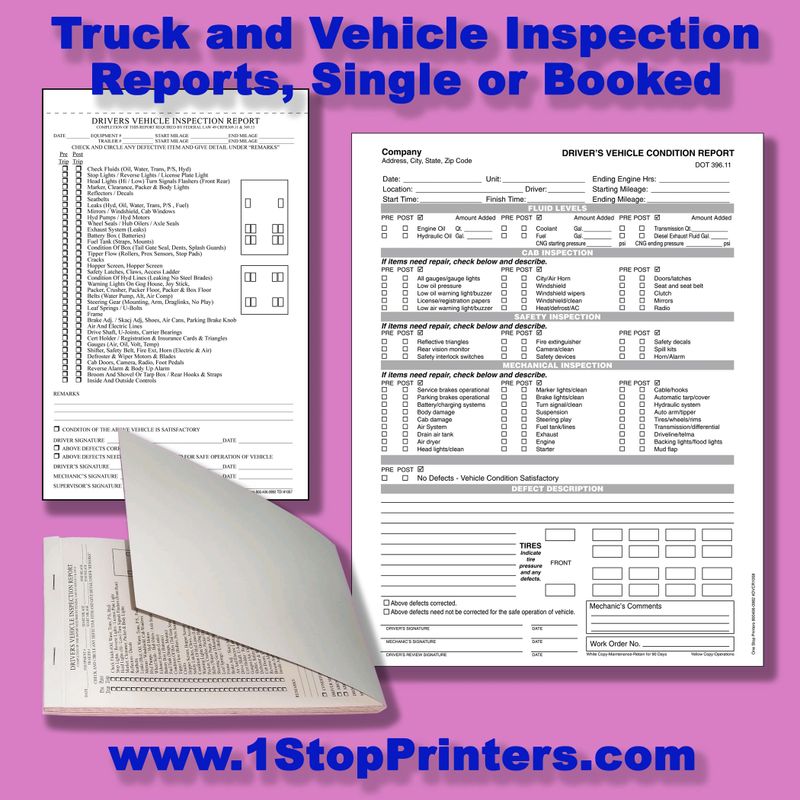 Posted: May 21, 2019
Driver's Vehicle Inspection Reports are required by Federal Law 49 CRFR369.11 & 369.13 and One Stop Printers has some standard forms such as Trucking Driver's Vehicle Inspection Report TDI1057 and Driver's Vehicle Condition Report DVCR 1058. These detailed inspection reports contain all the items needed to ensure you are operating a safe truck and is there is a problem, it is documented so your maintenance department knows what to fix.
These vehicle inspection reports come in a variety of sizes from 8.5" x 11" to 5.5" x 8.5" in duplicate and triplicate receipts and can be booked with wraparound covers for easy use and storage.

We know that your may want to make changes to our vehicle inspection reports so the better fulfill the needs of your motor carrier company, and we make it easy and free to make any changes required. Just let us know what you want changed and we will happily do it for you and send back a proof before printing. So contact us today at 800-406-0982 to get started.

---
You choose what you want on the back of your plumbing work order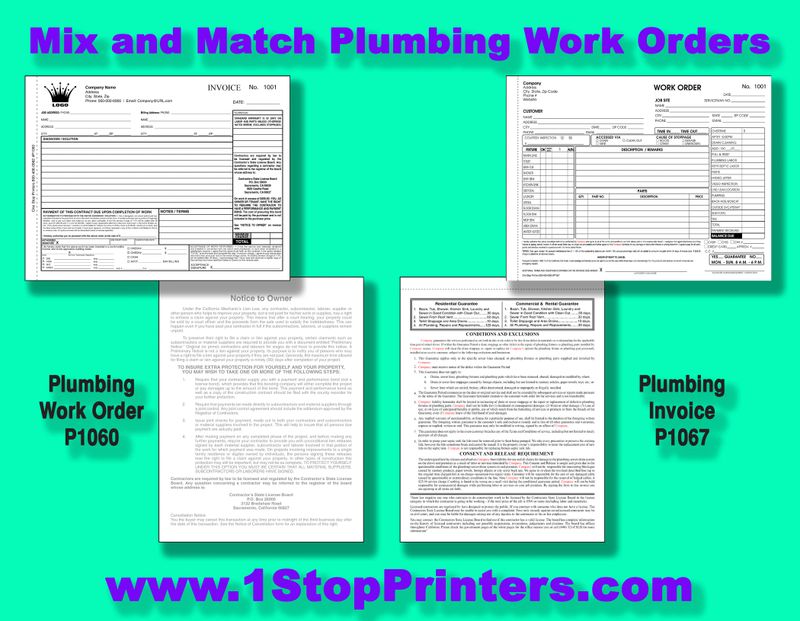 Posted: May 3, 2019

When a plumbing company decides to get its plumbing work order receipts printed it is important to make sure all the information required is included. Whether your plumbing business is located in Riverside California, San Antonio Texas or Jacksonville Florida all of them have some sort of 3 day right-to-cancel contract and require certain language particular to that state and a waiver must be included if you want to make sure you get paid. Not to mention terms, conditions and exclusions.

If you don't have your plumbing receipt designed correctly, disputes naturally arise. This is where One Stop Printers can assist you, we carry a large selection of plumbing contracts such as our Plumbing, Drain Cleaning & Septic System Invoice P1067 which as Conditions and Exclusions on the back or our Plumbing Invoice P1060 with Notice to Owner and California Mechanics lean on the back. Any of our plumbing forms can be changed and you can mix and match the back side to your requirements.
However, what is more important, is you are able to make changes to our receipts for FREE, all you pay for is the printing, shipping and sales tax if it applies. One Stop Printers has worked with many plumbing company owners to get them a plumbing receipt that works best for there operation, saving them time, money and stress. Call: 800-406-0982 or contact One Stop Printers today at: www.1stopprinters.com to see how we can assist you.