Welcome To Our Store
Professional Looking California Termite Inspection and Work Authorization Form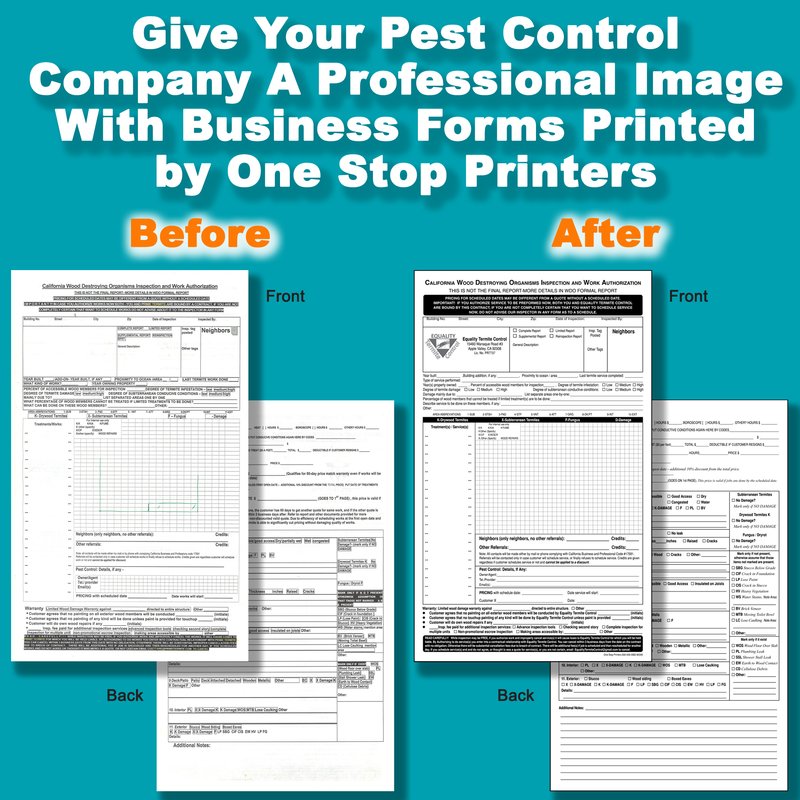 Posted: March 16, 2018
The California Wood Destroying Organisms Inspection and Work Authorization form was just completed for Equality Termite Control and is a prime example of how important it is for a company to have a professional appearance to its customers. The before version is a sample from a company the owner, Edward did contract work for in the past. He liked it because it provided customers with information at the time of inspection instead of waiting for the final report.
When this work order was brought to me I told Edward that I just charge for printing and the artwork was free, which is my policy for business forms. When the graphic artist started to work on this form it was brought to my attention that there were a lot of problems with it, I contacted Edward and told him that I understood the just of the form and function for use in the field. I was going to make major alterations to it, making it more user friendly, and correct errors.
Business forms such as, work orders, proposals and invoices, need to be functional, have a flow, and be easily understood by both the technician and customer. When a proposal is presented to a customer where there are misspellings, and is hard to understand, it opens the door to problems down the road. This sample we worked with, didn't even have a signature line for the customer to authorize work.
I have just as much criticism for the printing company that did the original printing. The mentality in our industry is, just get job in, get it printed and collect the money. No thought is ever given to advising the customer there are major issues with the project and they need to be corrected before printing. These printing companies are not dying off fast enough and in my opinion, if they can't provide their customers with a high level of service they should exit the industry.
If you are looking for a printing company who will put its customers interest first and consult with them so they have a professional image, then One Stop Printers located in Hesperia California is the company for you. Call:
1-800-406-0982
or email:
tony@1stopprinters.com
today to see how we may assist you.
---
One Stop Printers Makes It Easy to Customize Towing Reports and Invoices



Posted March 6, 2018
Whether you call them towing reports, towing invoices, towing work order or towing receipts you are referring to the same thing. One Stop Printers has provided these forms to the towing located across the United States since 1987 and know it has to be functional and include everything required to make sure the services provided are charged correctly.
In addition you have to comply with regulations in your state, here in California if you are going to tow from a freeway you fall under the California Highway Patrol, in neighboring states it may be the state patrol or the transportation department. Regardless the towing industry is heavily regulated. States like Texas requires certain things and disclaimers are on the receipt for both towing and storage. This is where One Stop Printers can be of assistance.
Our company recognizes that you may have been using a towing receipt that has been approved, you need them reprinted and don't want to change the format because it is a hassle. We also realize that the printing industry has changed considerably in the last few years and the printing company you have been using is no longer in business. No worries, One Stop Printers will redo the artwork for your towing report for FREE and keep it on file for reprinting in the future. We include a re-order form in your order, just simply fax, email or just call us, yes it is that simple.

---
Your Business Card May be Your Only Chance at A Great First Impression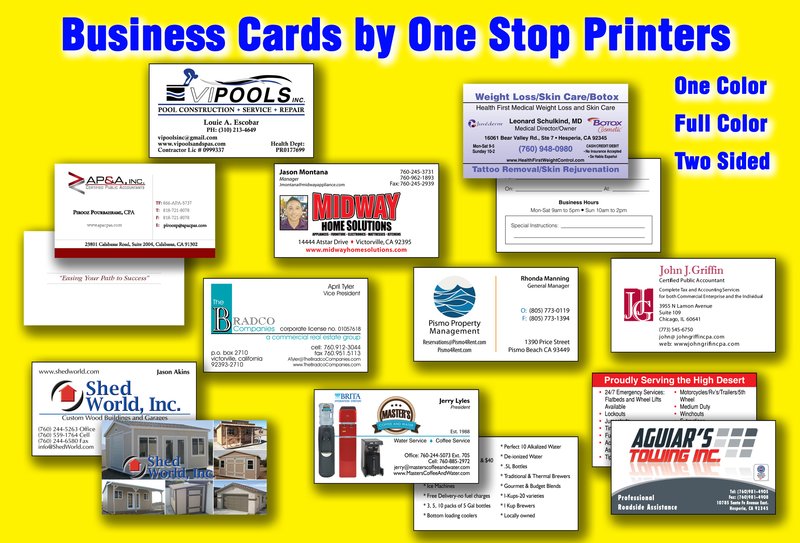 Posted March 1, 2018

You don't get a second chance at a first impression, which is why it is so important that when you hand a client your business card, it projects a professional image.
I have seen it too many times and can't stress this point enough: In your presentation you state that you will take every care in providing excellent customer service and you have an eye for the smallest detail. However your business cards states something totally different: From the email address being so small it is impossible to read, to it looks like you just printed them off your home computer and cut them out with a pair of scissors.
A business card is a small canvas, so keep the front simple, and elegant with the most important contact information. When too much information is crowded on, it becomes very difficult to read. Keep in mind the back side of the business card can be used for bullet points, a tag line or, for doctors and such, an appointment card.
Some simple tips are: Don't put your copy in all cap, it is very difficult to read. Vary point sizes, making names and phone numbers larger and bold and the less important items like the address smaller.

If you would like assistance with your business card and company image, please call One Stop Printers today at: 800-406-0982.

---
Save Money With One Stop Printers' Pest Control Forms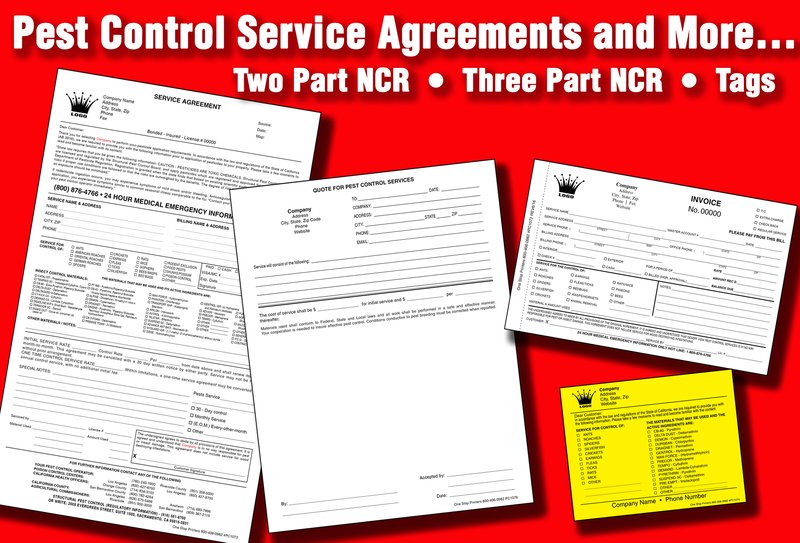 Posted: February 26, 2018

Out of all the forms One Stop Printers provides to its clients that scream customization for individual use, it is the pest control service agreements, and invoices etc. Pesticides are dangerous chemicals and lives are at stake (I don't mean the vermin) it is imperative that your customers know what chemical(s) are being applied and in what quantity. In addition you must have your license number and all applicable phone numbers in case there is an emergency.

One Stop Printers has worked with many pest control companies through out its many years in business and works with its clients to get them just exactly what they need to operate a safe company. Choose one of our many standard business forms, from Service Agreements, Quote for Pest Control Service, and invoices to tags, such as our Notice of Chemicals Applied. You can modify any of our business forms at no cost to you. You only pay for the printing.

If you have been using the same pest control form for years, no problem! Send it to us and we will redo the artwork for FREE and keep it in our files for your future use.

---
One Stop Printers The Leader in Printing Work Orders, Invoices and Sales Receipts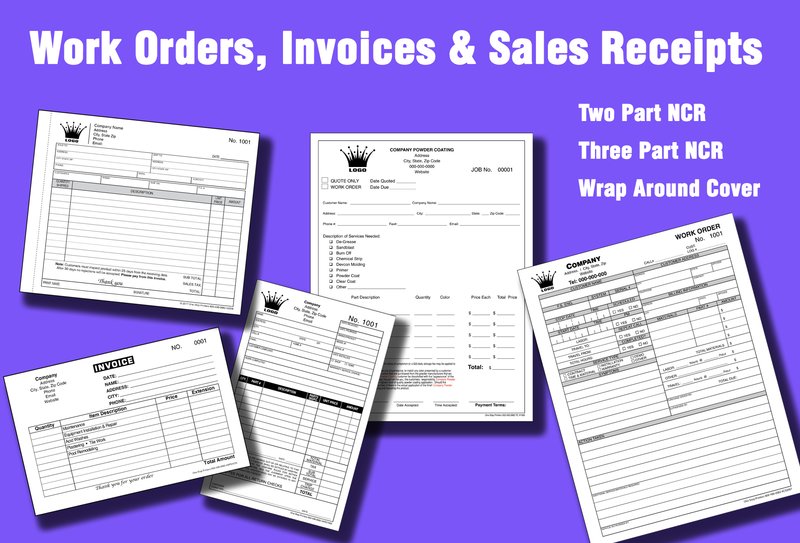 Posted February 22,2018
One Stop Printers has been a leader in printing in the High Desert since 1989. We have provide quality business forms since we opened our doors and which gives us a unique insight to the production and functional use for our customers. Our website: www.1stopprinters.com has many of the best forms we printed through the years.
In some cases we have posted forms exactly as produced, others we tweaked just a bit to make them more functional and others we looked up the requirements from a state regulatory agency's and tailored it to an industry use, such as construction and plumbing.
Under the General Sales Invoice tab you will find business forms, invoices, and work orders for Powder Coater's, Home Appliance Repair and Computer Repair etc., just to name a few. Sometimes you will notice there are several forms that look similar, but upon closer inspection you will see major differences, enough so that we thought it was important to include in our website.
The most important aspect of all of One Stop Printers, invoices, work orders, sales orders, and contracts are that you can change them any way you desire to fit your particular needs at no additional cost. If you are looking for a printing company that is responsive and will print a business form to your specifications with no muss, no fuss, choose One Stop Printers located in Southern California, Call Today 800-406-0982 and we ship nationwide, too.
Customizing your business forms are simple and easy with One Stop Printers.
Call today: 800-406-0982
---
Brochures are Important Tools for Projecting a Company's Image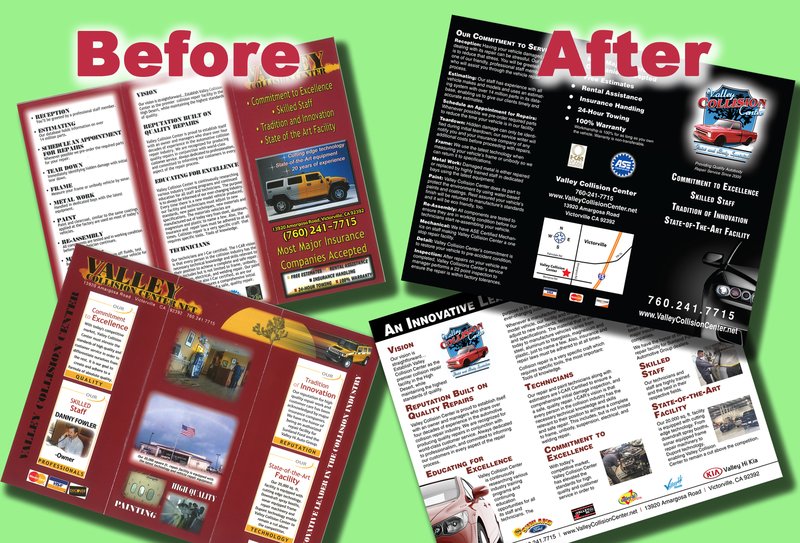 Posted February 19, 2018

No Virginia, printed brochures are not dead, there is a place for them in the digital age. Brochures are versatile and inexpensive per copy to hand out at trade shows, place in point-of-purchase for consumers to take, and in direct mail to communicate directly with prospective clients.
It is important your brochure projects a professional image, this might be the only chance you get at a first impression. It must look good, be well written, and be printed on high quality paper. For us here at One Stop Printers it is not about selling brochures or any other product we offer, if it doesn't do what it is intended to do, like increasing sales or streamlining production, we have not done our job.
When producing a brochure, we interview you to learn about your company, what you sell, what is important to the corporate image and its intended use. If you currently have a brochure like the sample above on the left, we read and evaluate it because it usually has important information, and review your website so your sales message is consistent across multiple platforms.
If you don't look good, we don't look good! Call Today: 800-406-0982 we would love to consult with you.
---
Introducing Two New Business Forms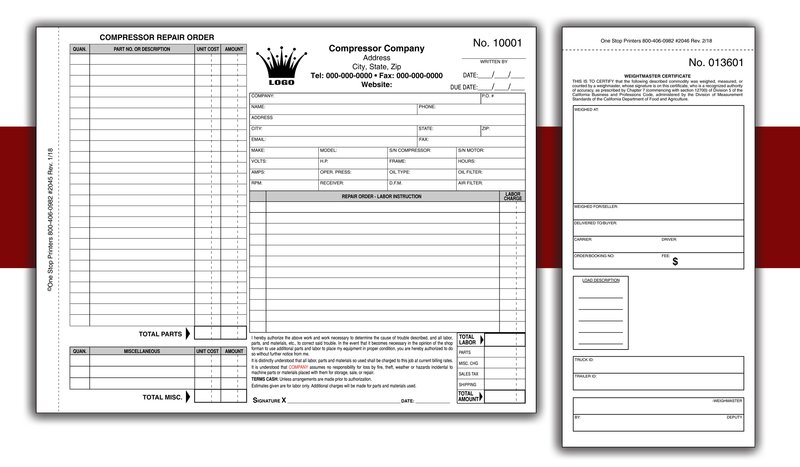 One Stop Printers just added two new forms, a weighmaster certificate for the fiber industry and a compressor repair order. You might ask why we added these when you look at the forms we supply there are others that are very similar? Well that is a good question.
What we have found is that most business owners have in mind what they need but don't know where to start. We have been printing business forms since 1990 and have a unique perspective and knowledge about a lot of industries. You will find that our business forms have industry specific information. Most times this enough, however there times where it needs to be customized to a particular companies requirements, that is no problem. One Stop Printers will alter any form to meet your needs and it will not cost anything extra.
---
Accountants it is time to get your marketing started!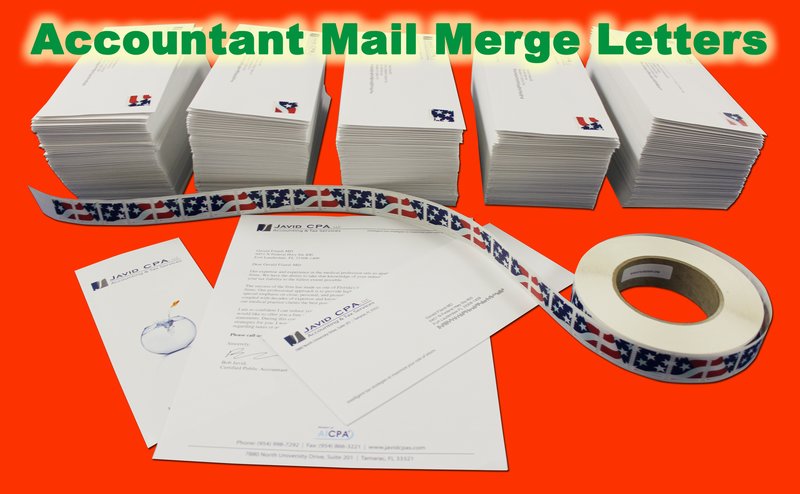 Tis the most wonderful time of the year, when accountants dream of stockings stuffed full of tax clients. If dreaming is all you do, you will be very disappointed come January.
Now is the time to get your direct mail marketing finalized and start to print. You need the right mailing list, attention grabbing letter with brochure, and it must have a professional look. One Stop Printers has been assisting accountants for over 10 years and we know what to do.
If you are not in the mail by mid January you are too late. Don't be left out in the cold, contact One Stop Printers to learn how we can help!
---
My name is Tony Tyler and I have owned One Stop Printers & Direct Mail Service, located in the High Desert for over 22 years. In that time I have helped countless business with their printing needs. One of my companies specialties is business forms. If you look at our website you will find close to 200 of the most popular invoices, and work orders we have printed over the years.

What I have learned from helping our clients is: each company we print for is unique. No two plumbing companies will require the same things in their work orders, nor grain elevator needing identical weighmaster certificates. And in addition to these differences, government agencies who grant license to these companies have ever-changing requirements for the business forms they use.
If you look at our page for plumbing forms we have over 14 different work orders, from plumbing, drain cleaning & septic invoices such as #P1067 to septic certification work orders for individual sewage disposal systems like #P2013. We have 18 weighmaster certificates, for companies such as forest products, cattle and wine producers. and we just added public weighmaster certificates for the states of Arizona and Washington.
When we print a form we don't just take what we have on file and imprint your companies name and contact information and say you have to take as is, if you want to make changes you will be charged for a custom form. We ask our customer is this form okay and do you need to make changes to fit your operation? One Stop Printers has printed many of the invoices and work orders on our website with minor to major modifications to meet clients requirements.
If you own a towing company in California, your requirements will be different than in Texas, which requires the tow truck operator to write their license number on every form for every tow service call. Plumbers are no different, states requires different consumers notices. If you are using a standard invoice, work order or certificate it generally is not a problem, until there is a problem. Regulators step in, best-case scenario: you loose the money from the service call, but more likely your company is cited and fined, too.
We make changes to all our forms for FREE. and we always recommend that the proof be sent to the supervising regulating office for approval before printing. This brings me to another point, many companies such as towing operators and weighmasters have been using the same form for years which had been approved by regulators and their current printing company is no longer in business, and changing the form now will be a big hassle. Again, this is no problem, send us you current form and we will redo the artwork and keep it on file for future use, all for FREE!
If you have been struggling with setting up an invoice, work order or any other business form, give One Stop Printers & Direct Mail Service in Hesperia California a call: 800-406-0982. We will be pleased to assist you.
We now offer towing tickets for the state of Texas. Please call for details.