Welcome To Our Store
Plumbing and Septic Work Order, Invoices and Receipts from One Stop Printers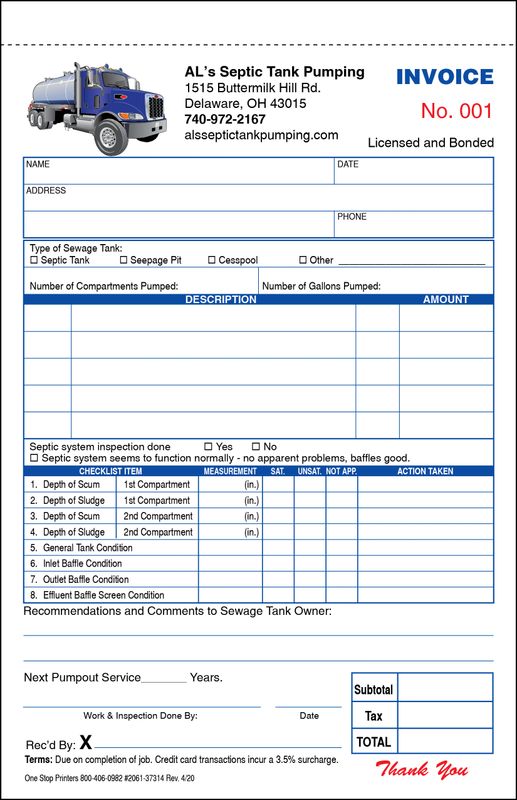 Posted August 14, 2020

When septic pumping companies need a professional looking small pumping receipt, they turn to One Stop Printers located in Southern California. Which is what Al's Septic Tank Pumping, a family owned and operated small business serving central Ohio recently did. Richard chose our Septic Tank Pumping Small Receipt #2061. It fit his requirements, so all he had to do was include his company information with the online order, which was completed and shipped in three business days. Thank you, Richard for your business.
Whether you have a septic service company in Delaware, Ohio, a rooter service in Fort Wayne, Indiana, or plumbing service and repair business in Providence, Rhode Island, One Stop Printers has a work order to fit your needs, and if not, we will design one for FREE. So, give us a call at: 800-406-0982 to find out how we can assist you.
---
Flooring Store, Tile and Carpet Contract for California #2031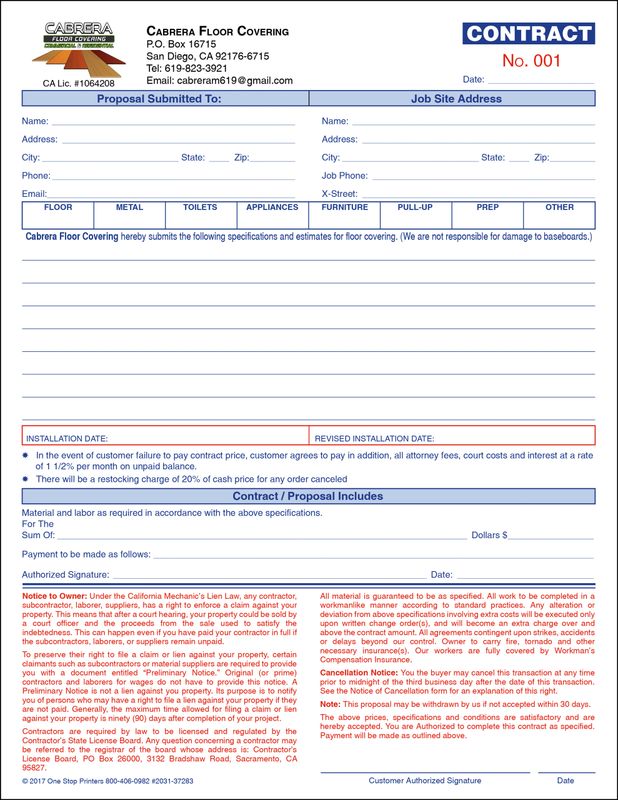 Posted August 4, 2020

Miguel, owner of Cabrera Floor Covering in San Diego called me to say he liked our Carpet Company Contract #2031, but needed to add a Notice of Right to Cancel to the back of the yellow copy of a two part NCR, and could he add his logo. My answer to both questions was, "No problem." The logo he sent was in color, so we added color to the contract making it more attractive, which also communicates a professional look to his clients. Thank you Miguel for your business!
This flooring contract disclaimer pertains to California, but can be modified to fit any state's requirements. We will make these changes and any other to better fit your company's needs, and we do it for FREE. So, whether your flooring company is in Bakersfield, California, Denver, Colorado, or Atlanta, Georgia, One Stop Printers has the solution. Call us today at: 800-406-0989.
---
Orden de trabajo de fontanería en español 2086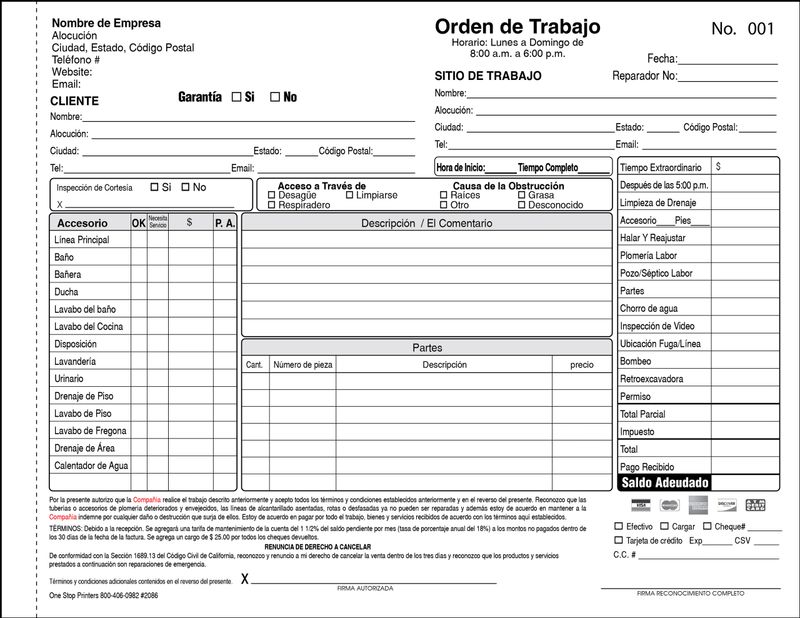 Posted: July 27, 2020
La orden de trabajo de plomería One Stop Printers está diseñada para contratistas de plomería que se especializan en remodelaciones de baños y cocinas, reparación y reemplazo de sistemas sépticos y de plomería para clientes hispanos. Protéjase a usted y a su cliente proporcionándoles una orden de trabajo en español. Puede elegir: Términos y condiciones, o Aviso al propietario para la parte posterior. Personalice la información frontal y posterior para reflejar mejor las necesidades de su empresa de forma gratuita. No importa si está remodelando baños en New York, New York, cocinas en Shelbyville, Tennessee, o reemplazando sistemas sépticos en Marshalltown, Iowa, One Stop Printers tiene una orden de trabajo para satisfacer sus necesidades. Llame hoy: 800-406-0982.
Elija la versión A o B para el reverso
One Stop Printers plumbing work order is tailored for plumbing contractors who specialize in bathroom, and kitchen remodels, plumbing and septic system repair and replacement for Hispanic clients. Protect both you and your customer by providing them with a work order in Spanish. You can choose either: Terms and Conditions, or Notice to Owner for the back. This is our Plumbing, Drain Cleaning & Septic System Invoice #P1067 translated into Spanish. Customize the front and the back information to better reflect the needs of your company for Free. It doesn't matters if you are remodeling bathrooms in New York, New York, kitchens in Shelbyville, Tennessee, or replacing septic systems in Marshalltown, Iowa, One Stop Printers has a work order to fit your needs. Call today: 800-406-0982.
---
Standard and custom towing ticket books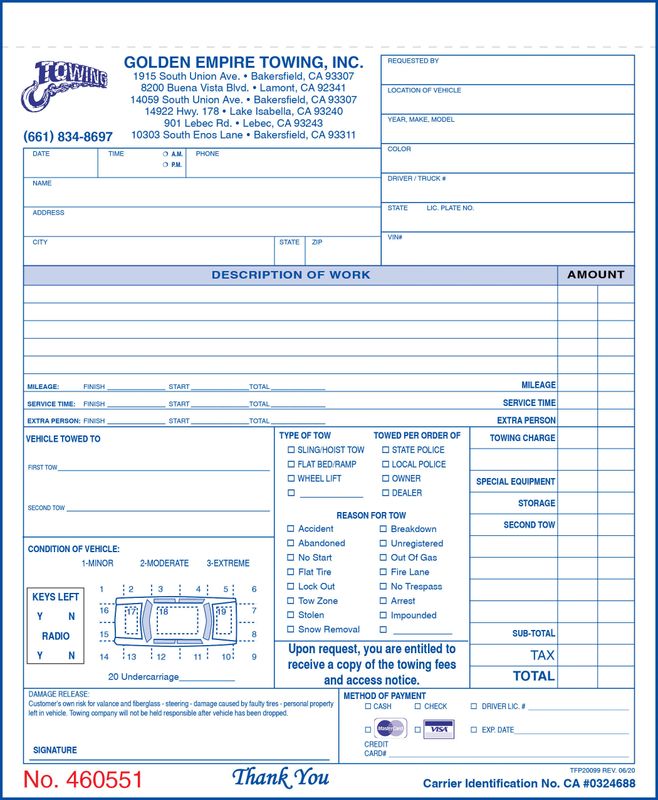 Posted July 9, 2020

We have been printing towing invoices for Miranda at Golden Empire Towing, Inc. located in Bakersfield, California, for the past seven years, thank you for your business and loyalty.

One Stop Printers has a large selection of towing work orders such as our detailed receipt #TFP20100 or the simpler towing ticked #TFP20091. We let you make changes to our standard forms for FREE and as in Golden Empire Towing, Inc's case, customize it to meet requirements for the same price, FREE, all you pay for is the printing. Don't forget we book your towing receipts with wraparound covers to keep your drivers organized, too.

Whether your towing company is located in Los Angeles, or San Diego, California, One Stop Printers has a solution for you. Contact us today at: 800-406-0982 we would be pleased to assist you.

Recoup all cost related to dropped trailers at terminals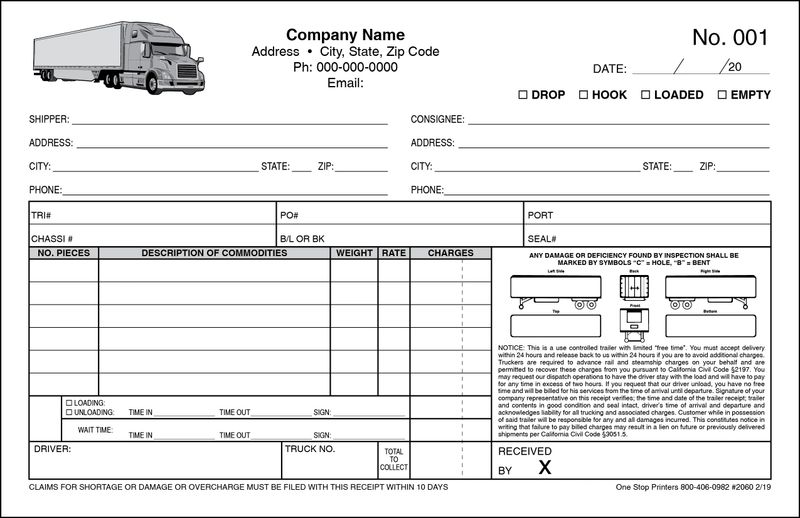 Posted June 4, 2020

Trucking companies, who drop trailers to terminals for loading and unloading need to make sure trailers are not kept out of service too long, returned clean and damage free. If they are, they need to be paid damages, and time out of service. This is where One Stop Printers can help with our comprehensive Dropped Trailer Proof of Delivery #2060 receipt. It has everything needed to record the load and trailer condition.  This POD is available in 2 part and 3 part carbonless for trucking companies from Bismarck, North Dakota, to San Antonio, Texas, and as always, you can make changes to fit your needs for FREE. Call One Stop Printers at: 800-406-0982 for assistance.One Stop Printers is your source for towing invoices, and Drivers Vehicle Inspection Reports.
---
All businesses are essential!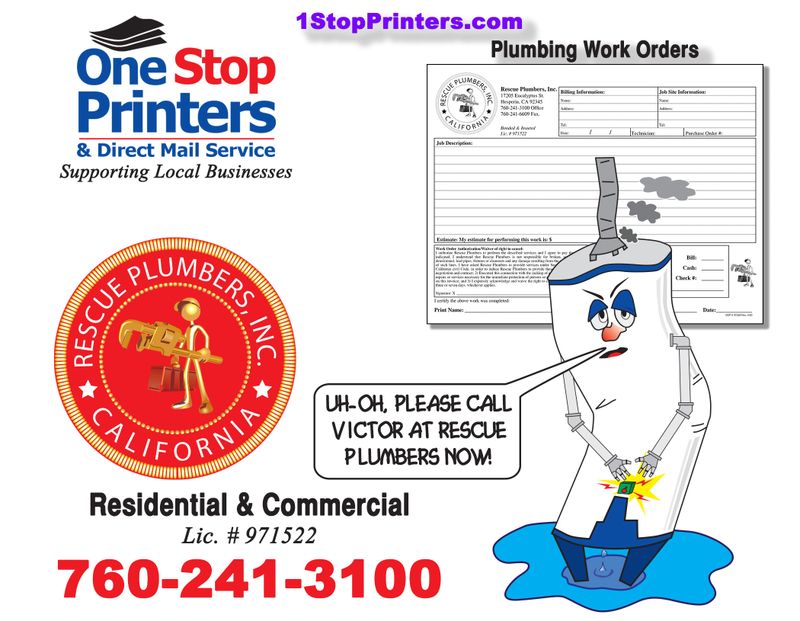 Posted May 26, 2020
Thank you Victor for having One Stop Printers print you plumbing invoices. We have been doing business with him for over eight years. Victor is the Owner of Rescue Plumbers, Inc located in Hesperia, California and is a family owned company which services the greater High Desert area. Victor specializes in emergency leak repair, for both residential and commercial, replacement of fixtures, water heaters, re-piping and much more. If you are in need of plumbing repairs give Victor a call at: 760-241-3100.

If you need invoices, work orders or delivery receipts printed give One Stop Printers a call at: 800-406-0982.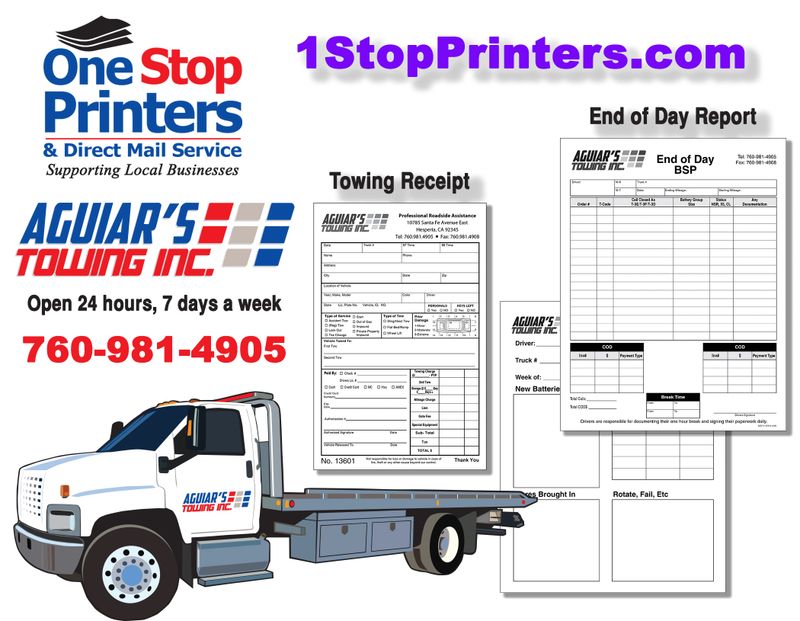 Posted May 15, 2020

Time flies, we have been supplying Edgar, owner of Aguiar's Towing Inc located in Hesperia, California with towing invoices, postcards, and business cards for 10 years. We just completed an End-of-Day report for his Roadside Battery Services technicians. Thank you, Edgar.
I would like to take a moment to let you know that Aguiar's Towing Inc provides towing services for Southern California. Aguiar's has flatbed trucks for a safe and smooth ride for your vehicle. In addition, it has medium and heavy-duty trucks for towing semi trucks, RVs, and toy haulers. Edgar's extensive fleet of heavy-duty trucks can handle anything from the transport of heavy-duty equipment to the recovery of the most delicate and dangerous situations. Aguiar's is Open 24 hours, 7 days a week, when you need a qualified and responsive towing company call: 760-981-4905.
---
Custom Paper Color Sequence, Proof of Delivery Receipt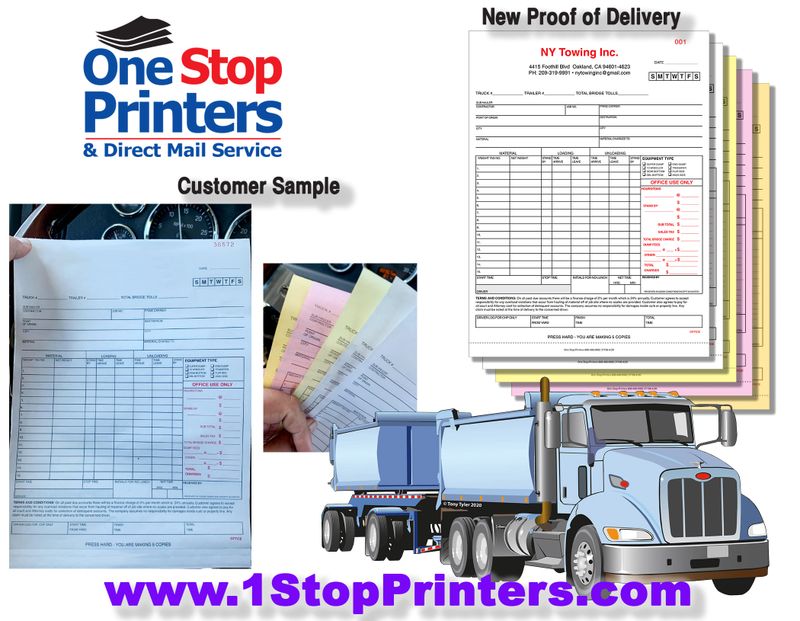 Posted April 12, 2020
The driver's seat for most truckers is their office chair, so I was not surprised when Jaspreet from NY Towing Inc in Oakland, California sent me pictures of the proof of delivery receipt from the truck cab that she needed printed. For One Stop Printers, this is becoming more common and makes it much easier for us to know exactly what is needed. In this case it was a 5 part NCR delivery receipt with custom paper color sequence and marginal words. This is usually done to make it easier for the person writing the ticket to the driver, to know who gets which copy. It's always fun to print a custom form such as this one, thank you Jaspreet for the opportunity to be of service to you.

Whether you are a trucker based in Portland, Oregon in need of a custom proof of delivery receipt, or a midsize trucking company in Shreveport, Louisiana and need one of our standard duplicate receipts like, Container Delivery Receipts #TDR1059, One Stop Printers has the solution. Call us today at: 800-406-0982 or email: tony@1stopprinters.com to find out how we can assist you.
---
Delivery Receipts for the Trucking Industry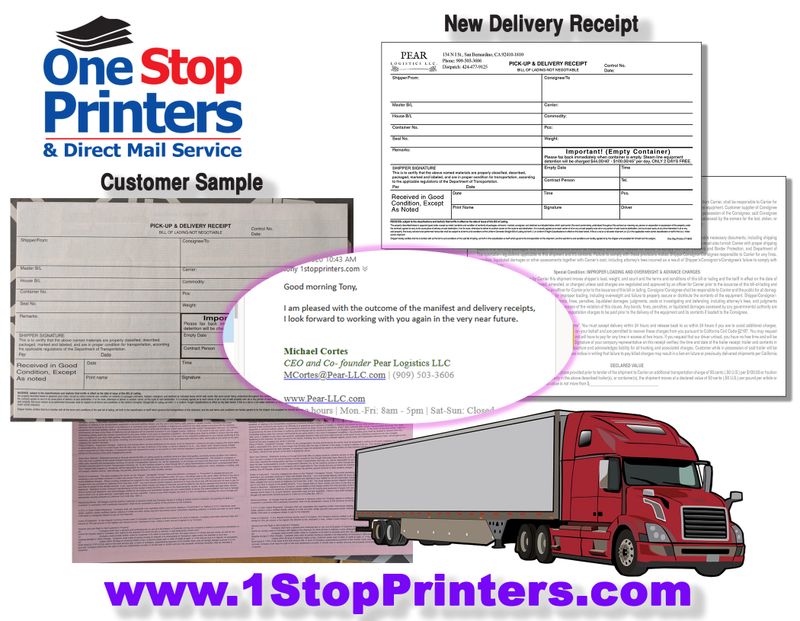 Posted May 4, 2020
It is becoming more common for customers to send me a picture of the invoice, manifest or delivery receipt they have been using when they need more of them. This is what Michael from Pear Logistics LLC in San Bernardino California did, and as you can see we have no problems duplicating it. The back side proved to be a bit more challenging. Because it was printed gray and 5 point type, Michael could not get a clear enough picture for me to reset. Not to worry, instead we combined the disclaimers from One Stop Printers, Trucking Proof of Delivery receipt # 2055 and California Dropped Trailers Proof of Delivery POD #2060 to get Terms and Conditions more relevant to his current operation. Thank you Michael for choosing One Stop Printers.
One Stop Printers is expert at creating delivery receipts, manifest, proof of delivery, and bill of ladings, for the trucking industry. If doesn't matter if you are located in San Bernardino, California or Ogden, Utah we are here to serve you. So give us a call at 800-406-0982 or text us a picture of your existing receipt to: www.1StopPrinters.com to find out how we can assist you.

---
One Stop Printers has a large selection of business forms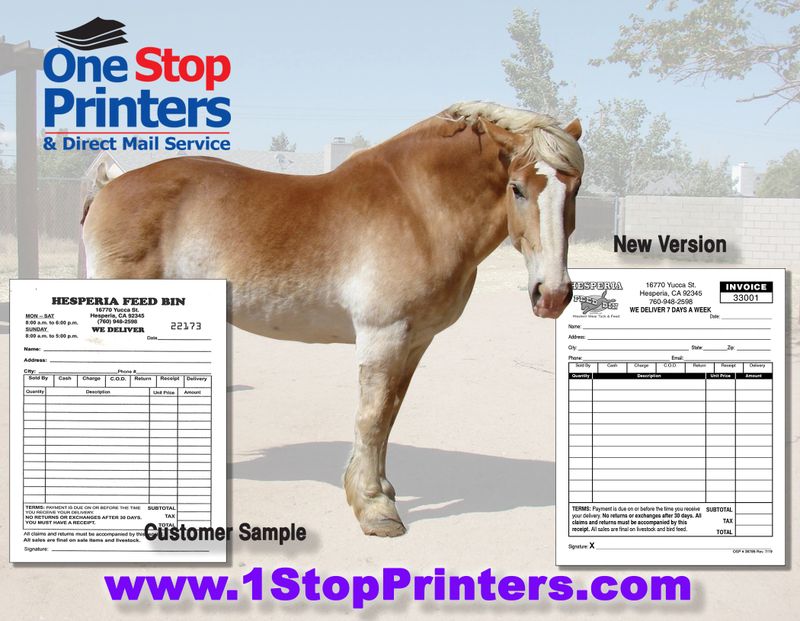 We just finished a couple of projects for Bobbi Jo, owner of Hesperia Feed Bin, her duplicate standard sales invoice, size 4 ¼" x 5 ½", and half sheet duplicate charge slip. Both are business forms they have been using for years but needed to update and make changes to. Bobbi Jo is a fairly new customer and we thank you for choosing One Stop Printers. If you have an invoice or work order, which you have been using for years, it doesn't matter if you are here in Hesperia or Memphis, Tennessee, call One Stop Printers today: 800-406-0982 to find out how we can assist you.
Even though Hesperia Feed Bin a new customer for me, when I had Joel the wonder Belgian this is where I purchased his hay and other horse supplies. They are a landmark in Hesperia and have been serving the High Desert since 1942. It is a great family owned business and carries a large supply of livestock feed, pet, farm, and ranch supplies, along with a large selection of horse care and grooming products. You name it, they probably have it. So stop on by Hesperia Feed Bin - 16770 Yucca Street, Hesperia, CA 92345
---
Septic System Pumping Receipts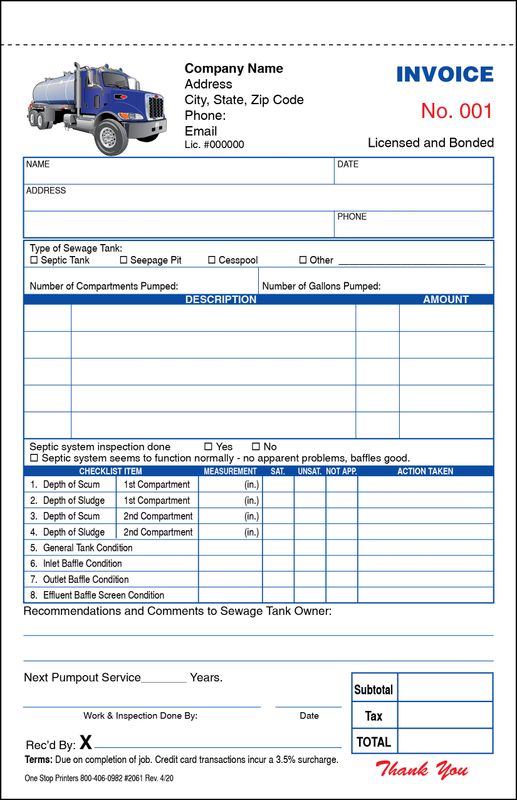 Posted April 10, 2020
Attention septic pumping companies, is your logo in color and have you been disappointed you can't have it on your invoices? Well One Stop Printers has the solution, for a limited time select our Tank Pumping Small Receipt #2061 and we will print it in color. Not only that, on all future reprinting you will get the same deal. Maybe you just want to project a more professional image and use our tank truck instead, no problem. Don't forget we also offer these in book form with wraparound covers for easy use.
We have helped plumbing companies from Los Angeles, California to Miami, Florida with their work orders, invoices and job tickets. Don't forget we will customize this or any form to meet your requirements for FREE. So, give us a call to find out how we will assist you: 800-406-0982.
---
Send Regulators Down the Road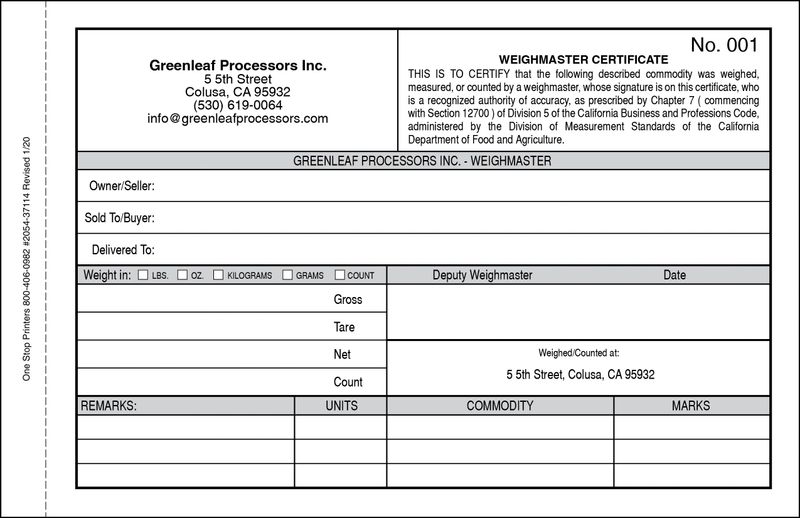 Posted April 3, 2020
One Stop Printers has provided weighmaster certificates to the cannabis industry for several years; it's ever changing to meet customer demands, along with our greedy state's confusing regulations. My super power is reading dry government manuals and massaging it into a usable product for my customers. My goal is to get you what you need so regulators leave you alone and move on to the next guy.
Jim from Greenleaf Processors, Inc in Colusa California just had us reprint his California Cannabis Weighmaster Certificate #2054. Some of his products are counted, not weighed, so counting is required to be on his certificates. We made this change and sent Jim the proof, which he forwarded to his regulator in the Department of Weights and Measures for his final blessing.
I always recommend that if you are in a heavily regulated industry, always seek to get approval from the supervising agency. Regulatory agencies really don't like to do this, but usually will. It slows down the printing process but can save you headaches in the future.
Having an over zealous regulator try and cite you for your receipts not being exactly the way he wants it can be distressing, but if you can show the state gave approval, maybe you will only get a notice to make changes (because he has to show you who is in charge), instead of a violation and paying a fine. I can't say it always works, but it sure puts them on notice you are doing everything in your power comply with the butthead's requirements.
Interestingly, I have only printed weighmaster certificates for California customers; however, the regulatory buttheads are located in every state. So even if your company is located in Washington, Colorado, Oregon or any other state we can produce a customized weight certificate, artwork is always FREE with printing, so give us a call at: 800-406-0982.

---
One Stop Printers goes the extra mile for you


Just a little bit ago we completed a trucking receipt for Makenzie Pottebaum an independent carrier located in Alton Iowa. It was our Trucking Invoice #TDR1055, the printing was straightforward, what was unusual was the logo they sent. Now customers send us logos all the time and we convert them to grayscale and place on the form, however this logo was blurry, in addition to having a misspelling. After all my years in printing, this is one of the biggest problems I run across and take issue with, not with the customer, but with my industry.
Pottebaum logo is nice looking, and pretty simple. In the past I have seen my staff go back-and-forth with the customer for hours trying to get them to send a logo that will work, to no avail, instead of just fixing it. Everyone is ticked off, especially the customer. Well, that's what we did, fixed it. If your artist is skilled, and talented it won't take long, which it didn't. Now think about if Makenzie had used Brand X Printing, chose a standard form and upload the logo. I'm thinking Makenzie would be ticked off every time she filled out an invoice, no matter how cheap the cost.
I'm not saying we are able to do this for every occasion; some logos are just too complicated, in which case we advise our customers of their options. What I am saying is, if it is no big deal, we don't make it a big deal with our customers. If you think customers don't notice how you helped, think again. There is no way to buy that kind of advertising. So if you need help with your trucking receipts, give us a call today at: 800-406-0982.
---
Color printed towing invoices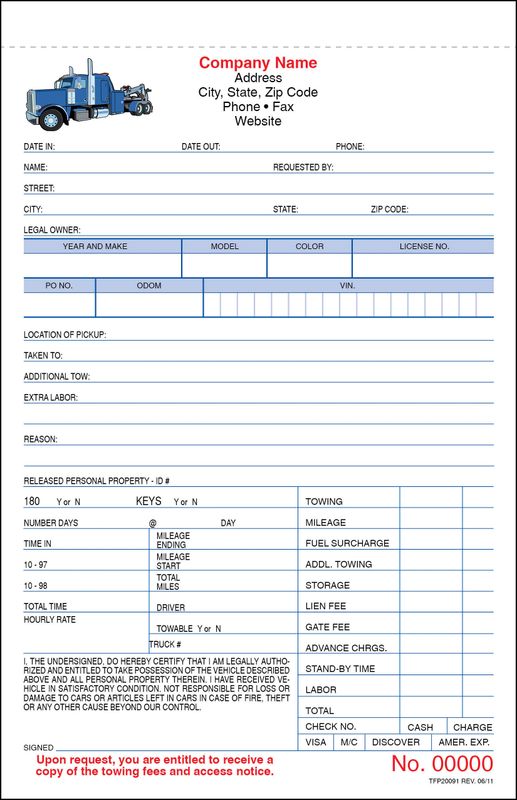 For a limited time, order any of our towing invoices and One Stop Printers will print your logo in color. You have spent a lot of money on your tow truck and the customized logo, now you can have your logo in color on your towing work order receipts for the same cost of black and white. You may ask what about reprinting? Well when you order from us we will reprint it for the same cost as black and white for as long as you own your towing company, then we will extend the same offer to the new owner. Yes, it is that easy, whether you are in Sacramento California, or Lubbock Texas, maybe somewhere in between, One Stop Printers has the solution for your printing needs. Call today: 800-406-0982.
---
Helping Texas Trucking Companies Succeed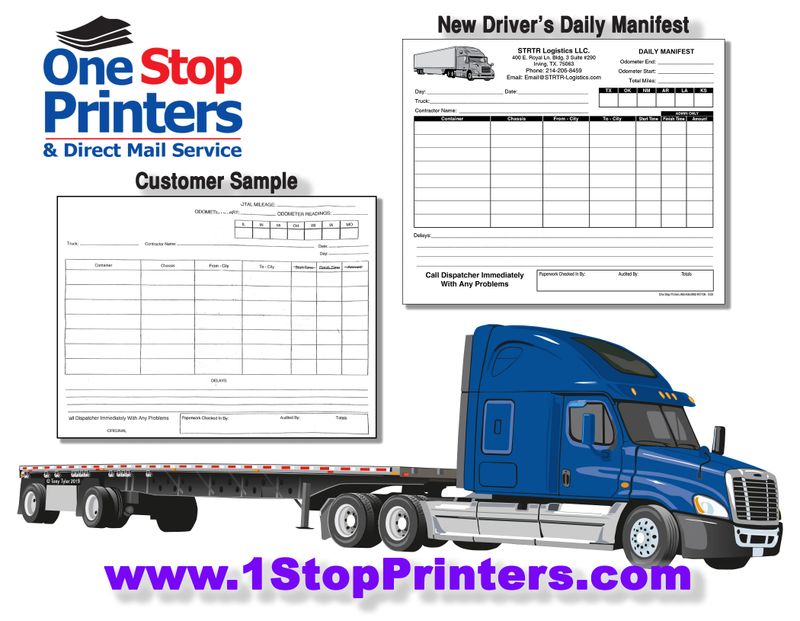 Robert from STRTR Logistics, LLC, in Irvine Texas recently ordered One Stop Printers', Trucking Proof of Delivery Receipt #2055, we would like to thank him for the order and as always are appreciative for every order we receive. While it was in production he inquired about how much it would cost to do artwork for a driver's daily pay sheet. I told him the artwork is always FREE, send me a rough idea of what you want and I will send you back a proof. Above is the final product, and Robert had them in one week.
One Stop Printers serves shipping and trucking firms throughout Texas from cities like Austin, to Corpus Christi, so if you are tired of getting the runaround when you need to make changes to your receipts from your current printing company, give us a call at: 800-406-0982 to find out how we can assist you.
---
One Stop Printers is Your Solution for Dental Lab Script Receipts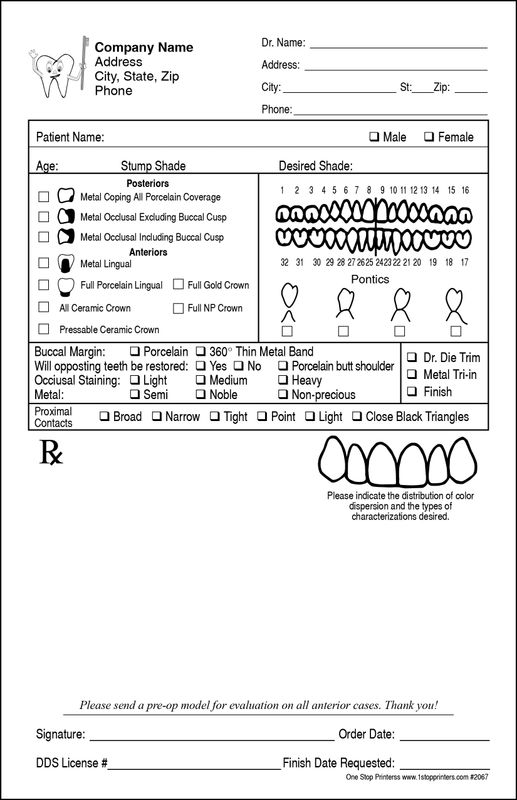 One Stop Printers just added a new Dental Lab Script #2067 to our library of business forms. This comprehensive dental lab slip has everything the dentist needs to communicate to your lab what is needed to denture repair or place a new order. This script is available in duplicate and triplicate carbonless sets, which you can order on our website, if you need it in pads of 50's please call our office: 800-406-0982. Don't forget to send us your logo, and we make all changes to this form for FREE.
It doesn't matter if you own a dental lab in New York or Merrimack, New Hampshire and want to use one of our standard scripts or you have been using the same lab slip for years and don't want to change, send it to us and we will redo the artwork for FREE with you printing order. We keep all artwork on file for our customers and include a handy reorder form for when you run out.
---
What our customers are saying about One Stop Printers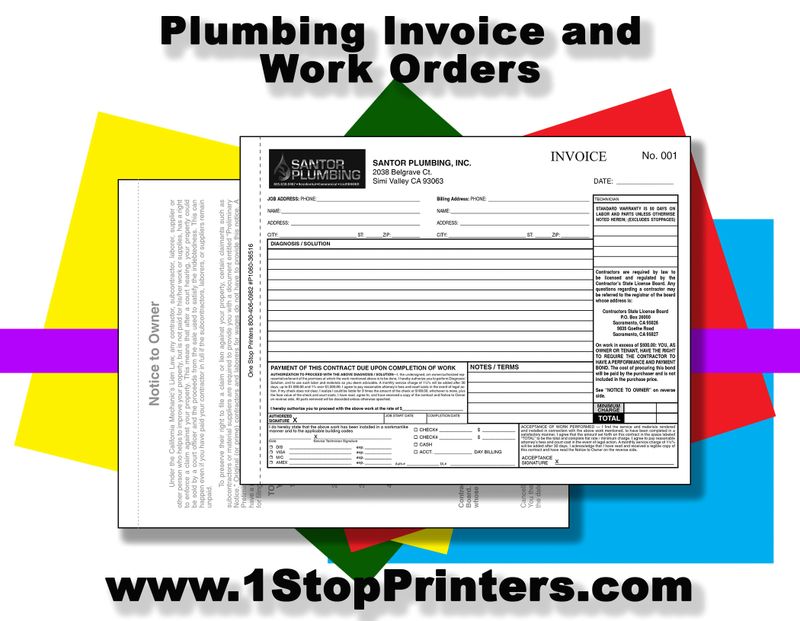 Posted March 19, 2020
One Stop Printers works diligently to provide our customers with quality business forms, check out what one of our customers had to say:
"Tony and One Stop Printers offer professional top notch service. As a small business owner it's nice to have a company that is so easy to deal with. With Tons of options, quick response and customizable templates One Stop Printers makes my life much easier when it comes to printing. Your doing yourself a disservice if you're not using this company." Josh Santor, Santor Plumbing Inc. Simi Valley , CA.
Thank you Josh!
---
Printing your repair order in color doesn't cost an arm and leg
March 12, 2020
Chris from Wheel King in Lake Charles, Louisiana called me; he was on our website www.1stopprinters.com and was looking at Automotive Tire Shop Repair Order #1035. He liked it, but needed to make changes to the disclaimer at the bottom, and could he add terms and conditions to the back. Oh, and one more thing, his logo is in color, is it possible print the front in color, too. Well, the answer to these questions was yes.
You may be thinking this is where I make up for free artwork, not true. We pride ourselves on honest pricing, and quality printing, when everything was said and done the cost was only an additional $149.00. There are so many variables involved with business form that it's impossible to have every combination and price on our website, it would be too unwieldy. We make it easy for our client's; they don't have to spend hours searching for what they want.
It doesn't matter if you have a tire store in Oklahoma City, Oklahoma or a mobile truck tire service in Billing, Montana, we can assist you. Just give us a call at 800-406-0982, talk to us about what you need, and we will provide a cost effective solution. It really is that easy.