Welcome To Our Store
Home Appliance Repair Receipt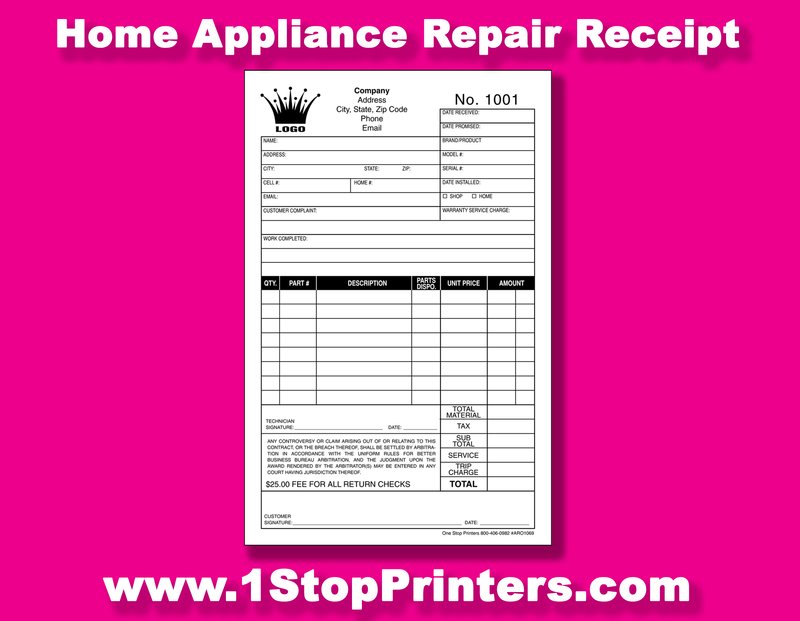 Posted November 9, 2018

Attention home appliance service technicians, are you tied of not having a handy repair receipt when you make a service call? Well, One Stop Printers has the solution for you with its Home Appliance Repair Order 1069. It includes all the information you need on it appliance repair receipt.

One Stop Printers appliance receipt is available in duplicate and triplicate sets which can be booked with wraparound covers for easy storage. All of our receipts can be changed to fit your needs for

FREE

. We also make it easy to have your logo on it, no need for you to learn file formats that will make your head swim, just send us your logo color or what ever you have and we will convert it to grayscale.
Need it in a hurry, no problem most orders ship in 3 to 5 days and we ship nationwide.
---
Proof of Delivery Receipts for Truckers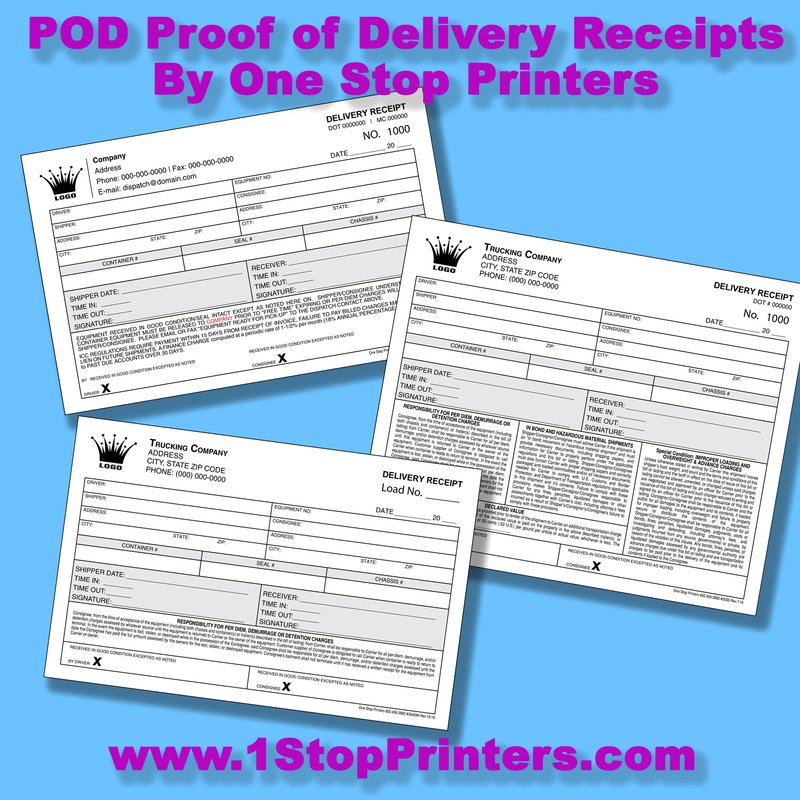 Posted November 7, 2018
The picture above is a good example for how trucking clients like one particular form such as Trucking Container Delivery Receipt 1059 but needed to customize it to its operation. They liked the simplicity of the form but needed to have a Responsibility for Per Diem, Demurrage or Detention Charges, In Bond and Hazardous Material Shipments, Special Conditions: Improper Loading and Overweight & Advance Charges and Declared Value disclaimers which they supplied.

It also changed the size of the form to 8.5" x 7" which was no problem, we print plenty of this size receipt and have a standard cost for it. This illustrates why sometimes it is best to contact One Stop Printers before ordering so we can custom tailor a proof of delivery (POD) receipt just for you.

The other example our customer only wanted to change the disclaimer to Responsibility for Per Diem. Non of these changed to he POD cost our customers, we did them for FREE, and they range for very simple to more complex. So if you need a POD to fit your needs or you have been using the same one for years and need a new printing company, select One Stop Printers, you will not be disappointed.

---
Towing Receipts Available in Duplicate and Triplicate


Posted November 5, 2018
If you own a towing company and looking for a duplicate towing receipt you need look no further than One Stop Printers Towing work order #TFP20100. Not only can you have it booked in sets of 50 with wraparound covers for easy use in the field, it is also available as a triplicate receipt, too.
One Stop Printers gives you the edge with our fully customizable towing receipts. You can select from four different disclaimers or provide the one you have been using. We have found that our competition tries to include everything possible on their standard towing receipts cluttering it up and possibly overlooking an important item. We let you change the duplicate or triplicate receipt for
FREE
, getting rid of unwanted information and including what is most important for your particular towing company.
Order today, One Stop Printers will supply you with a towing receipt to fit your needs.
---
Reducing Our Customers Stress One Weighmaster Certificate at A Time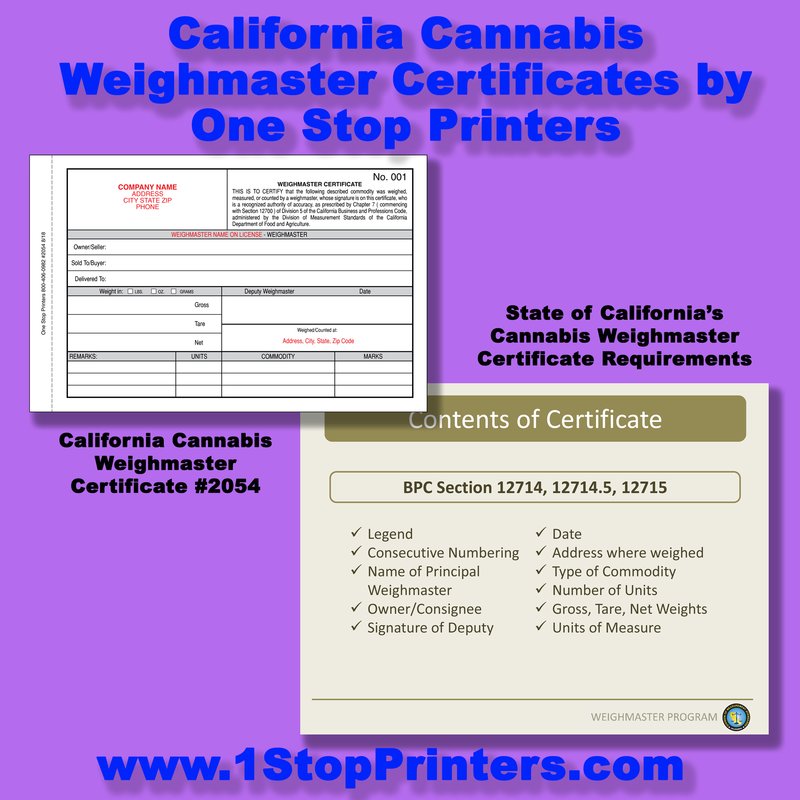 When Cannabis became legal on January 1, 2018 in California it left some producers unprepared for just how many regulations and hoops they would have to jump through to sell their product. One area is accurately accounting for their product with the state, namely having scales, a weighmaster license and certificates.

Now pretty much each weighmaster certificate for different industries and applications are the same. Just the required information is in different places. I find this true with the California Cannabis Weighmaster Certificate we just produced for a couple of growers.

We started out with one of the growers selecting what he thought was best for his operation from my library of weighmaster certificates, and One Stop Printers staff made the modifications and sent off the proof. The state regulator didn't like it and provided a pamphlet with the requirements (this is always best). So instead of modifying an existing weighmaster certificate, we just created a new one based on how the regulator's what them.

The staff here at One Stop Printers are used to reading through dry regulation and interpreting them, and applying it to the forms we produce for our customers. Disclaimer Alert: Although One Stop Printers makes every effort when producing a weighmaster certificate or any other of our business forms, it is the responsibility of our customers to ensure it meets their requirements. This is why when a state regulator is involved that you forward your proof to them for review before we print. This is where One Stop Printers makes it easy for you, it for whatever reason the regulator wants something changed, we do it for you quickly and for free.
---
Today One Stop Printers is Featuring Towing Invoice TFP20094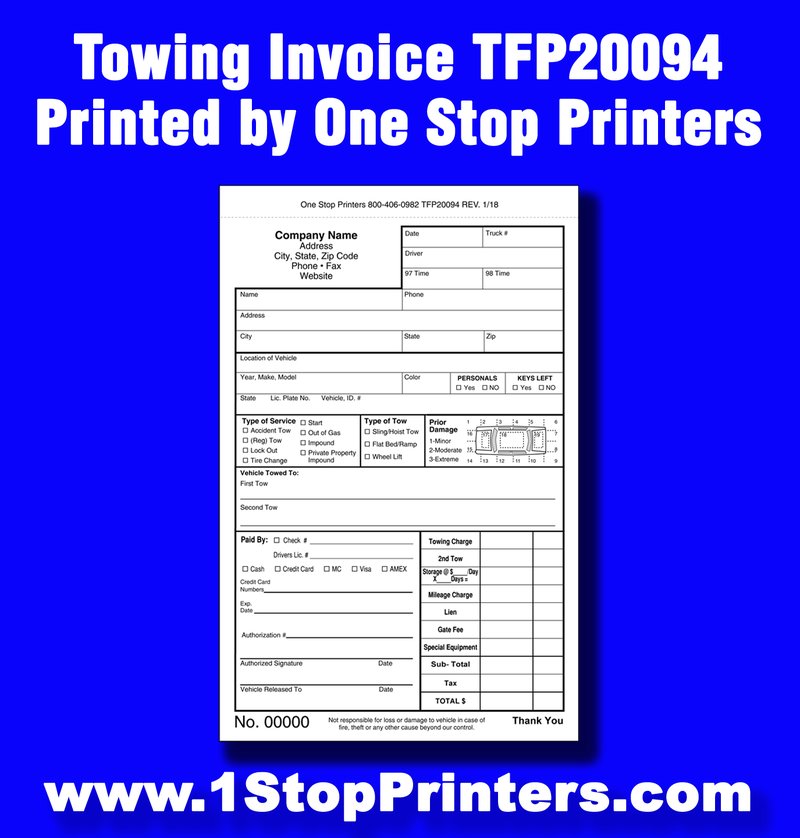 Posted July 13, 2018
One Stop Printers carries a full line of business forms for the towing industry such as our towing invoices TFP20094. This is a compact form which makes it easy to handle and saves money, too. Capture all the required information so you can present the vehicle owner with a detailed cost and the type of services you are rendering.

It has a handy "Prior Damage" car illustration to record damage before hooking-up, and an easy to use payment information section. In addition you can choose different disclaimers or provide one unique to your towing company. Don't forget you can make changes to this towing report to fit your requirement, and it won't cost you extra, you only pay for printing and shipping.

This is one of our more popular towing invoices and most tow truck drivers prefer two part NCR which is white and yellow paper. It is also available in three part NCR white, yellow and pink paper and we can book it in sets of 50 with a handy wrap around cover.

So if you are tired of buying standard towing invoices that don't meet your needs, give One Stop Printers a call.

---
Tow Truck Invoices, Impound Authorization and Many More Forms for A Towing Company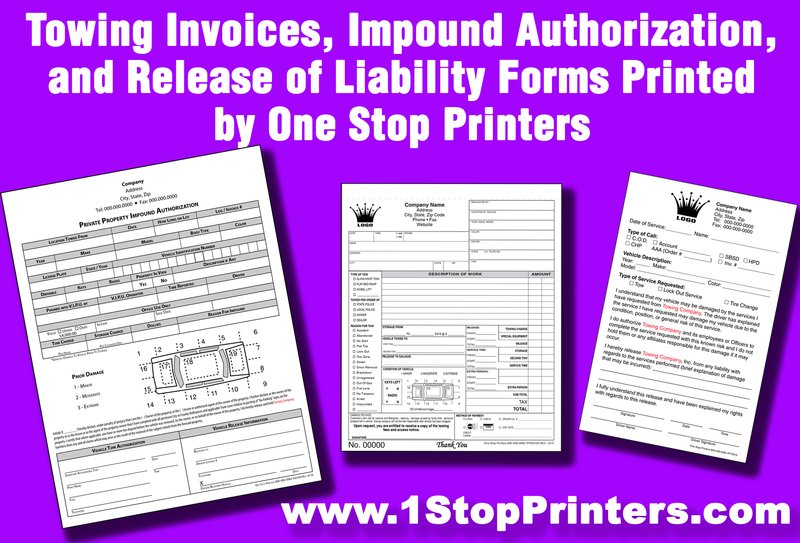 Posted July 10, 2018
State law requires that vehicle owners be given a written receipt in the form of a towing invoice when their vehicle is towed, listing where it is taken, services performed and the cost. With each state having different requirements it is difficult for a towing company to use a standard towing work order. This is where One Stop Printers will assist you.
One Stop Printers has a full line of standard tow truck invoices which are fully customizable at no cost to your, that's right changes are free. Not only that, if you have been using a towing invoiced for years which has been approved by the state patrol, or CHP and the printing company you have been using is no longer in business, we will reset the form, make any changes your require and keep the artwork on file for future reprints.
Not only that One Stop Printers has release of liability, impound authorization, truck equipment check list and many more form to make your life easier.

---
One Stop Printers Your Source for Septic and Plumbing Contracts and Proposals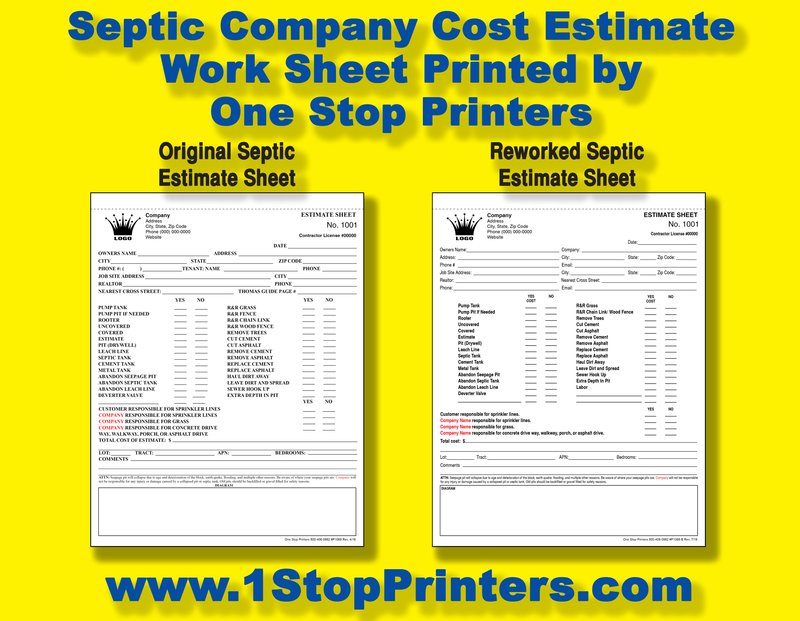 Posted July 3, 2018

One Stop Printers carries a large selection of plumbing and septic company, work orders, contracts, estimates and proposal that are customizable for
FREE
. We have been printing these forms for customers for over 30 years. Our septic company estimate sheet #P1068 was recently ordered and I starting working with the standard form making changes our customer required. I quickly discovered that this form had issues with it I didn't like, the main one is it was done in all Caps and the type style Times New Roman.
Now to most people this is not an issue, however all Caps is difficult to read if it is used in a sentence or paragraph and when used with Times New Roman it takes up a lot of space that can better be used for writing critical information for the job. In addition I didn't like how the contact information was set up. Pretty much now I take the information from our client and combine it with how I would like to see a business form set up. In this case it was one of our business forms.
I am still going to leave the original septic estimate sheet in our library, however I am adding the reworked version so our clients have an additional choice. If you like what you see and need a business form to fit your particular company requirements, give us a call so we may show you how easy it is to have One Stop Printers, design and print for you.

---
Featuring Locksmith Work Orders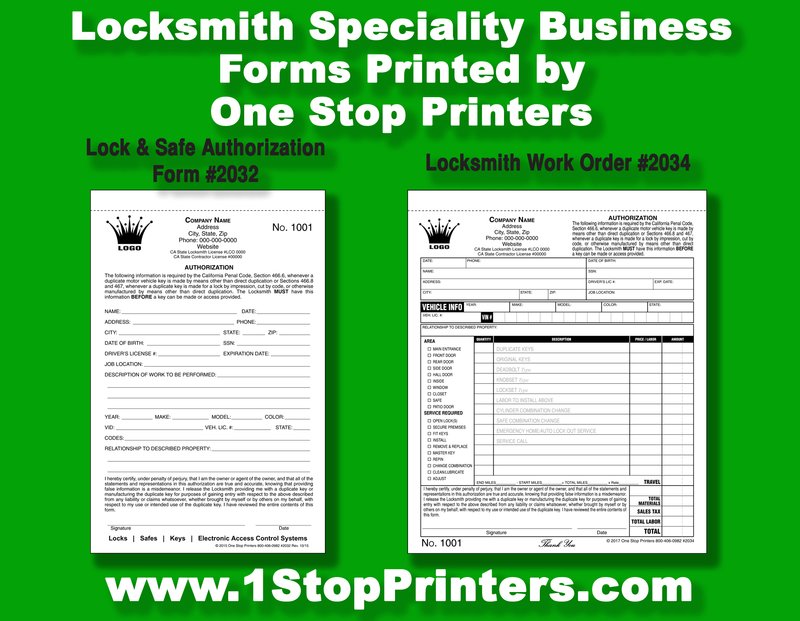 Posted June 8, 2018

The more I delve into what our fare state of California requires just to make a living, the more I appreciate what trades people like Locksmith's must do to take care of their customers and comply with the law.

When developing forms such at the Lock & Safe Authorization #2032 and Locksmith Work Order #2034 I go to the state's website and read the regulations (usually at night when I can't sleep). What I have learned is a locksmith must get certain information such as driver's license number and birth dates, etc. so in case there is a problem they can verify that the person authorizing work to be done on a lock or safe is the correct person.

Most of our business forms customer's just added their contact information and sometimes minor changes, others require major alterations and One Stop Printers makes it easy all changes are FREE!

---
Brand X Verses One Stop Printers, Which Would You Choose to Print Your Business Forms?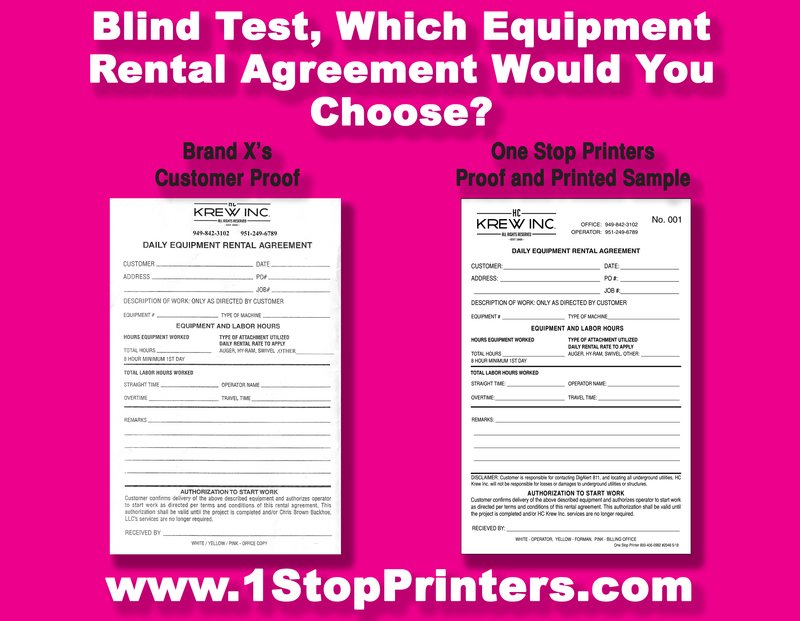 Posted May 26, 2018

The brand X equipment rental agreement on left is usually what I expect to receive from my customer so I can set up a new business form. However, and I am not making this up, this is what was provided back to Victoria as a final proof before printing. That is how I met her.

Victoria called me and said, "I'm on your website and looking at equipment rental agreements and they are good, however we have been using one for years, and would like to stay with it,  I have some changes and want our logo on it, can I help." I told her, "Yes, just send me what you have and I will reset it, make changes and send you a proof." In disbelief she asked, "You are resetting the whole business form, not just making changes to the areas I need, right?" I said, "Yes, you are correct, it is the only to make the equipment rental agreement look good, and project a professional image for your company. In addition, the set-up and changes were FREE, she would only pay for the printing." I'm not quite sure she believed me at this point.

When I got the email, I called her because I had a couple of questions, which she answered and told her I would have a proof tomorrow. Sent her the proof the next day and recommended that a disclaimer be added regarding DigAlert and underground utilities, which we did. After another round of minor changes, we printed and shipped the equipment rental agreements in a couple of days.

The old adage: Do the job right the first time, it will same time and money in the long run. Holds true today. Just because we use the internet to do business, does not mean that customer service has to take a back seat.

---
Keep Your Automotive Repair Shop Running Smooth with One Stop Printers Repair Orders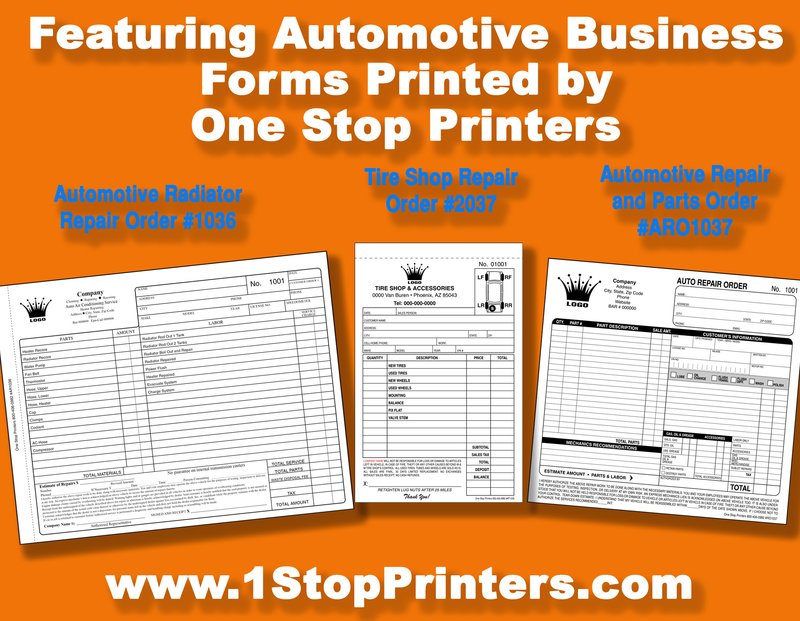 Posted May 10, 2018

One Stop Printers offers a large selection for automotive business forms such as Tire Shop Repair Order #AT1035, Auto Body & Paint Repair Order #2037 and Radiator Repair Order #1036, just to name a few. We have been in the business of assisting automotive shop owners for over 30 years by providing quality automotive forms that are useful.

Standard business forms are handy when you first open you business, but over time business owners find that they need to be modified to meet their particular companies needs. That is where One Stop Printers come in. All of our forms are fully customizable at no cost to you, that is right, changes are FREE. We know that it is important to have the proper disclaimer to match your repair shops policies and here in California where everything is regulated to the point things barely move, it is more important. The last thing you need is to have a regulator from the Bureau of Automotive Repair, cite your company because something not correct on your work order.
So give us a call at: 800-406-0982 to see how One Stop Printers can help you with your repair order printing.

---
One Stop Printers Makes it Simple and Easy to Customize Business Forms!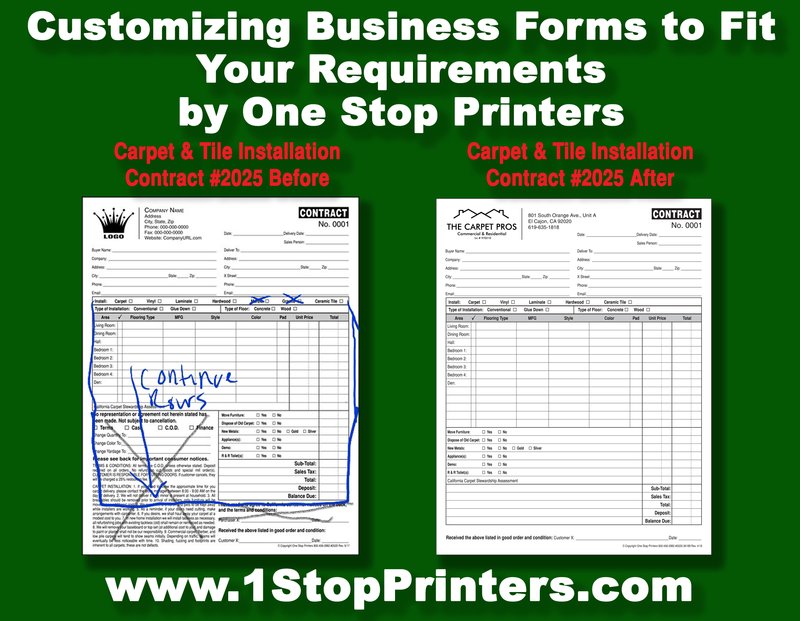 Posted April 27, 2018

Typically when a client wants to customize one of One Stop Printers business forms they contact us and we send them a high resolution PDF to mark-up. One of the reasons is because the images on our website are hard to read and they need to see what exactly is on it before deciding what to change. In the sample above our customer copied an image off our site and marked it up, and sent it along with their logo. Another reason is some are surprised and want to confirm that the changes are FREE.

One Stop Printers has an extensive background in designing and printing business forms and we understand that every company is unique. Here in California throw in our regulatory agency's that has to have its thumb in everyone's pie, it can make life interesting. This contractor in the sample above didn't sell directly to the public so some of the stuff on the contract was not necessary, plus he need more room to write. Please keep in mind, if your business is in a state other than California we will customize the form to meet your needs.

After the proof is approved (We don't even ask for money up front before making changes, does it get any better than that?) we provide a link to the corresponding item and have you order through the website and in the info area put our job number. We take if from there. If you are looking for a printing company that is responsive to your needs, you have come to the right place. Give us a call, we would be pleased to assist you: 800-406-0982.

---
Need Construction Proposal & Contracts, or Estimates?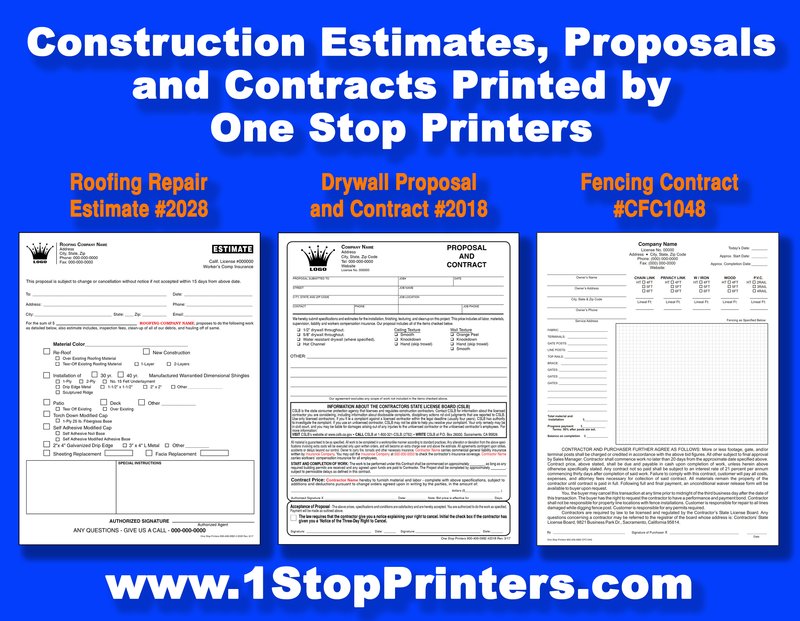 Posted April 17, 2018

Illustrate above are three of our most popular construction forms: Roofing Estimate #2018, Drywall Contract #2018 and Fencing contract #CFC1048. What is handy about these forms are that they are easy to use in the field at your customers location. This forms contain all the necessary items to provide a timely and accurate estimate and or proposal that can serve a duel propose as a contract.
These forms usually only require minor modifications to meet One Stop Printers customer's requirements, however your can make any changes you like to any of the business forms for FREE. Email your logo and it will be included, too in black and white.
One of the issues most customers  experience with online companies when they order a printed item such as the business form offered One Stop Printers is getting their logo included. They become frustrated because the other companies require certain file formats and customers don't know printing language. One Stop Printers takes the strain off of you, we will convert your color logo and we take most file formats. Don't get me wrong, sometimes even we have trouble, however 99% of the time, it is no problem. So give us a call at 800-406-0982, we would be pleased to assist you.

---
Customize Your Business Form for Free, You Only Pay for the Printing



Posted April 6, 2018
Here is a good example of how we alter business forms for our customers, a local pest control company in Las Vegas Nevada contacted me and asked if I would send a high resolution PDF of One Stop Printers #PC1077 Sanitation Report and ask if they could make changes. I assured them they could make all the changes they wanted and they would only pay for the printing.
In the picture above on the left is our standard sanitation report, and in the center are the changes submitted. On the first set of alterations, only the top and bottom portions changed. After I sent the proof they gave it to their service manager and after review made changes to the center with the check boxes. The final version on the right is what we printed and shipped to them.
This is pretty standard procedure and it doesn't matter if it is one of our construction contracts, estimates or a repair work order we provide the same service. If the business form doesn't work for you, it won't work for us either. Just because orders come over the internet doesn't mean that customer service must suffer and you have to settle for less. So give us a try, we will be pleased to print for you, Call today: 800-406-0982.

---
Inspection Reports, Delivery Receipts, Container Hand Tickets for The Trucking Industry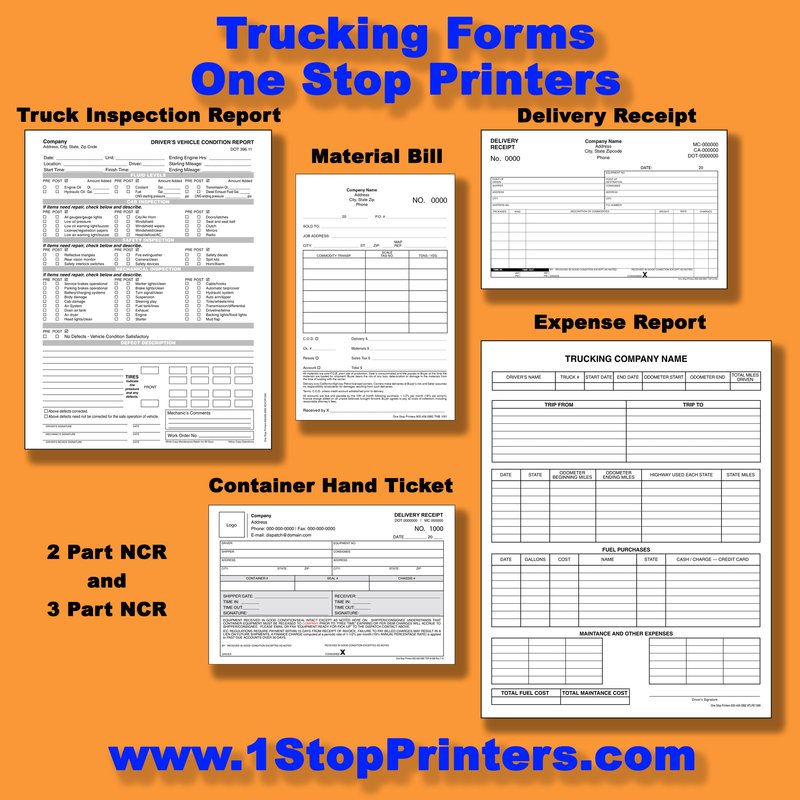 Posted March 28, 2018

Truckers live a busy life, the last thing they need is to worry about whether they have the correct information on there inspection report, delivery receipts or container hand tickets. That is where One Stop Printers located in Southern California can help.
One Stop Printers carries a full line of business forms for the trucking industry. If we don't have exactly what you are looking for we will create it. If you have been using the same bill of lading for years, no problem. Send it to us and we will redo the artwork at no charge and keep it on file for future orders. Our customer's are located all a crossed the nation, don't worry we will ship it to you.
Most of the trucking business forms we print are on two part NCR (white, and yellow) along with three part NCR (white, yellow, and pink). However some clients require a four part form, if this something you need just give me a call at 800-406-0982.

---
Weighmaster Certificates for Public Weighmaster's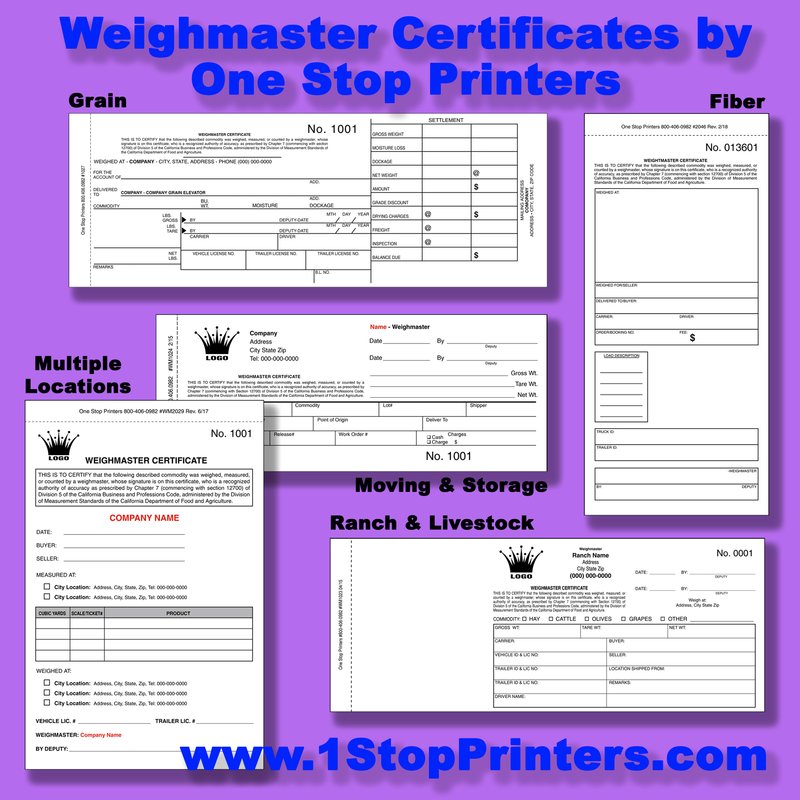 Posted March 23, 2018
Weighing and shipping of commodities usually requires a licensed Public Weighmaster and must use a weighmaster certificate to record accurate tare weight and the weight of commodity contained. Whether you have a scale in California or a peach farm in Georgia you must comply to ensure your customers get what they are paying for.
With few exceptions weighmaster's are regulated by the Department of Weights and Measures through each state's Department of Agriculture. Weighmaster Certificates are pretty much the same from state-to-state with the exception for the legal notice. Most have minimum requirements for what must be included and may be required to be approved by your state's Department of weights and Measures.
No worries, when you have to have your Public Weighmaster Certificates reprinted. One Stop Printers will make any changes for FREE to our existing certificates or send us a sample of what you have using and we will recreate exactly what you have for FREE and keep in on file for easy reordering.
Speaking of reordering, One Stop Printers in Hesperia California makes that simple, too. You don't have to worry about remembering passwords to log on to our site. We enclose a reorder form with each order toward the bottom and all you have to do is fax it, email or just call us and we will take it from there.

---
Professional Looking California Termite Inspection and Work Authorization Form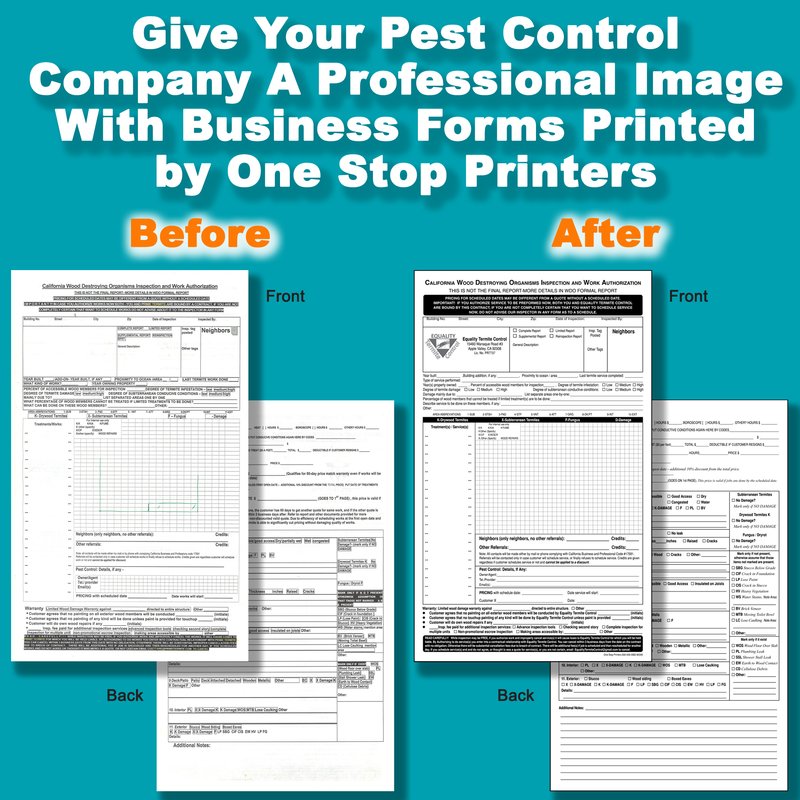 Posted: March 16, 2018
The California Wood Destroying Organisms Inspection and Work Authorization form was just completed for Equality Termite Control and is a prime example of how important it is for a company to have a professional appearance to its customers. The before version is a sample from a company the owner, Edward did contract work for in the past. He liked it because it provided customers with information at the time of inspection instead of waiting for the final report.
When this work order was brought to me I told Edward that I just charge for printing and the artwork was free, which is my policy for business forms. When the graphic artist started to work on this form it was brought to my attention that there were a lot of problems with it, I contacted Edward and told him that I understood the just of the form and function for use in the field. I was going to make major alterations to it, making it more user friendly, and correct errors.
Business forms such as, work orders, proposals and invoices, need to be functional, have a flow, and be easily understood by both the technician and customer. When a proposal is presented to a customer where there are misspellings, and is hard to understand, it opens the door to problems down the road. This sample we worked with, didn't even have a signature line for the customer to authorize work.
I have just as much criticism for the printing company that did the original printing. The mentality in our industry is, just get job in, get it printed and collect the money. No thought is ever given to advising the customer there are major issues with the project and they need to be corrected before printing. These printing companies are not dying off fast enough and in my opinion, if they can't provide their customers with a high level of service they should exit the industry.
If you are looking for a printing company who will put its customers interest first and consult with them so they have a professional image, then One Stop Printers located in Hesperia California is the company for you. Call:
1-800-406-0982
or email:
tony@1stopprinters.com
today to see how we may assist you.
---
One Stop Printers Makes It Easy to Customize Towing Reports and Invoices



Posted March 6, 2018
Whether you call them towing reports, towing invoices, towing work order or towing receipts you are referring to the same thing. One Stop Printers has provided these forms to the towing located across the United States since 1987 and know it has to be functional and include everything required to make sure the services provided are charged correctly.
In addition you have to comply with regulations in your state, here in California if you are going to tow from a freeway you fall under the California Highway Patrol, in neighboring states it may be the state patrol or the transportation department. Regardless the towing industry is heavily regulated. States like Texas requires certain things and disclaimers are on the receipt for both towing and storage. This is where One Stop Printers can be of assistance.
Our company recognizes that you may have been using a towing receipt that has been approved, you need them reprinted and don't want to change the format because it is a hassle. We also realize that the printing industry has changed considerably in the last few years and the printing company you have been using is no longer in business. No worries, One Stop Printers will redo the artwork for your towing report for FREE and keep it on file for reprinting in the future. We include a re-order form in your order, just simply fax, email or just call us, yes it is that simple.