Welcome To Our Store
You don't get a second chance at a first impression! Make the best of it.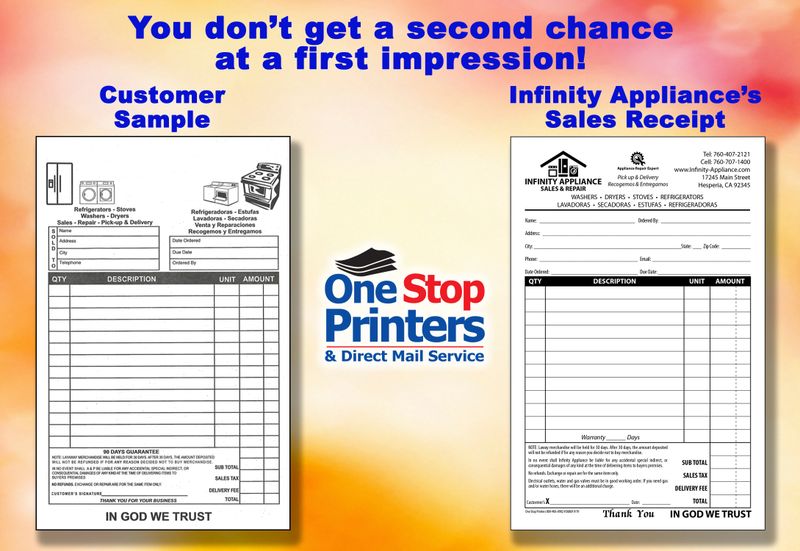 Posted: October 11, 2019
One Stop Printers would like to thank Ismael for choosing us to print Infinity Appliance's Sales & Repair duplicate receipt. I have been saying for years that you don't get a second chance at a first impression. Even something as simple as your receipts need to communicate you are professional and do a good job. Once again it illustrates how we improve our customers' image.
Ismael brought me a sample of what he wanted to have printed for his store. One glance and we knew we could make it more functional and look better. The most important changes were to capture all his customer's information, and fix the disclaimer to match Infinity's company policies.
One Stop Printers makes it easy for you to look good because we do all the artwork and set-up for FREE! All you pay for is the printing. Call us today at: 800-406-0982 to find out how we can assist you.

---
Heavy Equipment Operator Equipment Rental Receipts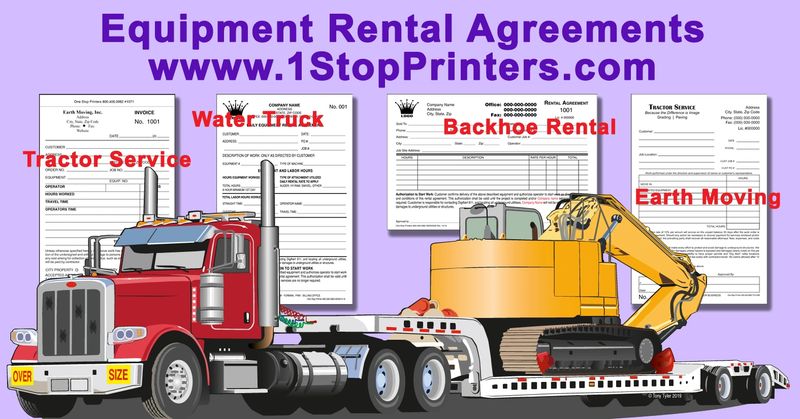 Posted September 11, 2019
You have the heavy equipment and skill to do the job, the only piece of the puzzle you are missing is a work order. Whether you operate a tractor, water truck, backhoe or earth moving equipment, One Stop Printers has a duplicate or triplicate receipt to ensure you record work completed so you can accurately bill you customers. Try our Earth Moving Invoice Work Order # 1071, Tractor Service Work Order TS#1085 or our Daily Equipment Rental Agreement #2048. Don't forget you can make changes and include your logo in black and white for
FREE
. Have you been using the same rental agreement for years and don't want to change, no problem. We will reset the agreement for
FREE
and keep it on file for convenient reordering.
---
Triplicate towing receipts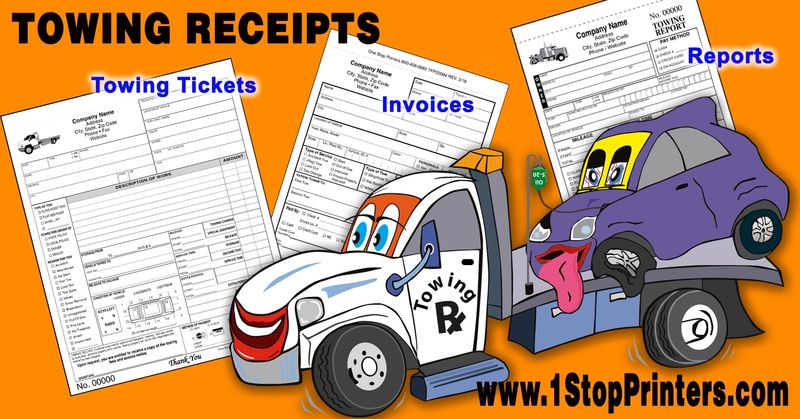 Posted August 21, 2019
You have worked in the towing industry for years and finally took the plunge and bought a tow truck, tada you are now in business. Suddenly you realize you don't have towing receipts. What to do? Simple, contact One Stop Printers at
www.1StopPrinters.com
or call
800-406-0982
, we carry a full line of duplicate invoices or triplicate work orders.
If you don't see anything you like or want to make changes, no problem, we do that for
FREE
. Not only that they are inexpensive and we will ship in less than 5 days. So don't wait, contact One Stop Printers Today!
---
Customize you plumbing work orders!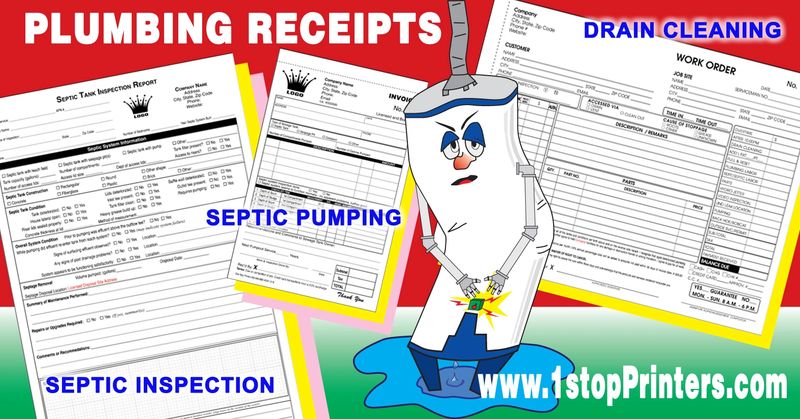 Posted: August 14, 2019
Order your plumbing work orders, invoices, septic inspection reports through One Stop Printers and we will customize it to meet your company's requirements for FREE! Contact us today!

Customer service still rules the day!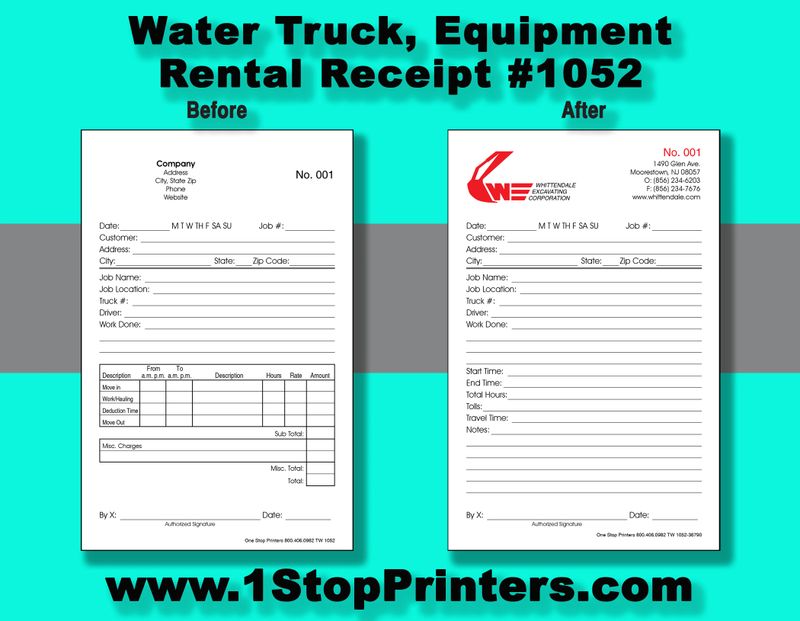 Posted July 24, 2019
We would like to thank Whittendale Excavating Corporation for choosing One Stop Printers to print its equipment rental job receipts. They initially asked to make some minor changes to our Water Truck Invoice #TW1052, drop in the logo and normal contact information, which we did and sent a proof.

After all the partners had a chance to review the proof, it was decided the work order didn't quite work for their operation, and asked that the bottom of it be reworked, giving them more room to write information, and they wanted their logo in color, which we were happy to do. What you see above is the before version and completed receipt on the right.

There is nothing worse than to work with a receipt that doesn't fit your needs, which leads to mistakes in billing or lost dollars. One Stop Printers understands this concept and work to satisfy our customers requirements. Whether you need to make minor changes, major changes or need us to develop a completely new receipt, it's always FREE at One Stop Printers.

If you need help streamlining your receipts, give us a call at: 800-406-0982. Experience the difference, contact us today!

---
Don't get nickel-and-dimed to death for a custom bill of lading!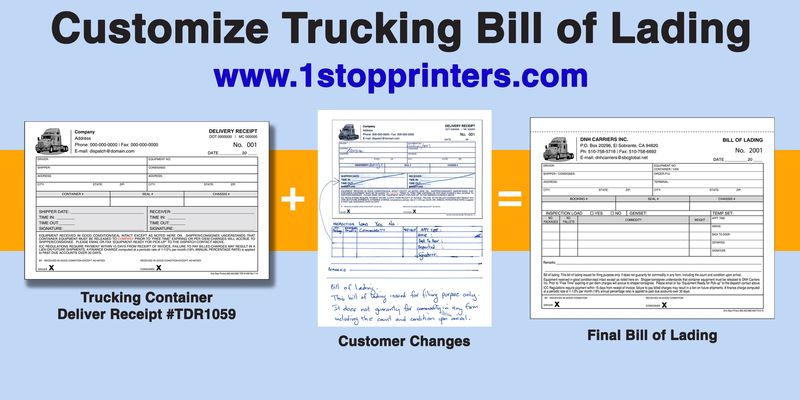 Posted: July 9, 2019

We would like to thank DNR Carriers Inc for recently purchasing its bill of lading from us. When we received a call from them it started out the typical way, "We like your Trucking Container Delivery Receipt # TDR1059 but would like to make some changes, is that possible?"

I think most clients who ask this question are skeptical that we will not charge extra for making changes; are waiting for the exception, and then being told what they want printed, will cost extra. Well, they are always surprised and pleased when we tell them to send us the changes, don't forget to send your logo if you have one, and we will set it up and send a proof. We don't even ask for money up front, we want to ensure that your are completely satisfied with the artwork before the order is placed! It's that simple.

Since the size of the bill of lading had changed from 8.5" x 5.5", to 8.5" x 7" the price changed to our standard cost for that size, plus sales tax and a flat rate of $18.00 for shipping. If you are tired of being nickel-and-dimed to death by those other website's which advertise a cheap price and never deliver on it promise, give us a call to see how we may assist you: 1-800-406-0982.

---
Truck and trailer illustrations for the trucking industry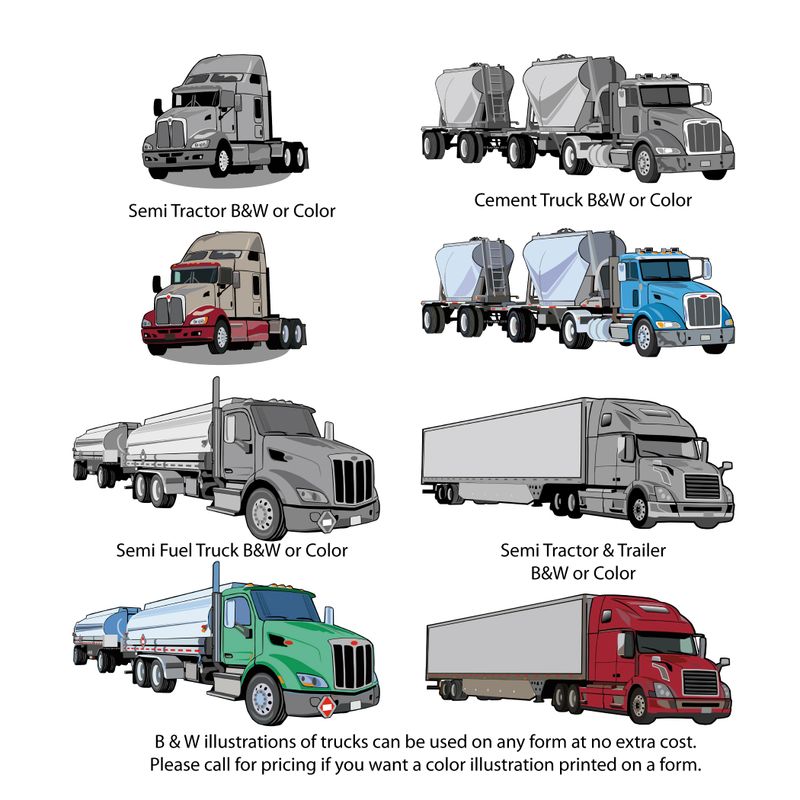 Posted June 21, 2019
In a effort to assist trucking companies improve their image, One Stop Printers has four common truck illustrations to use on Proof of Delivery (POD), bill of lading, delivery receipts and invoices. We will adding more in the future. If you would like one not shown, let us know, and we will see what we can do to help you.

---
Get started today with One Stop Printers Truck & Vehicle Inspection Reports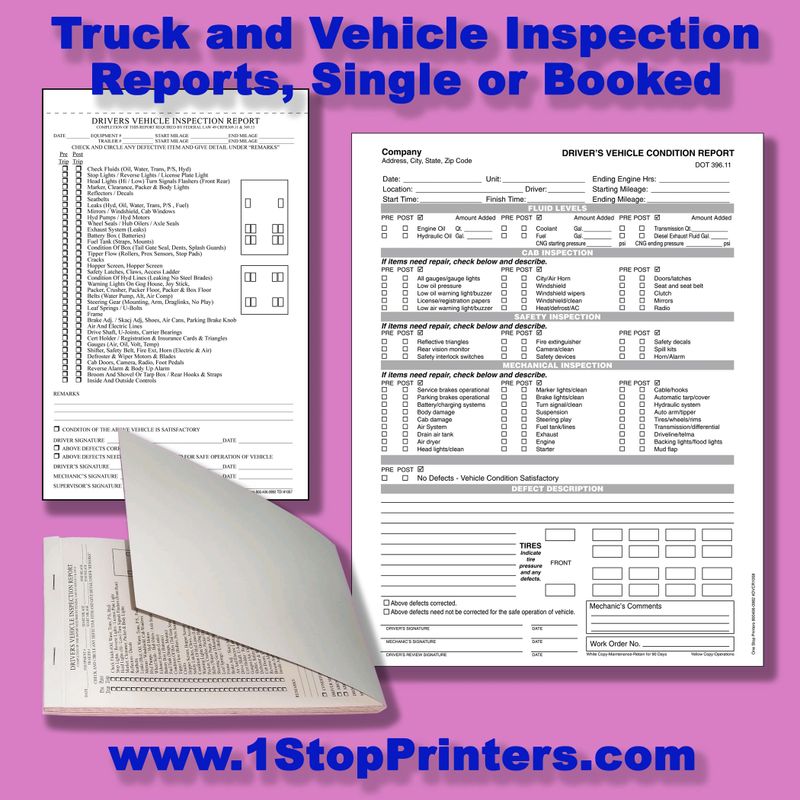 Posted: May 21, 2019
Driver's Vehicle Inspection Reports are required by Federal Law 49 CRFR369.11 & 369.13 and One Stop Printers has some standard forms such as Trucking Driver's Vehicle Inspection Report TDI1057 and Driver's Vehicle Condition Report DVCR 1058. These detailed inspection reports contain all the items needed to ensure you are operating a safe truck and is there is a problem, it is documented so your maintenance department knows what to fix.
These vehicle inspection reports come in a variety of sizes from 8.5" x 11" to 5.5" x 8.5" in duplicate and triplicate receipts and can be booked with wraparound covers for easy use and storage.

We know that your may want to make changes to our vehicle inspection reports so the better fulfill the needs of your motor carrier company, and we make it easy and free to make any changes required. Just let us know what you want changed and we will happily do it for you and send back a proof before printing. So contact us today at 800-406-0982 to get started.

---
You choose what you want on the back of your plumbing work order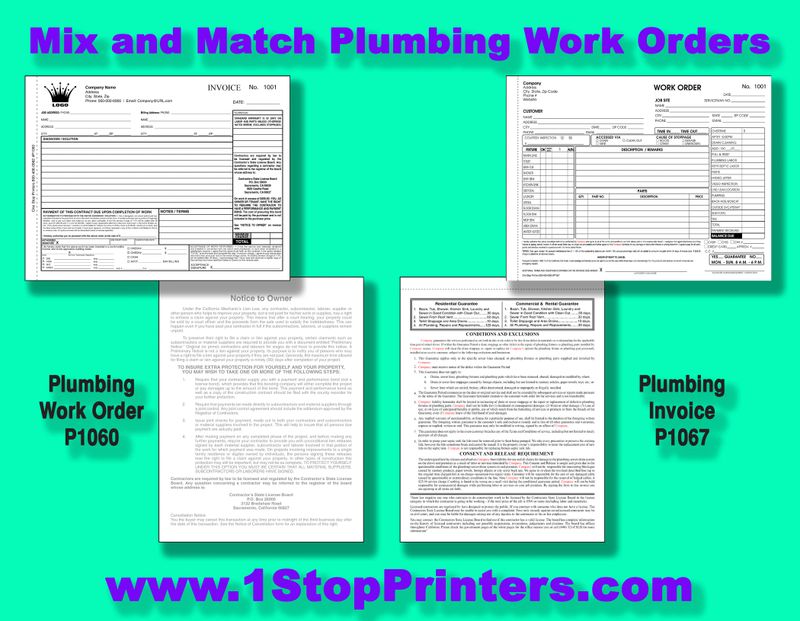 Posted: May 3, 2019

When a plumbing company decides to get its plumbing work order receipts printed it is important to make sure all the information required is included. Whether your plumbing business is located in Riverside California, San Antonio Texas or Jacksonville Florida all of them have some sort of 3 day right-to-cancel contract and require certain language particular to that state and a waiver must be included if you want to make sure you get paid. Not to mention terms, conditions and exclusions.

If you don't have your plumbing receipt designed correctly, disputes naturally arise. This is where One Stop Printers can assist you, we carry a large selection of plumbing contracts such as our Plumbing, Drain Cleaning & Septic System Invoice P1067 which as Conditions and Exclusions on the back or our Plumbing Invoice P1060 with Notice to Owner and California Mechanics lean on the back. Any of our plumbing forms can be changed and you can mix and match the back side to your requirements.
However, what is more important, is you are able to make changes to our receipts for FREE, all you pay for is the printing, shipping and sales tax if it applies. One Stop Printers has worked with many plumbing company owners to get them a plumbing receipt that works best for there operation, saving them time, money and stress. Call: 800-406-0982 or contact One Stop Printers today at: www.1stopprinters.com to see how we can assist you.
---
One Stop Printers a trusted source for all your pesticide business receipts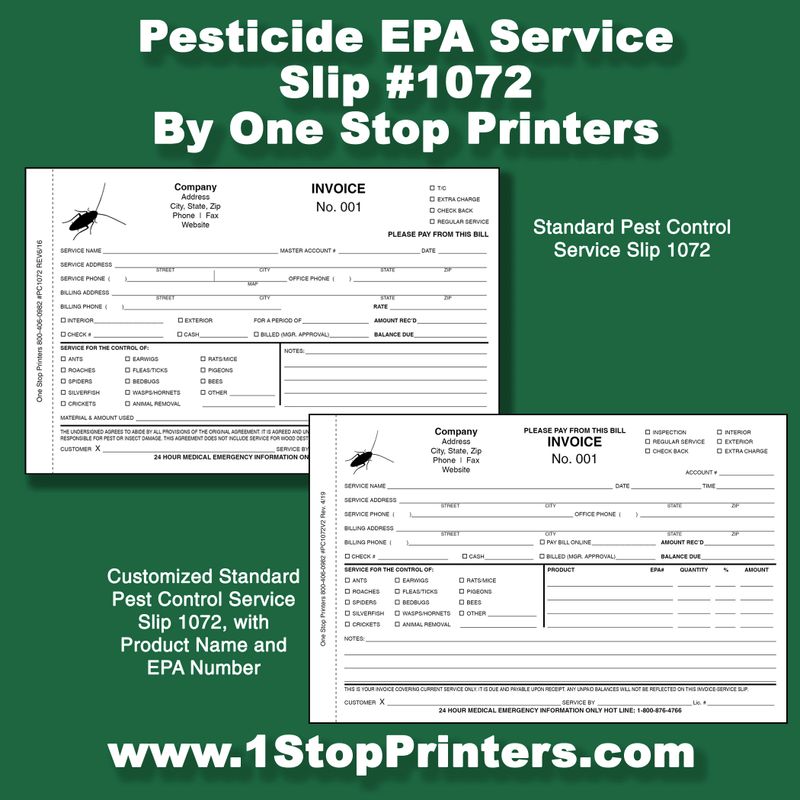 Posted April 8, 2019
What was old in now new again. Internet ordering is just catalog sales of the past with a twist. It is much easier for a vendor to change products to meet customer demands, and faster communication. Instead of printing and mailing catalogs, there are online catalogs and where you mailed in your order and payment and waited two to three weeks for delivery; you click a couple of buttons and the order shows up at your doorstep by the end of the week.
For the printing industry it has made it easier to serve our customers interest. One Stop Printers sells a large selection of invoices, work orders, sales receipts, proof of delivery POD receipt and weighmaster certificates, for a wide variety of customers, such as plumbing and roofing contractors, trucking industry, growers of grain and cattle and grain elevators.

When ordering from One Stop Printers on-line catalog it can be as simple as ordering and supplying us with your imprint information; or using one of our standard business form as a starting point, which is what we did for a pest control company in Moreno Valley Calif. The first printing of One Stop Printers' Pest Control Service Slip PC1072 the owner Daniel only required a couple of changes to better serve his needs, which we did for free and printed.

When it came time to reprint apparently an agricultural regulator had reviewed his pest control service slip and required changes, being that up to four pesticides would be applied to a clients property he required that there be spaces for the pesticide name, EPA number, quantity, dilution rate and amount applied be on the receipt, so if there was a problem the customer was fully informed. We see this as a good thing and one of our goals it that our customers get what they need quickly, with no muss or fuss. We have found in situations where state or county regulators are concerned the quicker you give them what they want, the happier they are, and will move on to someone else to make an example out of.

Our customer had his pest control work order in a week, customized to fit his needs. Keep in mind we make all changes to existing business forms or set up new one's for free, all you pay for is the printing and shipping. So if you are looking for a responsive company to print your sale receipts, look no further than One Stop Printers at 800-406-0982 or www.1stopprinters.com

---
California Termite Inspection Date Label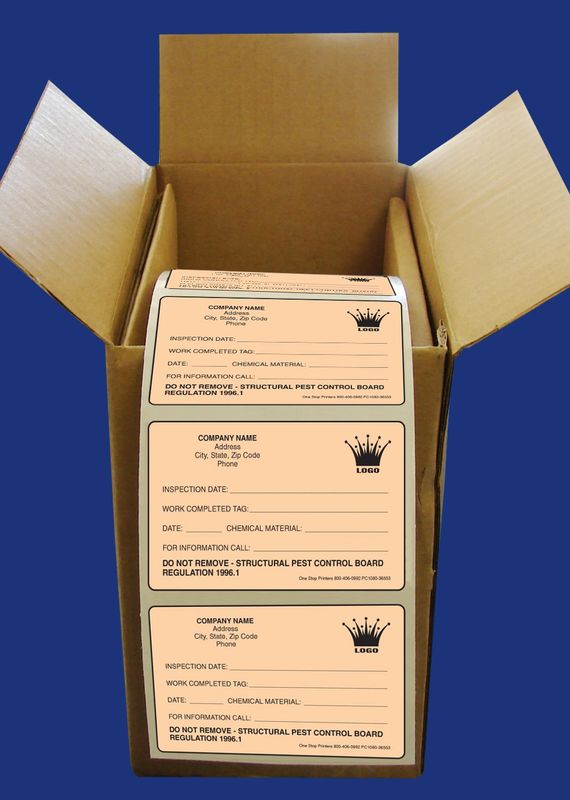 Posted March8, 2019
One Stop Printers introduces our new Termite Inspection Date, work Completed Label. This handy label is printed on a Orange Fluorescent label, it is easy to write on with a pen and you can place it where it is needed, the Fluorescent makes it easy to find when coming back to the job site. This Pest Control Inspection Work Completed label #2059 is printed with black ink, finish size is 5" x 3" and comes on a roll for easy use and storage.

---
Weekly Manifest for the Trucking Industry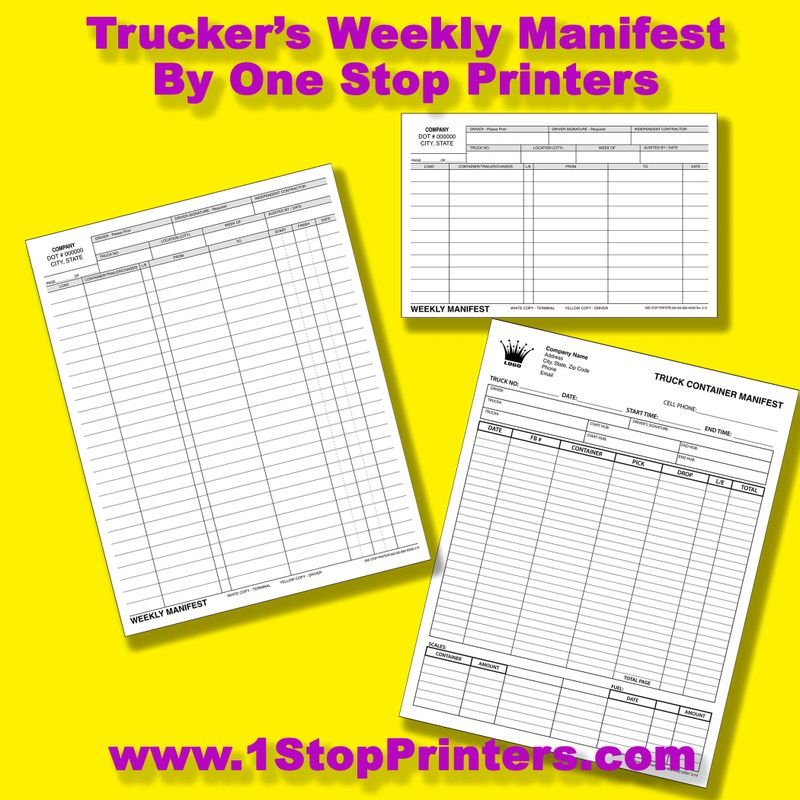 Posted February 11, 2019

If truck drivin' is your way of life and how you put food on the table, the more time you spend on the road and less time doin' paper work the more money you make. However you still have to have accurate records to ensure you can verify the loads you haul are delivered and you get paid on time. There is nothing worse that counting on money hittin' your bank account, only to find out some bean counter missed somethin'. This is where One Stop Printers with our large selection of trucking forms can help.

We have just added three weekly manifests to our library. That's right, count 'em three: Trucking Container Record 2057, Weekly Trucking Manifest 2058, and Trucking Small Weekly Manifest 2059. These manifests have everything to assist you in keeping accurate records at your fingertips, from areas to record load and container information to, pick and delivery destinations.

W
hat is great about buying your weekly manifests from One Stop Printers is that they are fully customizable for

FREE

. Even if you have purchased a manifest from us and later you need to make changes, it is no problem, it's still

FREE

.
---
Pool & Spa Service Receipts Available at One Stop Printers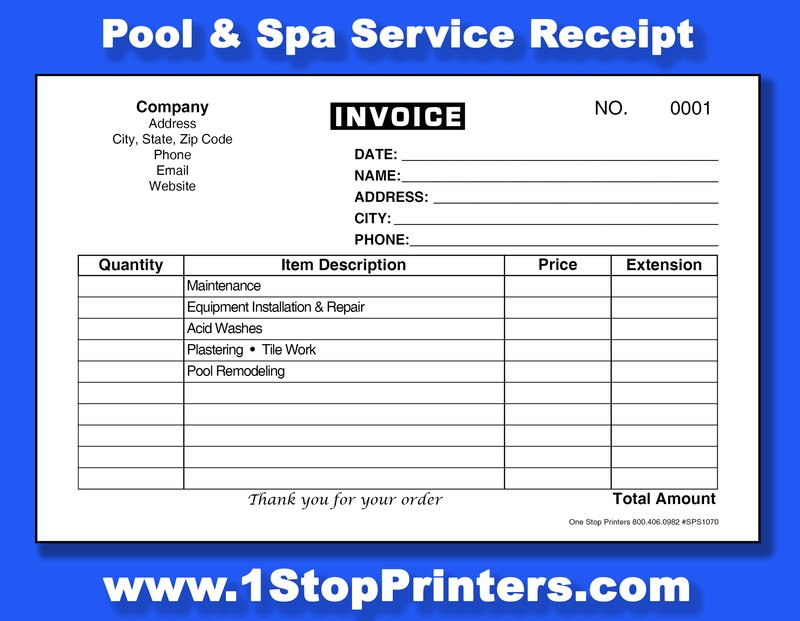 Posted: December 7, 2018
For all of you who own companies who do swimming pool service and maintenance and need a handy swimming pool service receipt either in duplicate (2 part NCR) or triplicate (3 part NCR). One Stop Printers has the solution with our Swimming Pool Service Invoice #SPS1070.
Record all of the services you performed on our simple to use form and record all supplies use for handy billing. No more writing it down on a yellow pad and then transferring it to an receipt when you get back to the office. Just place he pool service invoice in and envelope and send. Don't forget if you need to customize this versatile work order, just let us know what you need changed and we will do it for FREE. In addition if you have been using the same Pool and Spa Service Receipt for years and don't want to change, no problem. We will redo the artwork for free and keep it on file for easy reordering.

---
Patio Repair Receipts Made Easy for Roofing Contractors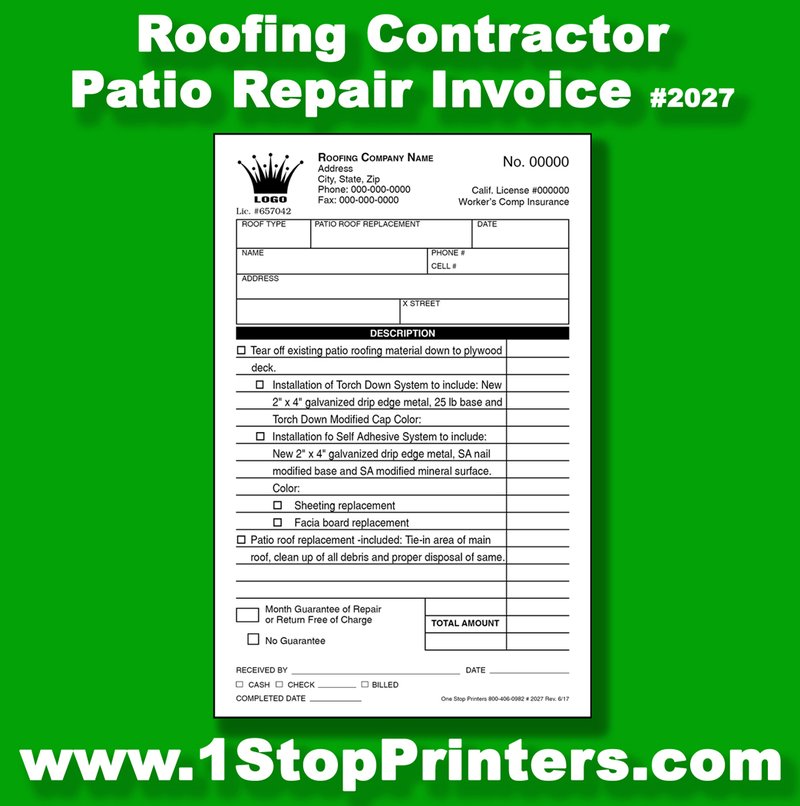 Posted: November 19, 2018
Roofing contractors, have you ever got to a customers home and needed to give an estimate to repair their patio and wished you had a simple and easy estimate form that is easy to use? Well, One Stop Printers has the solution for you with our Roofing Contractor Repair Invoice #2027.
Like most contractors you specialize in certain repairs and you find you fill out the same information every time, and maybe sometimes in your rush you forgot and item, you get the job, only to find you lost money. Well no more, our roofing invoice has boxes to check off services to be preformed, making it simple and easy to give a cost and convert it into a job order.
You say that the way you do patio repairs is a little different that what we show on One Stop Printers standard roofing repair order, no problem! We make all changes to our existing work order receipts for

FREE

, you only pay for printing and shipping. You say, you would like your logo included, again, no problem! Send us your logo and we include it in black and white for

FREE

.
---
Quote for Pest Control Services Field Receipt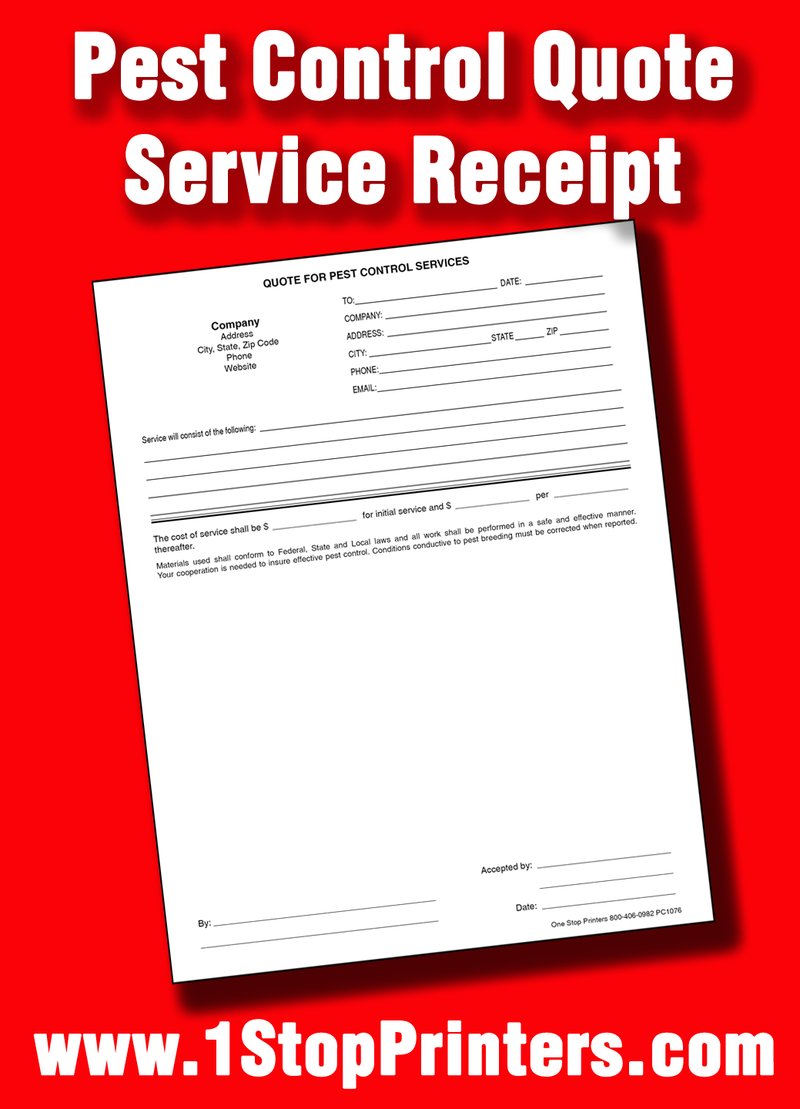 Posted: November 16, 2019

If a pest control companies service technician is not in the field doing service work (assassinating bugs and vermin) or inspections with prospective clients it is loosing opportunities and money. One Stop Printers in Hesperia California makes it easy and efficient to keep your technicians productive with our unique pest control business forms.

One Stop Printers has been assisting pest control companies with their printing needs for over 25 years, with products like our Pest Control Quote Service Form PC1076, your technicians can provide an accurate cost estimate and provide your clients with a receipt. It can easily be converted into a work order by using One Stop Printers, Pest Control Service Slip PC1072, which will provide an accurate receipt for pest control services performed.
So, save time and money by choosing One Stop Printers, a leader in printing pest control receipts. Remember that your can change any of our forms at no cost, all you pay for is the printing. Not only that we keep the artwork on file, making reorders simple and easy. We don't require you to remember passwords on how to navigate our website when it comes time to reorder, just give us a call or email us, you will get a real person to assist you, so you can get back to work doing what you do best... Pest Control.

---
Home Appliance Repair Receipt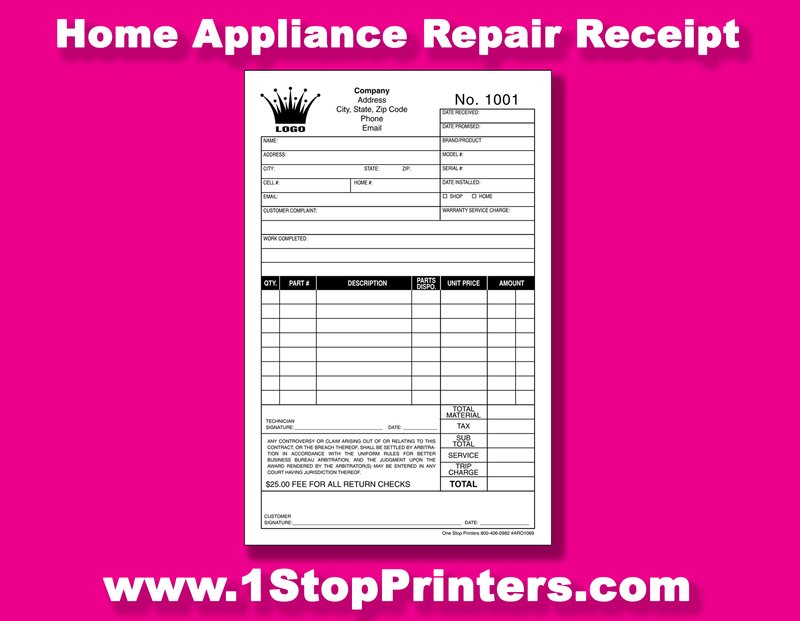 Posted: November 9, 2018
Attention home appliance service technicians, are you tied of not having a handy repair receipt when you make a service call? Well, One Stop Printers has the solution for you with its Home Appliance Repair Order 1069. It includes all the information you need on it appliance repair receipt.

One Stop Printers appliance receipt is available in duplicate and triplicate sets which can be booked with wraparound covers for easy storage. All of our receipts can be changed to fit your needs for FREE. We also make it easy to have your logo on it, no need for you to learn file formats that will make your head swim, just send us your logo color or what ever you have and we will convert it to grayscale.
Need it in a hurry, no problem most orders ship in 3 to 5 days and we ship nationwide.