Vineyard Weighmaster Certificate #1026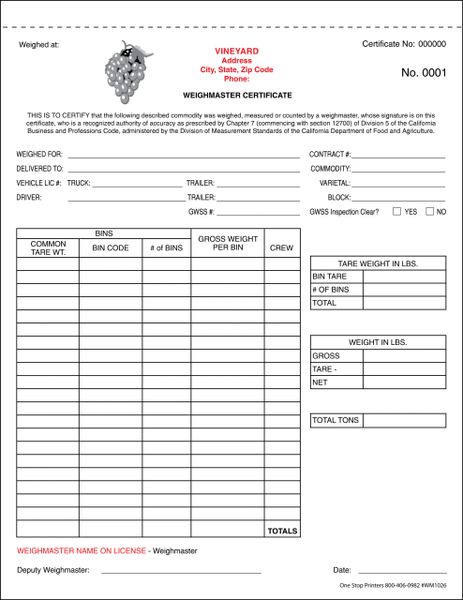 Vineyard Weighmaster Certificate #1026
Wine Weighmaster Certificate, it is available in 2 ply NCR (white and yellow sets) and 3 ply NCR (white, yellow and pink sets) paper. If you have special requirements like 4 part NCR or need the last part tag (heavy paper) email me for special pricing. Numbered in one position. Weighmaster form is 8.5" x 11" with a tear-out size of 8.5" x 10.5".
The areas in red are what will change to your vineyard information and will print black.

If you would like to include your logo please email it to: tony@1stopprinters.com, we will send you a proof before printing for you approval.
Are you in a different State? Have you been using the same weighmaster certificate and it has been approved by the department of weights and measures and don't want to change? No Problem, send us what you have and we will set it up for FREE!