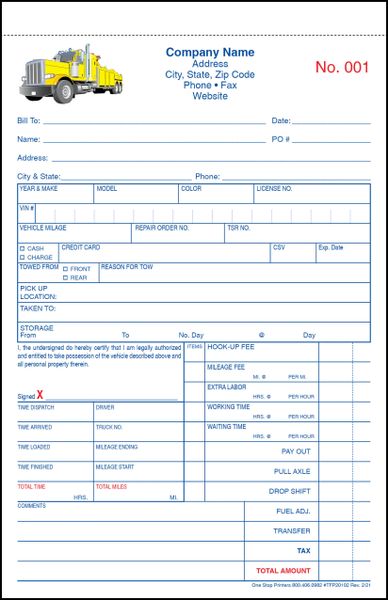 Towing Work Order #20102
Enhance your towing company's image with One Stop Printers' Towing Work Order #20102. This versatile towing receipt is available in duplicate (white and yellow sets) and triplicate (white, yellow and pink sets) and is customizable for FREE! Its economical size of 8.5" x 5.5" with a tear-out size of 8" x 5.5" makes it ideal for booking for easy use in the field.
If you would prefer to use your color logo instead of are tow truck images, no worries just email it to: tony@1StopPrinters.com with your order. Have you been using the same towing invoice for years and don't want to change? Just send us a sample and we will redo the artwork for FREE, all you pay for is the printing (our published prices on our website), and we will keep it on file for future reorders.
Disclaimers:

1. I, the undersigned, do hereby certify that I am legally authorized and entitled to take possession of the vehicle described above and all personal property therein. I have received vehicle in satisfactory condition. Not responsible for loss or damage to cars or articles left in cars in case of fire, theft or any other cause beyond our control.

2. Not Responsible for loss or damage to vehicle in case of fire, theft or any other cause beyond our control.

3. I have been advised that my vehicle may be damaged if winched, towed, unlocked or left on unattended premises. I recognize the difficulty involved and I agree not to hold the towing service responsible for such damage should it result.
4. Damage release: Customer's own risk for valance and fiberglass - steering - damage caused by faulty tires - personal property left in vehicle. Towing company will not be held responsible after vehicle has been dropped.