Towing Company Release of Liability #2010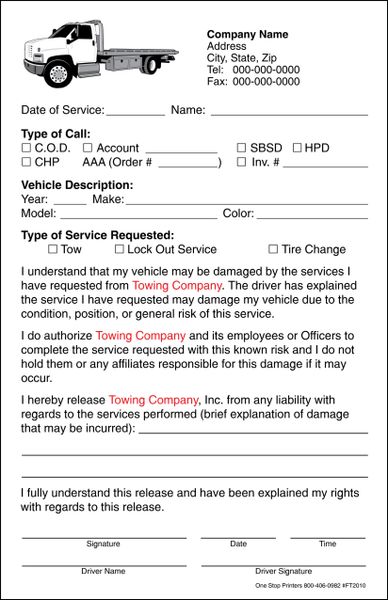 Towing Company Release of Liability #2010
Towing company Release-of-Liability, is probably one of the most important forms your drivers carry. Make sure your are not paying for damages because you driver didn't have a release before starting a lock out service. Choose 2 part NCR (white and Yellow) and 3 part NCR (White, Yellow and Pink) paper. You can include numbering at no additional cost (illustration does not show numbering). Towing form is 5.5" x 8".

If you would like to include your logo please email it to: tony@1stopprinters.com, we will send you a proof before printing for you approval.
Are you in a different State? Do you like the form but would like to make a few changes to better fit your company needs? Have you been using the same release of liability and don't want to change? No Problem, send us what you have and we will set it up for FREE!