Solutions Accounting Brochure #2041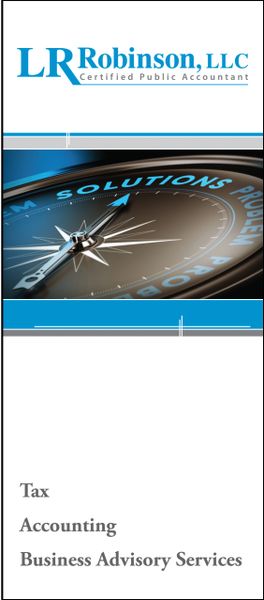 Solutions Accounting Brochure #2041
One Stop Printers designed and printed the solutions brochure for Lisa a CPA in Tucker Georgia and is an example of what we can do for you and your practice. We took her idea and assisted her with the copy, selection of stock photographs and provided Lisa with the design and final artwork.
The solutions brochure sample is printed full color both sides on 100# matt white paper, the finish size is 8.5" x 11" letter folded to 3.625" x 8.5". This is a popular size because it fits neatly into an envelope or counter display.
This is just one example for the many brochures we have designed and printed for CPA's a crossed the country. We have found that most CPA's have a theme for their website and want to keep it for their printed brochure. Give One Stop Printers a call today to see how we can assist you with your marketing campaign.