Septic Tank Pumping Small Receipt #2061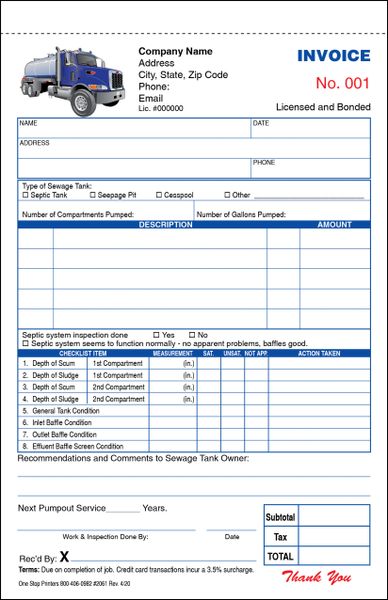 Septic Tank Pumping Small Receipt #2061
Special, order this receipt and we will print your logo in color for the same price as black and white. Septic Tank Pumping Small Receipt is a convenient size of 5.5" x 8.5" with a tear-out size of 5.5" x 8" and is available in a duplicate receipt (white and yellow) or triplicate receipt (white, yellow and pink) paper. It's handy size lets you record the services rendered and record important information about the conditions of the tank. It can also be booked with wraparound covers for easy storage in your truck.
Making changes to fit you needs are no problem and FREE, too. Don't forget to send us your logo and we will include it in black and white, giving you name recognition. Contact us at: tony@1stopprinters.com and we will send you a high resolution PDF to mark up changes.
Don't forget, if you have been using a septic pumping receipt for years and no longer have a source to print it. Email it to us and we will set it up for FREE and keep it on file for future use.