Septic Tank Inspection Report #2066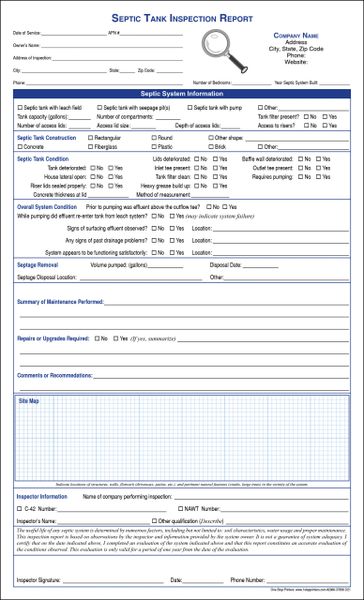 Septic Tank Inspection Report #2066
Septic Tank Inspection Report is an easy to use form which is full customizable to fit your septic service companies needs. Whether your septic pumping company is in Dallas Texas or Mason Iowa, we understand that you may need to make changes to comply with local and state regulations, which is why we make it easy and all changes are FREE. If you need us to send you a high resolution comply to read and alter, to problem just let us know.
Don't forget to send us your logo, too: tony@1stopprinters.com, so it is on the report in color, ensuring your company's name identification. We will make all changes and send you back a proof before printing. In addition, we include a reorder form with every order, so when you run low you can fax, email or call us. Yes, it is that easy.
One Stop Printers comprehensive septic tank inspection report comes in an 8.5" x 14" carbonless receipt, in either duplicate (white and yellow paper) or triplicate (white, yellow and pink paper) carbonless forms.