Scrap Metal Weighmaster Certificate #1015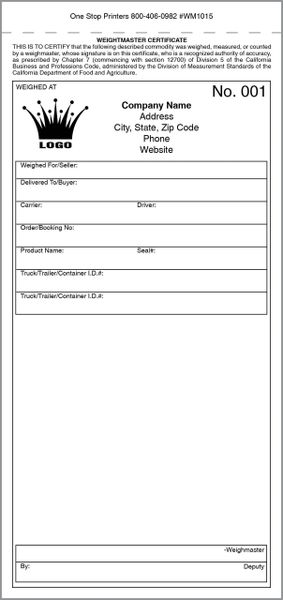 Scrap Metal Weighmaster Certificate #1015
Scrap Metal Yard Weighmaster Certificate, you have a weighmaster license so you know how picky the department of weights and measures can be, One Stop Printers does, too. We have read the regulations for the state of California, Arizona and Washington and we make every effort to ensure our certificates contain all the right elements and are sequentially numbered.

One Stop Printers weighmaster certificates are available in 2 part NCR (White and Yellow Sets) or 3 part NCR (White, Yellow and Pink Sets) paper, and 4 part NCR (White, Yellow, Pink and White Tag Sets). Numbered in black, in one position. Weighmaster form is 8.5" x 4.25" with .5" stub on the top.

If you would like to include your logo please email it to: tony@1stopprinters.com, we will send you a proof before printing for you approval. We highly recommend that you have the weighmaster certificate approved by the supervising weighs and measures ensure that it meets its requirements (and it makes the crybabies feel better that it has their blessing).

Are you in a different State? Have you been using the same weighmaster certificate and don't want to change? No Problem, send us what you have and we will
set it up for FREE!