Rental Yard Ready-to-Rent Tag #2053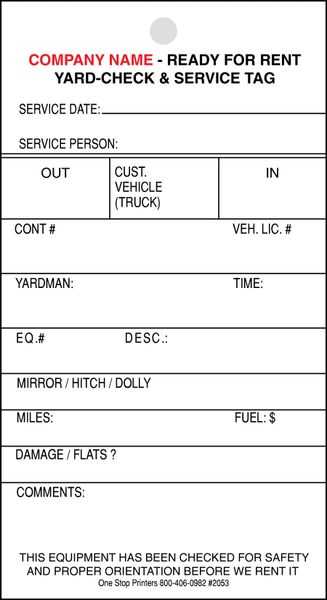 Rental Yard Ready-to-Rent Tag #2053
Ready for Rent, Yard-Check & Service Tag is printed black one side on 90# white index, finish size 3" x 5.5" with a 1/4" hole at the top. Make sure when a piece of equipment leaves the yard it is in working order, and has been checked over by your yard man. Equipment rental customers will be assured that there will be no down time at the job site, too.
Maybe you like this form but would like to make changes, no problem, just contact us with your changes and we will make them for FREE. Do you want to include your logo? No problem although it will be very small on this tag just email it to: tony@1stopprinters.com. We will included it when we send you a proof before printing.
If you have been using the same Tag for years and don't want to change, just send a copy to us and we will set it up for FREE, too!