Pest Control Service Agreement #1073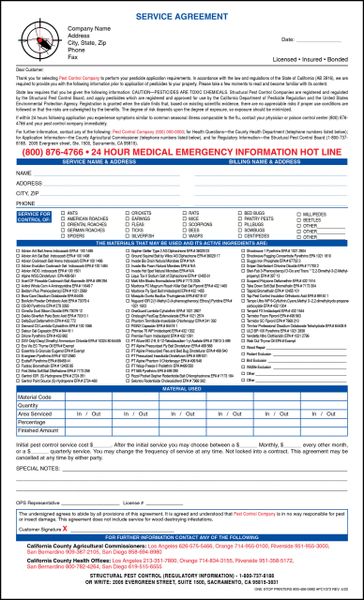 Pest Control Service Agreement #1073
Pest Control Service Agreement has been updated with a more detailed pesticide list which you can customize, and a easier to use chemical usage area. It provide your customers with a detailed contract for pest control services with this form which is fully customizable to your operation, just let us know the changes are and we will make them FREE of charge.Finish size is 8.5" x 14" and available in both duplicate NCR (white and yellow sets), and triplicate NCR (white, yellow and pink sets).

To include your logo please email it to: tony@1stopprinters.com. We will included it when we send you a proof before printing.

If you have been using the same form for years and don't want to change, just send a copy to us and we will set it up for FREE, too!