Orden de trabajo de fontanería en español #2086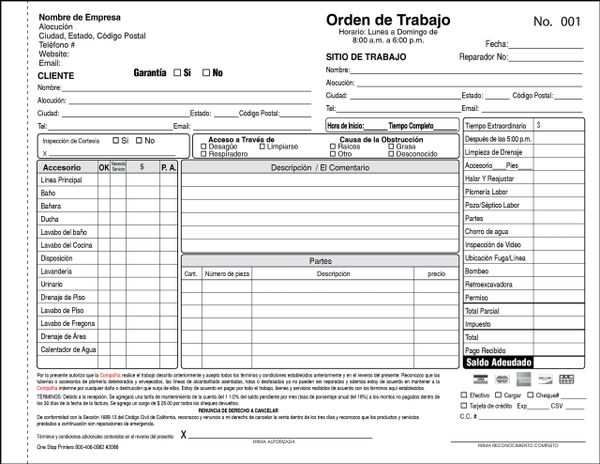 Orden de trabajo de fontanería en español #2086
La plomería, la limpieza de desagües y la factura séptica están disponibles en 2 partes de papel NCR (conjuntos blancos y amarillos) y 3 partes de NCR (conjuntos blancos, amarillos y rosados). El tamaño de la orden de trabajo es de 8.5 "x 11", tamaño de corte de 8.5 "x 10.5" de tamaño. Este recibo de plomería tiene dos respaldos disponibles: 1. Condiciones y exclusiones junto con el consentimiento y el requisito de liberación, o 2. Aviso al propietario. Las áreas resaltadas en rojo son donde insertamos el nombre de su empresa e imprimiremos en negro.
Esta orden de trabajo está diseñada para contratistas de plomería que atienden a la comunidad hispana y necesitan un recibo que sea fácil de entender y que proteja tanto al cliente como al contratista.
Todas las órdenes de trabajo y facturas de One Stop Printers se pueden personalizar según sus necesidades particulares y no le costarán nada, todo lo que paga es la impresión. ¿Estás en un estado diferente? ¿Ha estado utilizando la misma factura de plomería durante años y no quiere cambiarla? No hay problema, envíenos lo que tiene y lo configuraremos GRATIS.
Plumbing, Drain Cleaning and Septic Invoice is available in 2 part NCR (white and yellow) and 3 part NCR (white, yellow and pink) paper. Work order size is 8.5" x 11", tear out size 8.5" x 10.5" in size. This plumbing receipt has two backs available, 1. Conditions and exclusions along with consent and release requirement, or 2. Notice to owner. The areas highlighted in red are where we insert your company name and will print in black.
This work order is tailored for plumbing contractors who cater to the Hispanic community and need a receipt that is easy to understand and protects both the client and contractor. This form is difficult to read so contact me and we will send you a PDF copy to review. If you would like to include your logo please email it to: tony@1stopprinters.com, we will send you a proof for your approval before printing.
All work orders and invoices from One Stop Printers are customizable to your particular needs and will cost you nothing, all you pay for is the printing. Are you in a different State? Have you been using the same plumbing invoice for years and don't want to change? No Problem, send us what you have and we will set it up for FREE!