Independent Trucking Company POD, Bill of Lading #2070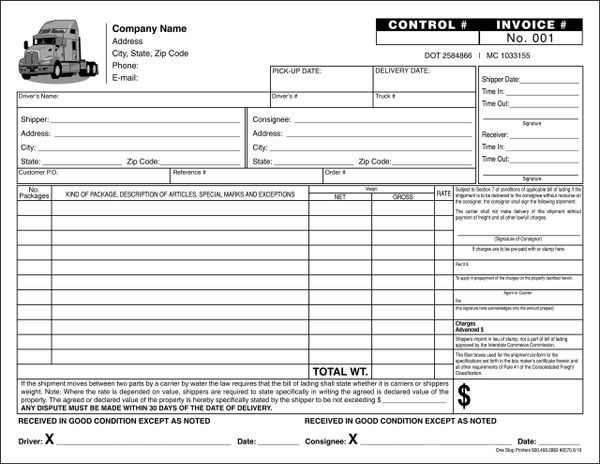 Independent Trucking Company POD, Bill of Lading #2070
Don't lose money because terminal wait times was not recorded properly any longer, One Stop Printers bill of lading has an area on its trucking POD, bill of lading #2070 along with areas to record the shipment and weights, along with agent  information. We believe that your proof of delivery should work for you and be easy to use, this is why we let you alter this and any other delivery receipt for FREE.
Finish size is 11" x 8.5" and is available in duplicate (white and yellow) and triplicate (white, yellow and pink) carbonless paper. When booked with wraparound covers the overall size is 11" x 8.5" with a tear-out size of 10.5" x 8.5" (see photographs above).

If you have a company logo, send it to us and we will include it too in black and white. If it is in color no worries, we will convert it, you stick to driving and making money and we will do the printing. Send logo to: tony@1stopprinters.com. If you don't have a logo, you can use one of our truck illustrations, just let us know which one.