Doctor's Rx Pads & Slips #1088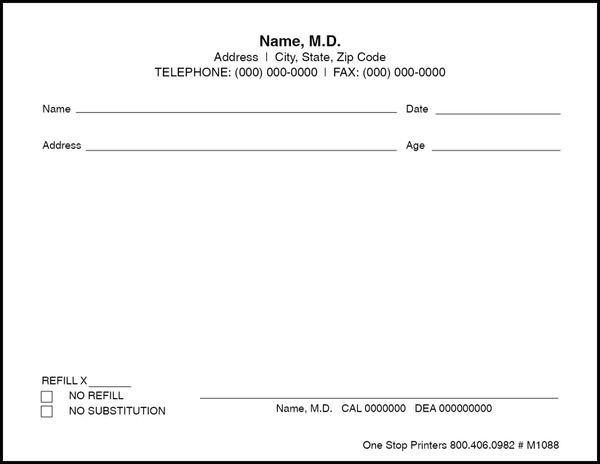 Doctor's Rx Pads & Slips #1088
Doctor's Rx Pads or Slips is printed black ink on the front side only on either 60# white offset and padded in sets of 100 sheets with a chipboard back or 2 part (white and yellow) NCR, Finish size is 5.5" x 4.25".

For a more secure Rx Slip choose our 2 part DocuGard Security Paper which deters fraud and protects personal information. It has 6 security features: "VOID" hidden pantograph, Blue-colored background with erasure protection, DocuGard watermark on backside, Coin-reactive ink on watermark, Microtext printing on backside and Security features described on the backside.

If you would like to include your logo please email it to: tony@1stopprinters.com, we will send you a proof before printing for you approval.
One Stop Printers reserves the right to not print this form, we will verify the doctor and only ship to the address on the Rx with a restricted doctor's signature.

Have you been using the same Doctor's Rx Pads or Slips and don't want to change? No problem, send us what you have and we will set it up for FREE!