Carrier Bill of Lading #2065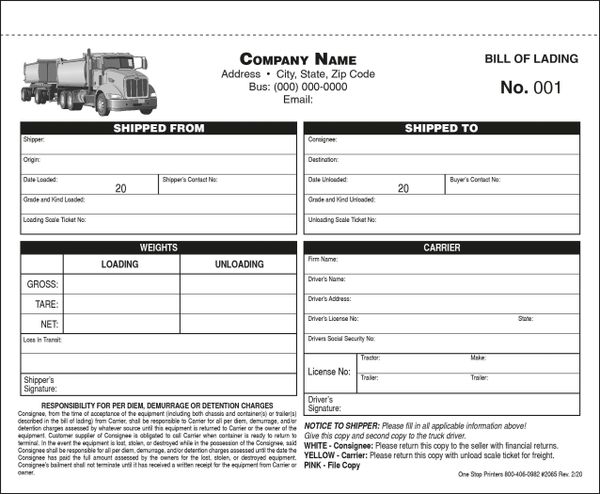 Carrier Bill of Lading #2065
Carrier's bill of lading receipt incorporates a section for recording loaded and empty weights along with capturing all the information necessary to track the truck, trailer and load. This delivery receipt is available if 2 part carbonless (white and yellow sets) and 3 part carbonless (white, yellow, and pink sets). Finish size is 8.5" x 7" with a tear-out size of 8" x 6.5" making it ideal to book with wraparound cover for easy use in you tractor.
So send us your logo to: tony@1StopPrinters.com and company information and we will send you back a proof before printing. Don't have a logo? No problem. Just select one of our truck illustrations. In addition, if you have a color logo, you get a free upgrade to color printing.

Remember that all of One Stop Printers carrier receipts can be customized to meet your company's requirements for FREE. Or, it you need a custom bill of lading, send us your requirements and we will set it up for FREE, all you pay for is the printing. And we keep it on file for easy reordering. Call today: 800-406-0982.