Petroleum Emulsions Weighmaster Certificate #2062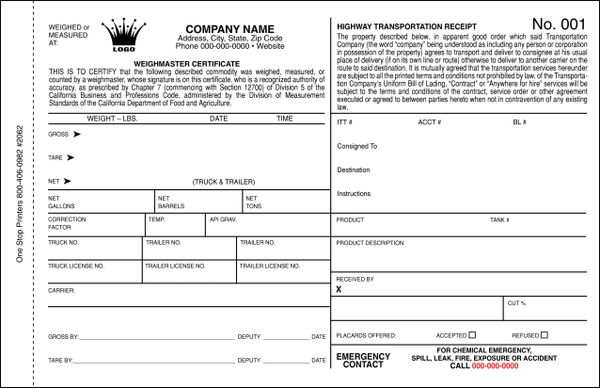 Petroleum Emulsions Weighmaster Certificate #2062
California Weighmaster Certificate for the petroleum industry comes in a two (white and yellow) or three part (white, yellow and pink) receipt with a finish size of 8.5" x 5.5" with a tear-out size of 8" x 5.5", note we can put the stub on either the left or right side, just let us know. It includes California's Highway Transportation receipt disclaimer and is numbered as required.
Keep in mind, if your company is in another state we can print weigh receipts for you, too. Just send us your information and we will set it up too. Not sure about the disclaimers for your state? Contact your state's department of weight and measures, they usually have a handy pamphlet you can send us, we will take if from there. If you have been using a weigh certificate and don't want to change, send it to us we will set it up for FREE and keep in on file for reordering.
Don't forget to send us you logo to be included in black and white: tony@1stopprinters.com.