Cannabis Weighmaster Certificate with Transportation #2056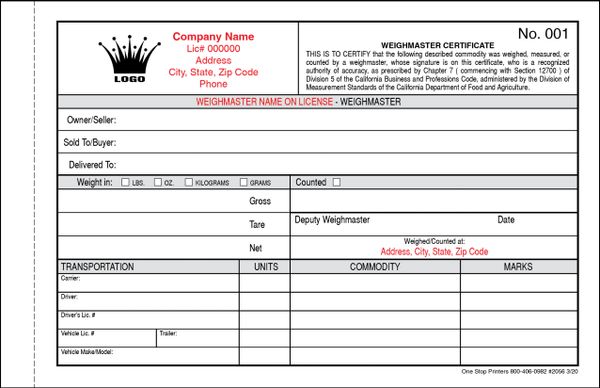 Cannabis Weighmaster Certificate with Transportation #2056
California Cannabis Weighmaster Certificate with Transportation section offered by One Stop Printers is based off a pamphlet furnished by the State of California and is fully customizable at no cost to you. Our aim is to get you what you are required quickly and accurately so you can send the regulators on their way to bother someone else. New: we just added a count area for products that are not weighed.

One Stop Printers has included a transportation section in this version of our cannabis weighmaster certificate for those producers who also ship or transported by a carrier who specializes in securely transporting cannabis. The information needed to show who received and the vehicle transporting is on our easy to use form.

The form size is 8.5" x 5.5" with tear-out size of 8" x 5.5" available in duplicate (white and yellow) or triplicate (white, yellow and pink) NCR paper. It can be booked in sets of 50 with wraparound covers for convenient use and storage. If you would like your logo in it just email it to: tony@1stopprinters.com and we will include it.