California Dropped Trailers Proof of Delivery POD #2060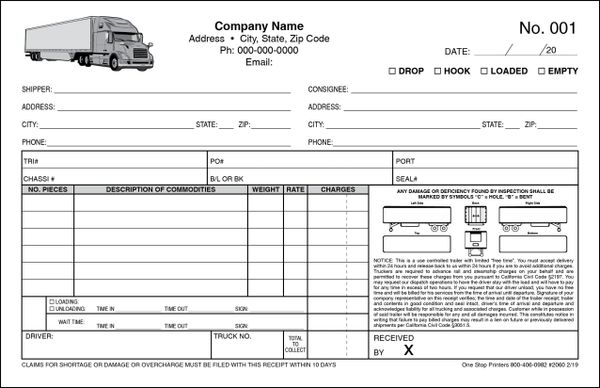 California Dropped Trailers Proof of Delivery POD #2060
California Trucking Industry Dropped Trailer POD's are available in duplicate receipts (white and yellow) paper and triplicate (white, yellow, and pink sets) paper, and is an easy to use size of 8.5" x 5.5". If booked with wraparound covers the tear-out size is 8" x 5.5". This handy proof of delivery disclaimer references California's civil code 2197 and 3051.5 helping to ensure you can charge for trailers being retained to long to load or unload. It captures all the information needed such as trailer and chassi numbers along with port and seal numbers.
Keep in mind you can make changes to fit your trucking operation for FREE. One thing One Stop Printers staff has learned about the trucking industry is disclaimers are very important to the smooth operation of each individual company, which why we make it easy to make changes. If your company is in a different state or you need to reference federal codes, just let us know: tony@1stopprinters.com we will send you a high resolution PDF to mark up and don't forget your logo, we will included black and white at no extra cost, all you pay for is the printing and shipping.
We keep all artwork on file and include a reorder form you can email or fax for reprinting.