Weighmaster Certificates for Trucking and Milling Companies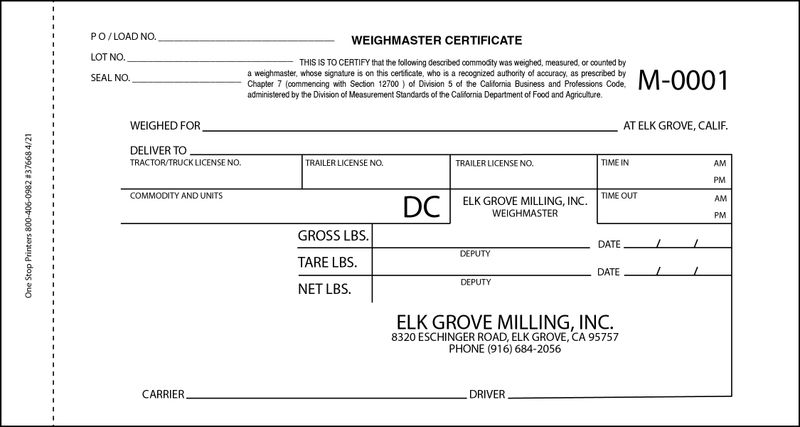 Posted May 4, 2021

Even though it's splashed all over One Stop Printers' website that we will make any changes to our existing weighmaster certificates for FREE, or redo the artwork on an existing one for FREE, and all the customer pays for is the printing. They either don't believe it, or call wondering what's the catch? Which is what happened when Brooke, from Elk Grove Milling, Inc. in Elk Grove, California called, well there's no catch, we know once you experience our customer service you will look no further for a printing company. Brooke sent us a sample of its weighmaster certificate; we got the proof back quickly, and shipped them in four business days. The cost was the published price for a four part NCR white, yellow, pink and white tag, weighmaster certificate from our website. Thank you Brook for choosing One Stop Printers!
One Stop Printers prints weighmaster certificates for cannabis growers, milling companies, farms and ranches across California, in communities like Delano, Visalia and Turlock. Give us a call today at: 800-406-0982, or log on to: www.1StopPrinter.com to view our extensive catalog of weighmaster certificates such as, Grain Elevator Weighmaster Certificate #1027.
---
Invoices, Work Orders, and Sales Receipts for the Carpet Cleaning Industry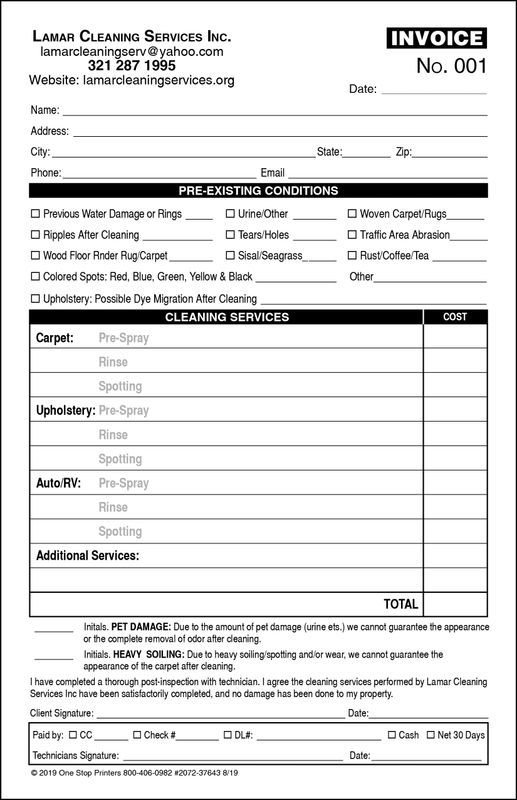 Posted April 16, 2021

I would like to thank Enzo from Lamar Cleaning Services, Inc in Orlando, Florida, for purchasing One Stop Printers' Carpet and Upholstery Cleaning Receipt #2072. This was a simple order that came through our website: www.1StopPrinters.com, not much for us to do here other than place his company information and hit the print button. We appreciate it when a business owner places an order with us and trust we will deliver as promised.
Do you have a carpet cleaning business in Gainesville, Florida; Tifton, Georgia; or Dothan, Alabama; and need a thorough invoice to record and charge for all your services? Well look no further, One Stop Printers can help. Give us a call today at: 800-406-0982 to find out how we can assist you. Don't forget you can make changes to any invoice, work order or receipt for FREE, you only pay for the printing.
---
Plumbing Work Orders, Drain Cleaning Invoices, and Septic Pumping Receipts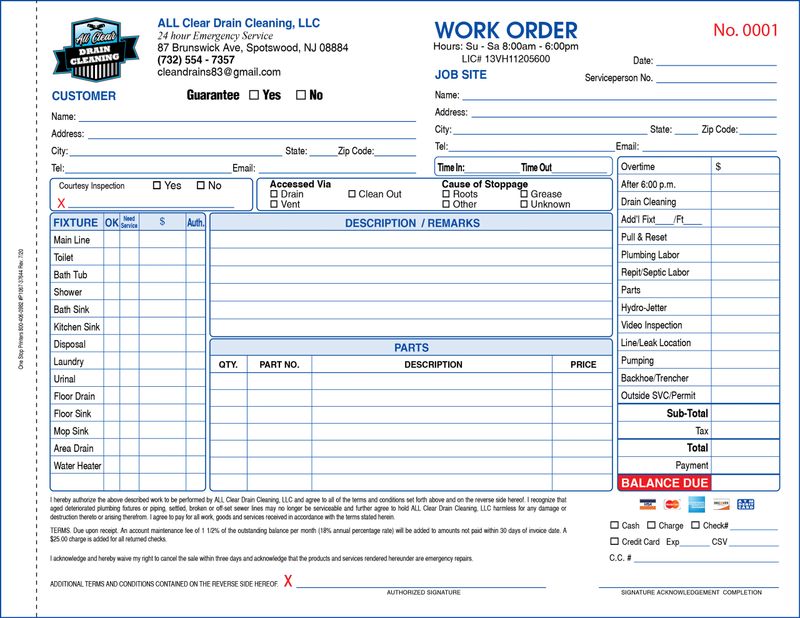 Posted April 9, 2021

Lorraine from All Clear Drain Cleaning, LLC in Spotswood, New Jersey was pleasantly surprised when she called One Stop Printers to inquire about our Plumbing, Drain Cleaning Septic Invoice #1067 to find out we would print this receipt in color because the logo she sending was color, for the same cost as our published price for black and white. In addition, the minor changes on the front, and custom terms and conditions for the back were FREE, too! All she paid for was the printing, and we archive all artwork for easy reordering. Our goal is to enhance our customer's image. Thank you, Lorraine for your business.
Does your company do general plumbing repairs in Florence, South Carolina; Drain Cleaning in Covington, Georgia; or septic tank pumping in Anniston, Alabama? Does your company need a comprehensive plumbing work order? No worry, One Stop Printers has the solution, give us a call today at: 800-406-0982 to find out how we can assist you, or log on to: www.1StopPrinters.com to view our complete line of plumbing receipts.
---
Fire Protection Company Invoices, Work Orders, and Service Receipts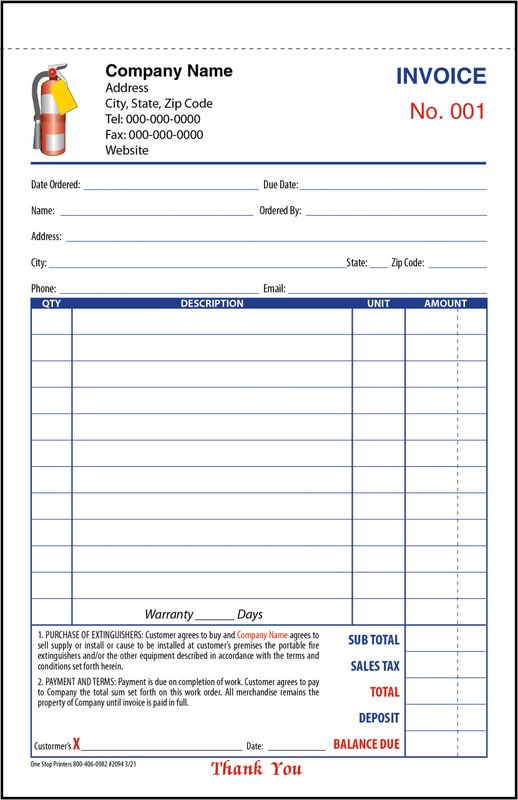 Posted March 24, 2021

For fire protection companies which service portable fire extinguishers and are looking for an inexpensive invoice, need look no further. One Stop Printers has the solution with our Fire Protection Small Invoice #2094 which can be booked with wraparound covers for easy use in the field. Feel free to make changes to better fit your company's needs, all changes are FREE!

Whether you are servicing portable fire extinguishers in Eau Clair, Weston, or Manitowoc, Wisconsin, One Stop Printers can assist you with your invoice, and work order needs. Give us a call at: 800-406-0982 or check us out on the web at: www.1StopPrinters.com we would be pleased to hear from you.
---
Termite Inspection, Work Completed and Inspection Tags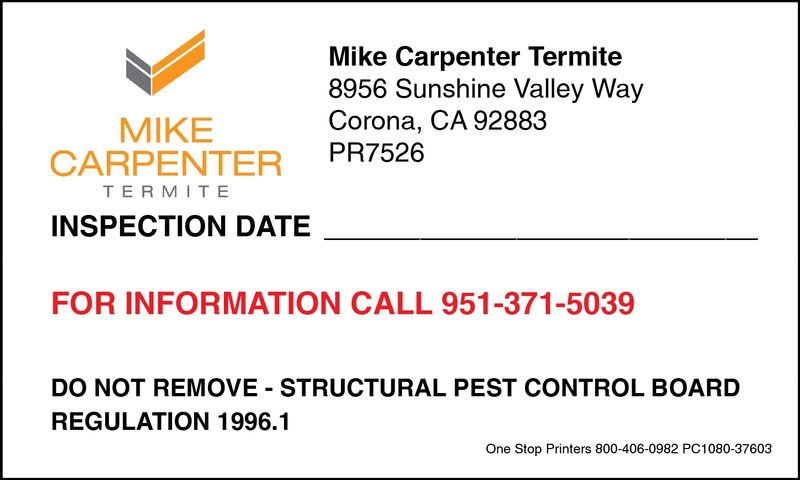 Posted March 10, 2021
One Stop Printers prints various tags for the termite pest control industry, such as our, Work Completed Tag #PC1081, and Inspection Order Tag #PC1079. One of our more popular tags is the Termite Inspection Tag #PC1080 which is what Mike Carpenter Termite in Corona, California, ordered. He sent us his color logo with the order, which is how we printed it, all for the same cost as black and white. Thank you, Mike for your order.
It is important to always project a professional image; it helps build trust with your customers. One Stop Printers has helped extermination companies in communities from Billings, Montana; to Bismarck, North Dakota; and St Cloud, Minnesota; enhance their image with our fully customizable invoices, work orders, and tags, and don't forget all changes are FREE! Give us a call today at: 800-406-0982 or log on to: www.1StopPrinters.com we would be pleased to hear from you.
---
Delivery Receipts, Bill of Ladings, Daily and Weekly Manifest, Container PODs and Dropped Trailer Receipts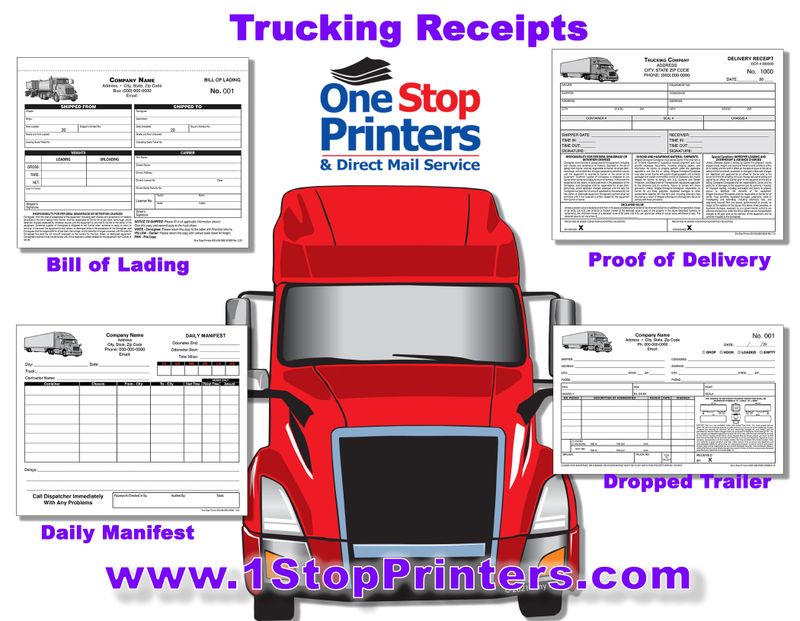 Posted March 5, 2021

Trucking Proof of Delivery Receipt #2055, Dropped Trailer POD #2060, Carrier Bill of lading 2065 and Truck Driver's Daily pay sheet #2083
Truck drivers, manifest, bill of ladings, daily pay sheets, and proof of delivery receipts available in 2 and 3 ply carbonless from One Stop Printers at www.1StopPrinters.com or call: 800-406-0982. For large and small carriers from Portland, Oregon; and Boise, Idaho: to Ogden, Utah and Cheyenne, Wyoming.
---
Towing Receipts by One Stop Printers
Posted February 26, 2021
Towing Receipts, Invoices, Work Orders, Road Side Service Receipts, Release of Liability, Check List, Vehicle Inspection Reports – by One Stop Printers – 800-406-0982 or www.1StopPrinters.com.

---
Driver's Log & Vehicle Inspection Reports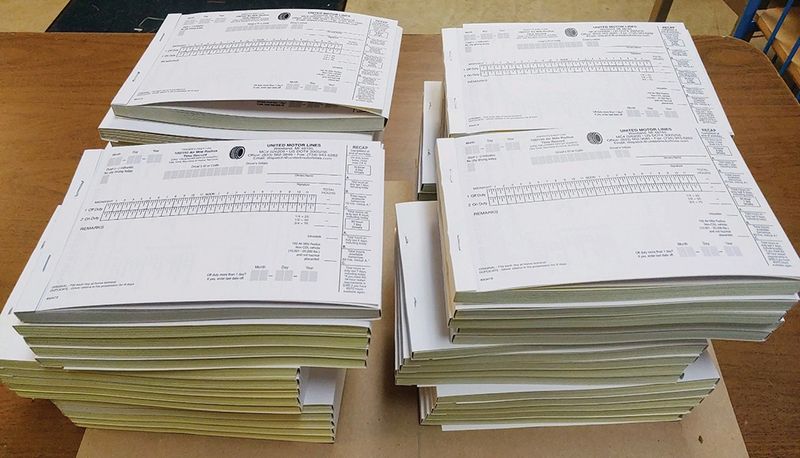 Posted February 18, 2021

Thank you Shonda from United Motor Lines in Westland, Michigan, for another nice order of Truck Driver's Log books with vehicle inspection reports. This was a custom order, however we have standard versions available such as, Trucking Drivers Daily Log #TDDL1050 for drivers who stay within 100/150 Air Mile Radius. Log books are an economical way to stay compliant with DOT regulations. They are available in duplicate and triplicate sets and can be booked for easy use and storage.
So, if your trucking company delivers locally in Fayetteville, Arkansas; warehouses in Nevada, Missouri; or is a municipal solid waste hauler in Peoria, Illinois, One Stop Printers can help you with Truck Driver's Log, and Vehicle Inspection Reports. Log on today at: www.1StopPrinters.com or call: 800-406-0982 to find out how we can help your trucking company.
---
California Teachers Are the Real Cry Babies
Posted February 15, 2021
California public school children have lost one year of in person instruction and if the union and teachers have their way, it might be two. The complaint is that it's not safe for in person teaching, yet, private schools have already returned to class. Even our Governor Newsom's children are back in class. Do teachers really have their students' best interest at heart?
California school teachers have continued to receive their full pay and benefits during the economic shut down ordered by Newsom, while school children suffer. Remote learning is a complete failure, the dropout rate is skyrocketing. Those hit hardest are low income and minority students. Parents have had to choose between staying home and be the teacher, or go to work (if they were not laid off) to support their families.
The California Teachers Union is using fear (it's too dangerous) as leverage for not opening schools; demanding more money, elimination of charter schools, and higher taxes. It is silly for them to demand children wear mask all day and social distance, these are children for crying out loud. Not to mention they are in the lowest risk category. Newsom created this mess and needs to stand up to the union if he has any hope of not being recalled, and get children back into the classroom.
Teachers are saying, yes children are not at as much risk, but the teachers are. Why is it that grocery clerks, nurses and doctors are not dropping like flies from COVID-19, yet teachers can't safely teach all day? Governor Newsom needs to order teachers back into the classroom. If some decide they do not want to take the risk, no problem, terminate their employment. How the teacher's union has been behaving, highlights why California needs to move to vouchers, so parents have a choice in educating their children.
---
Orden de trabajo de fontanería en español 2086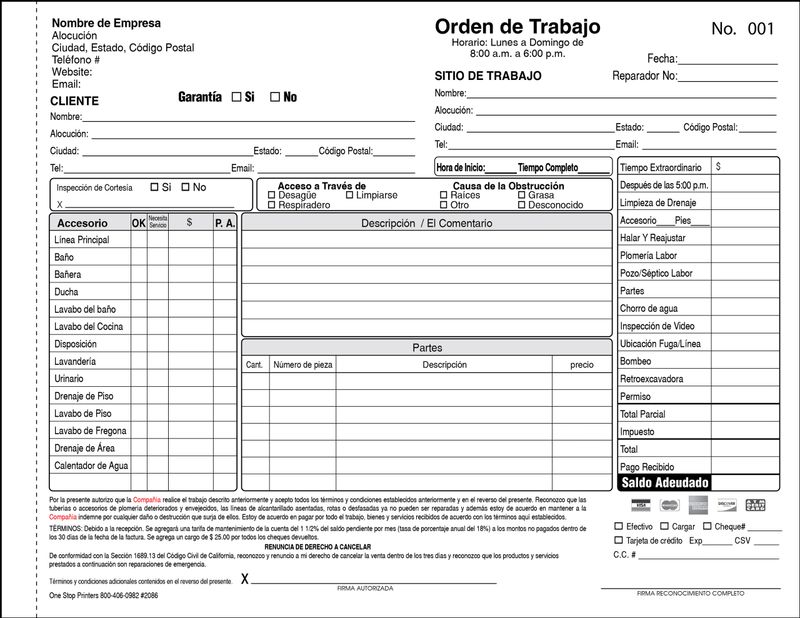 Posted: July 27, 2020
La orden de trabajo de plomería One Stop Printers está diseñada para contratistas de plomería que se especializan en remodelaciones de baños y cocinas, reparación y reemplazo de sistemas sépticos y de plomería para clientes hispanos. Protéjase a usted y a su cliente proporcionándoles una orden de trabajo en español. Puede elegir: Términos y condiciones, o Aviso al propietario para la parte posterior. Personalice la información frontal y posterior para reflejar mejor las necesidades de su empresa de forma gratuita. No importa si está remodelando baños en New York, New York, cocinas en Shelbyville, Tennessee, o reemplazando sistemas sépticos en Marshalltown, Iowa, One Stop Printers tiene una orden de trabajo para satisfacer sus necesidades. Llame hoy: 800-406-0982.
Elija la versión A o B para el reverso
One Stop Printers plumbing work order is tailored for plumbing contractors who specialize in bathroom, and kitchen remodels, plumbing and septic system repair and replacement for Hispanic clients. Protect both you and your customer by providing them with a work order in Spanish. You can choose either: Terms and Conditions, or Notice to Owner for the back. This is our Plumbing, Drain Cleaning & Septic System Invoice #P1067 translated into Spanish. Customize the front and the back information to better reflect the needs of your company for Free. It doesn't matters if you are remodeling bathrooms in New York, New York, kitchens in Shelbyville, Tennessee, or replacing septic systems in Marshalltown, Iowa, One Stop Printers has a work order to fit your needs. Call today: 800-406-0982.
---
Standard and custom towing ticket books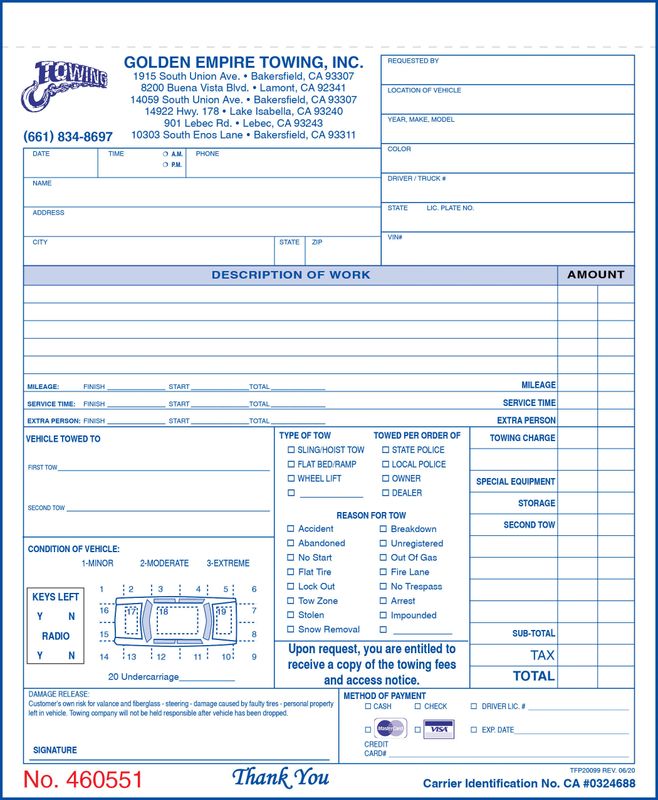 Posted July 9, 2020

We have been printing towing invoices for Miranda at Golden Empire Towing, Inc. located in Bakersfield, California, for the past seven years, thank you for your business and loyalty.

One Stop Printers has a large selection of towing work orders such as our detailed receipt #TFP20100 or the simpler towing ticked #TFP20091. We let you make changes to our standard forms for
FREE
and as in Golden Empire Towing, Inc's case, customize it to meet requirements for the same price,
FREE
, all you pay for is the printing. Don't forget we book your towing receipts with wraparound covers to keep your drivers organized, too.
Whether your towing company is located in Los Angeles, or San Diego, California, One Stop Printers has a solution for you.
Contact us today at: 800-406-0982
we would be pleased to assist you.
---
Heroes, Icons and Idols
Posted February 12, 2021
Now days everyone is a hero, from firefighter, and police, to teachers, and nurses; for me doing the job you trained for everyday, hardly qualifies a person to be given that title. It has always been someone who finds themselves in extraordinary circumstances and has prevailed, whether through courage, or shear determination.
When I was a teenager in the early 70's, American Western's were popular. Alias Smith and Jones was one of them, and never missed an episode. The show's stars were Pete Duel as Hannibal Heyes and Ben Murphy as Jedediah "Kid" Curry, outlaws who wanted to go straight. They had an agreement with the governor if they stayed out of trouble for a year, they would be pardoned. Each episode had some sort of trouble they seemed to get into and how they extricated themselves.
As a fourteen year old, I idolized Pete; to me he had it all, a great career, talented, handsome, money, and women who adored him. Not only did I like the show, it was the first time I had ever followed the excerpts of a star's life off screen. All that ended on December 31, 1971 when he committed suicide. I remember reading the newspaper article that said Pete Duel had been critically wounded by a self inflected gun shot to the head. I remember thinking, "Critically wounded, does that mean he is still alive? No, the article makes it sound like he is dead, which he was."
This bothered me more than I thought. I couldn't understand why someone who had the world by the tail would take their own life. I took down all the clippings off my bedroom wall, and put them away. My mom saw this and tried to console me. She explained that we don't really know other people, especially celebrities, or their personal demons they are trying to quiet.
It took quite a few years for me to understand what she was saying. It is easy to idolize someone and put them on a pedestal for their accomplishments; devastating when they don't live up to your expectations. I came to the conclusion; Pete was an ordinary person, doing a job. It may have been a glamorous one, but a job non-the-less. Even when you see a true hero, the one instance that brought them fame, doesn't necessarily define who they truly are. No matter how much you admire someone, hero or not, they are just people with human failings.
---
Recoup all cost related to dropped trailers at terminals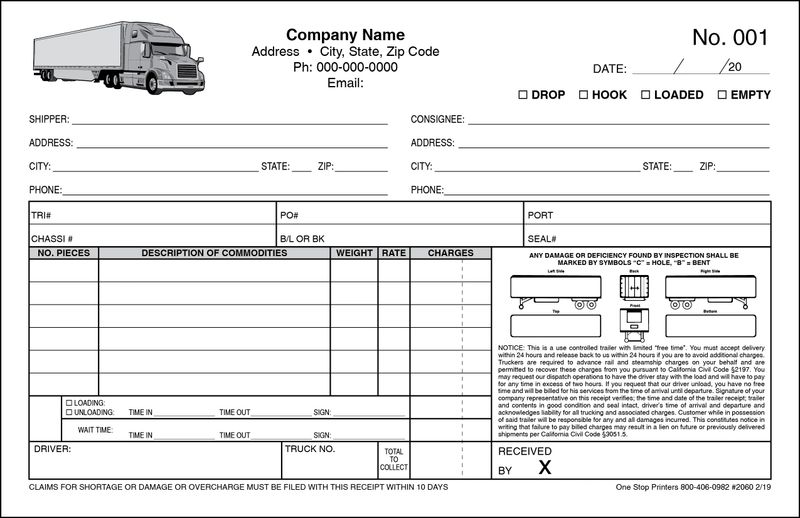 Posted June 4, 2020

Trucking companies, who drop trailers to terminals for loading and unloading need to make sure trailers are not kept out of service too long, returned clean and damage free. If they are, they need to be paid damages, and time out of service. This is where One Stop Printers can help with our comprehensive Dropped Trailer Proof of Delivery #2060 receipt. It has everything needed to record the load and trailer condition.  This POD is available in 2 part and 3 part carbonless for trucking companies from Bismarck, North Dakota, to San Antonio, Texas, and as always, you can make changes to fit your needs for FREE. Call One Stop Printers at: 800-406-0982 for assistance.One Stop Printers is your source for towing invoices, and Drivers Vehicle Inspection Reports.
---
Politicians are Failing Californian's
Posted February 3, 2021

Politicians have been playing fast and loose this past year, they seem to know, no bounds. From the Federal governments, printing money indebting our children, to Governors', shuttering businesses destroying people's lives. Now, petty tyrants in the form of city councils are passing local laws, increasing pay for those whom they deem "Heroes".
The city of Long Beach has mandated an additional $4.00 per hour, hazard pay for grocery workers. It applies to any national grocery company which employees 300 or more nationally, and 15 or more in a local store. This may be well intentioned but has resulted in Kroger announcing it is closing one Ralphs and one Food 4 Less stores in Long Beach.
There seems to be some backlash from Mayor Robert Garcia saying, he was vary disappointed in Kroger's decision, with employees and customers expressing their displeasure, too. Long Beach singled out supermarkets, not large retail outlets, or smaller stores that directly compete with them. The Long Beach City Council wants to look like it's for the worker and little guy, Never mind that even if these marginal stores didn't close, food prices will go up about $400 per year to offset the higher wages. Just like there is no scientific basis for shutting down outdoor and indoor dining at restaurants, the city has not provided any for the additional pay it is mandating.
We are all entitled to equal protection under the law (even large companies) as guaranteed by the 14th amendment, and protection from government interfering with contracts by both the state and federal constitutions. Just because something seems like the right thing to do, doesn't mean it is okay to take someone else's property or deprive them the use of it. Elected officials in all levels of government have forgotten they work for us, and will face us in upcoming elections. They may have forgotten, but we won't.
---
Towing Reports and Invoices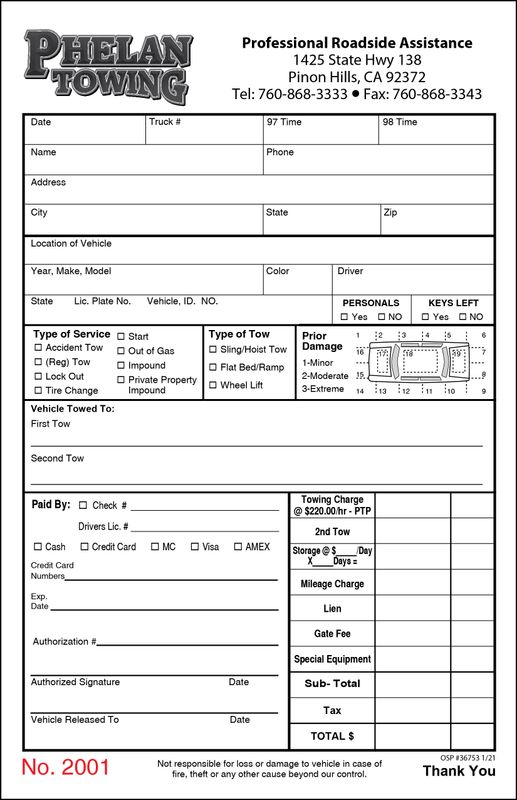 Posted February 3, 2021

One Stop Printers has printed towing invoices, business cards and postcards for Domingo of Phelan Towing located in Pinon Hills, California, for quite awhile. Thank you, Domingo for your business.
Every towing company is unique in its own way, some may only require one of our standard towing work orders, as is, off the shelf, another may require small changes to better fit its requirements, the latter being the case for Phelan Towing which was edited from our Towing Receipt #TFP20094. As always, all changes are FREE, and guess what, if you need a totally custom towing report, artwork is FREE, too. All you pay for is the printing.
It doesn't matter if your towing company is located in the High Desert like Phelan Towing, the Inland Empire or the Sacramento area, you will get the same great service from One Stop Printers. Call today: 800-406-0982.
---
Open California Now!
Posted February 1, 2021

"… that a mere, demarcation on parchment of the constitutional limits of the several departments, is not sufficient guard against those encroachments which lead to a tyrannical concentration of all the powers of government in the same hands." James Madison, The Federalist No. 49.
Madison knew what he was talking about; we are experiencing just such tyranny under our president and governors' abusive use of executive orders. It seems that whichever party is in power, it gives the executive just a little more power, never thinking that some day it will be the minority party, and executive orders will be used against them. Governors like Newsom, Whitmer, and Cuomo have shut down their states economies, forcing businesses to close without concern as to how business owners are to survive forcing many into bankruptcy, or employees to feed their families.
Newsom, thinking he knows best and has bungled his response every step of the way. It has resulted in undue suffering, riots and destruction of property. He had no problem shutting down businesses, but can't seem to tell teachers to get back to work and open in-person teaching; ignoring every child in the state of California is entitled to a free public education. He keeps changing the matrix, moving the goal post for reopening; and under his leadership, we are the last in COVI-19 vaccinations nationwide. When question, what data he is using to base his decisions, we are told, we would only be confused, as if we are children and not smart enough to make our own decisions.It has much easier for our legislature to abdicate its responsibilities to an all too willing governor, than to take them back, which requires a veto proof bill. Our elected state senators and assemblymen must assert their constitutional rights/duties and force Newsom to act within its framework. End the lockdown now and let us get back to work.

---
Trucking Container Delivery Receipts and Proof of Delivery Receipts Printed By One Stop Printers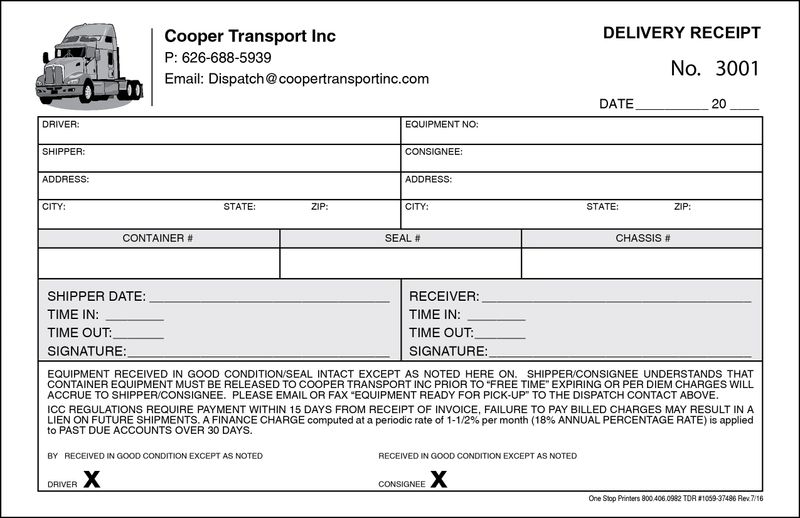 Posted January 28, 2021

Our Trucking Container Delivery Receipt #TDR1059 is turning out to be very popular with our trucking customers. Clients like Kelvin from Cooper Transport Inc in Chino, California, Manpreet from ITRACK, Inc in Fremont, California, and Ronnie from Frances Delivery Systems, LLC in Hilliard Ohio have chosen it for its simplicity and ease-of-use. One Stop Printers thanks you for your business.
As you can see One Stop Printers helps trucking companies across America and would like to help you, too, with your bill of ladings, proof of delivery receipts and manifest. Give is a call at: 800-406-0982 to find out how we can help you, or log on to www.1stopprinters.com to view our large selection of trucking receipts. Remember if you see one you like but need to make changes, no worries, all changes are FREE, all you pay for is the printing.
---
Delivery Receipts for the Trucking Industry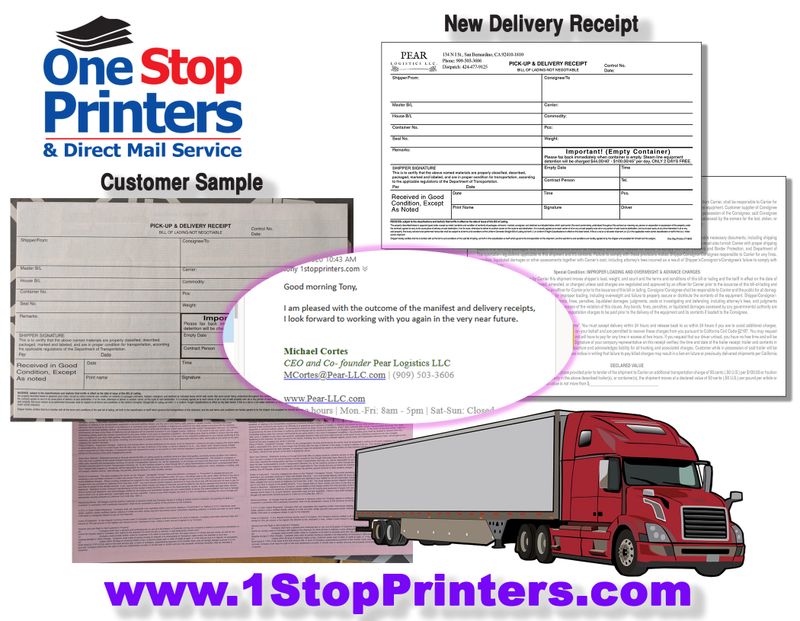 Posted May 4, 2020
It is becoming more common for customers to send me a picture of the invoice, manifest or delivery receipt they have been using when they need more of them. This is what Michael from Pear Logistics LLC in San Bernardino California did, and as you can see we have no problems duplicating it. The back side proved to be a bit more challenging. Because it was printed gray and 5 point type, Michael could not get a clear enough picture for me to reset. Not to worry, instead we combined the disclaimers from One Stop Printers, Trucking Proof of Delivery receipt # 2055 and California Dropped Trailers Proof of Delivery POD #2060 to get Terms and Conditions more relevant to his current operation. Thank you Michael for choosing One Stop Printers.
One Stop Printers is expert at creating delivery receipts, manifest, proof of delivery, and bill of ladings, for the trucking industry. If doesn't matter if you are located in San Bernardino, California or Ogden, Utah we are here to serve you. So give us a call at 800-406-0982 or text us a picture of your existing receipt to: www.1StopPrinters.com to find out how we can assist you.
---
Truck Driver's Daily Manifest, Driver's Daily Pay Sheet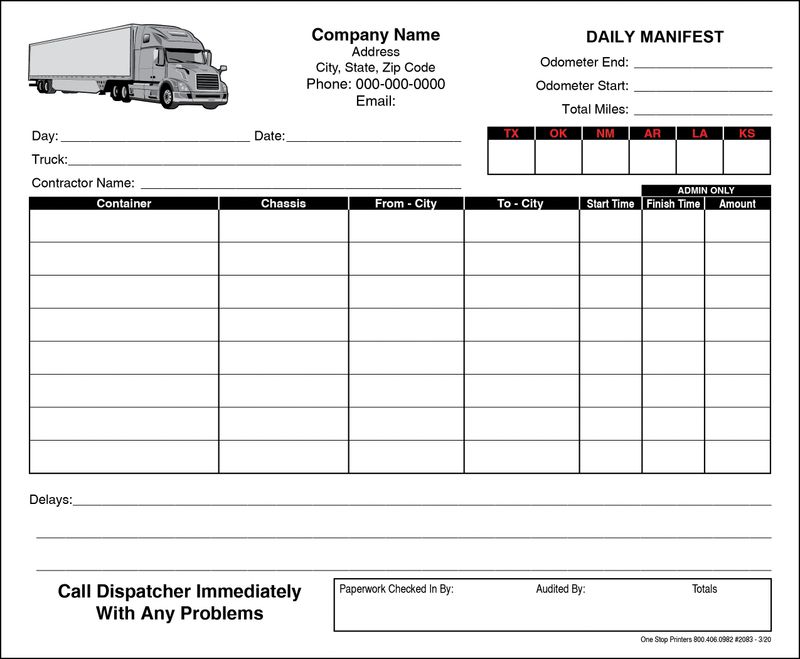 Posted January 20, 2021

Are you operating a logistic company which has drivers delivering in surrounding states? One Stop Printers has a comprehensive daily manifest for your drivers. Our Truck Driver's Pay Sheet, Daily Manifest #2083 has plenty of room to write and staying in the lines. It is available in duplicate and triplicate carbonless sets; the size is 8.5" x 7". We will add your company information, logo and change the states (highlighted in red) to reflect your delivery area for Free with your printing order.
Whether you are running freight along the I-80 Corridor from Truckee, California to Cheyenne, Wyoming or the I-15 Corridor from Ogden, Utah, to Barstow, California, One Stop Printers can help you with your driver's manifest, bill of ladings, or proof of delivery receipts. Contact us today at: 800-406-0982 we would be pleased to assist you.
---
Septic System Pumping Receipts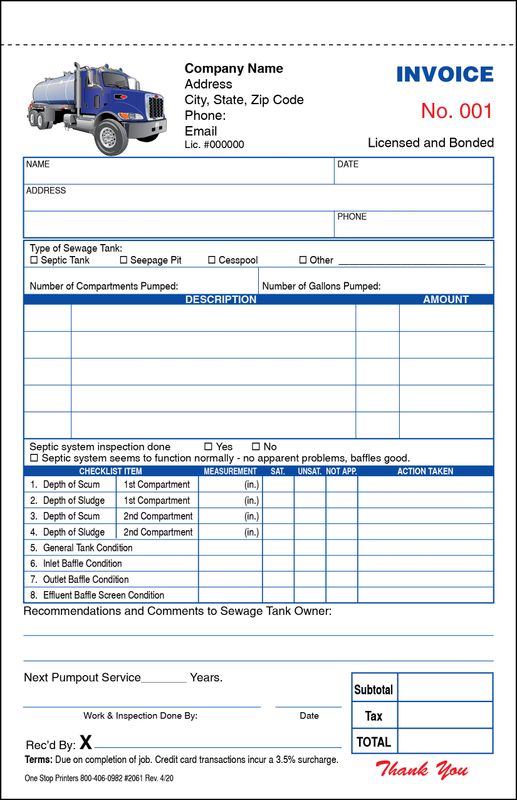 Posted April 10, 2020
Attention septic pumping companies, is your logo in color and have you been disappointed you can't have it on your invoices? Well One Stop Printers has the solution, for a limited time select our Tank Pumping Small Receipt #2061 and we will print it in color. Not only that, on all future reprinting you will get the same deal. Maybe you just want to project a more professional image and use our tank truck instead, no problem. Don't forget we also offer these in book form with wraparound covers for easy use.
We have helped plumbing companies from Los Angeles, California to Miami, Florida with their work orders, invoices and job tickets. Don't forget we will customize this or any form to meet your requirements for FREE. So, give us a call to find out how we will assist you: 800-406-0982.
---
Palm Springs Car Wash Keeping Palm Springs Clean, One Car at a Time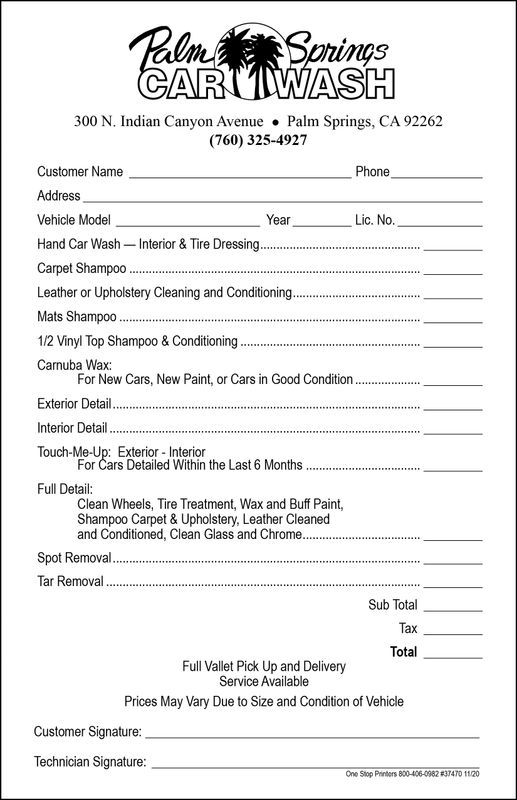 Posted January 4, 2021

I would like to give a great big shout-out and thank you to George of Palm Springs Car Wash for all the printing you have had us do for you throughout the years, including its 2 part NCR (white and yellow sets) detail invoice. Palm Springs Car Wash is a bit of an icon in the desert and is located at 300 N Indian Canyon Avenue, Palm Springs, California. It is one of the few remaining full service hand car washes in Southern California, so if you are in the area and your ride is looking a bit dirty, stop in for a car wash, you will be glad you did. If it needs a bit more, call 760-325-4927 to make an appointment to have you car detailed.
---
Send Regulators Down the Road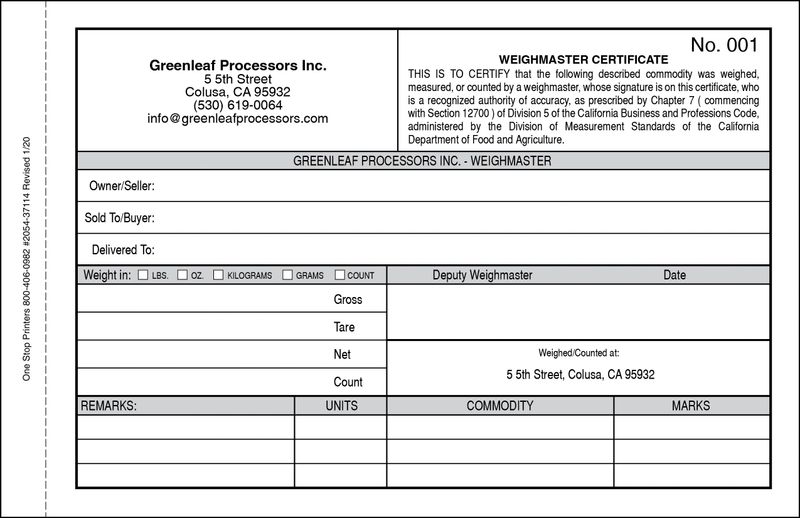 Posted April 3, 2020
One Stop Printers has provided weighmaster certificates to the cannabis industry for several years; it's ever changing to meet customer demands, along with our greedy state's confusing regulations. My super power is reading dry government manuals and massaging it into a usable product for my customers. My goal is to get you what you need so regulators leave you alone and move on to the next guy.
Jim from Greenleaf Processors, Inc in Colusa California just had us reprint his California Cannabis Weighmaster Certificate #2054. Some of his products are counted, not weighed, so counting is required to be on his certificates. We made this change and sent Jim the proof, which he forwarded to his regulator in the Department of Weights and Measures for his final blessing.
I always recommend that if you are in a heavily regulated industry, always seek to get approval from the supervising agency. Regulatory agencies really don't like to do this, but usually will. It slows down the printing process but can save you headaches in the future.
Having an over zealous regulator try and cite you for your receipts not being exactly the way he wants it can be distressing, but if you can show the state gave approval, maybe you will only get a notice to make changes (because he has to show you who is in charge), instead of a violation and paying a fine. I can't say it always works, but it sure puts them on notice you are doing everything in your power comply with the butthead's requirements.
Interestingly, I have only printed weighmaster certificates for California customers; however, the regulatory buttheads are located in every state. So even if your company is located in Washington, Colorado, Oregon or any other state we can produce a customized weight certificate, artwork is always FREE with printing, so give us a call at: 800-406-0982.
---
Dental Lab Slips Available in Pads, 2 ply, or 3 ply
Posted December 17, 2020

Morgan from 1st Choice Dental Care in Woodstock, Georgia needed dental lab slips for their dental practice and couldn't find exactly what she needed. However, she did find One Stop Printers and sent us rough layouts of the three she needed; we promptly sent back proofs for her approval. In addition, she needed them in pads and color coded making it easier for her staff to identify. Thank you, Morgan for your business.
There is no possible way to have every possibility for a form on our website, because just when we think we have thought of everything a customer asks for something different. So, when they do, for One Stop Printers its no problem, we enjoy assisting customers with their business forms.
One Stop Printers serves dental labs across America. It doesn't matter if you need our standard Dental Lab Script #2067 or a custom one; if you are located in a big city like New Orleans, Louisiana, or a small town like, Conway, Arkansas, give us a call at: 800-406-0982 to find out how we can assist you with your lab slips.
---
Helping Texas Trucking Companies Succeed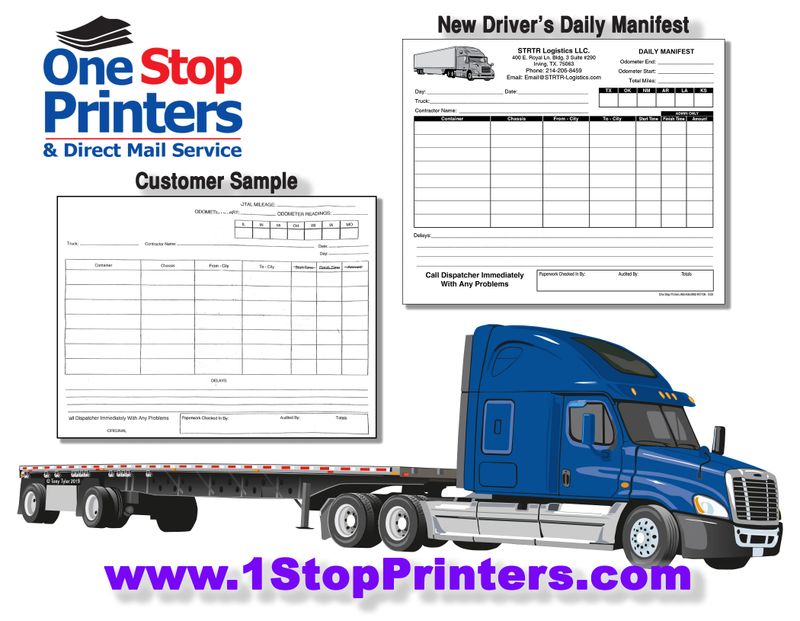 Robert from STRTR Logistics, LLC, in Irvine Texas recently ordered One Stop Printers', Trucking Proof of Delivery Receipt #2055, we would like to thank him for the order and as always are appreciative for every order we receive. While it was in production he inquired about how much it would cost to do artwork for a driver's daily pay sheet. I told him the artwork is always FREE, send me a rough idea of what you want and I will send you back a proof. Above is the final product, and Robert had them in one week.
One Stop Printers serves shipping and trucking firms throughout Texas from cities like Austin, to Corpus Christi, so if you are tired of getting the runaround when you need to make changes to your receipts from your current printing company, give us a call at: 800-406-0982 to find out how we can assist you.

---
Bill of Ladings by One Stop Printers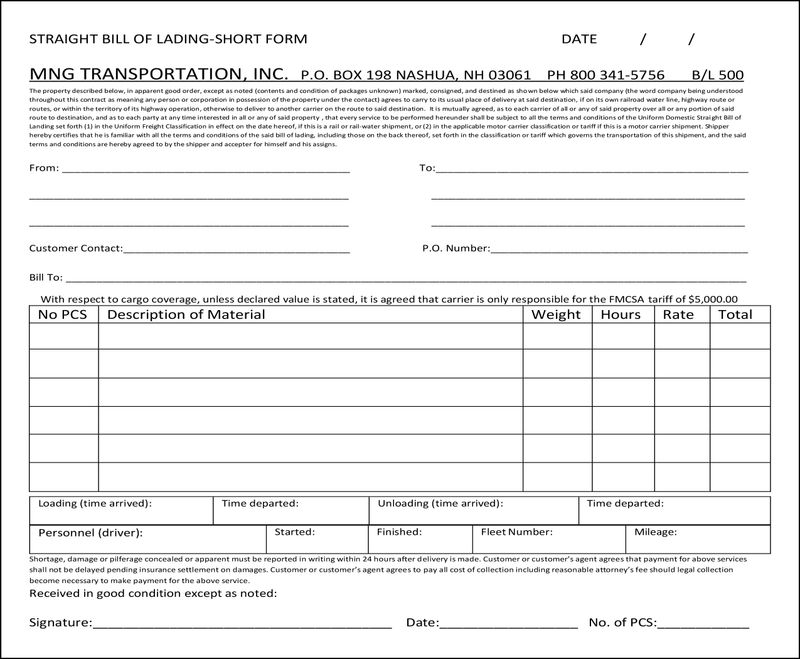 Posted December 1, 2020
Sometimes a customer likes One Stop Printers', delivery receipts, manifest, and proof of delivery forms in our online catalog, but want something different and have the skill to design and set up the receipt themselves. Such was the case with George, from MNG Transportation, Inc, located in Nashua, New Hampshire; he designed his own Straight Bill of Lading base on his years of experience in the trucking industry and had us print it.
It doesn't matter if you have the graphic design abilities like George and provide us with a print ready document, provide a rough draft and we typeset it, or make changes to one of our trucking receipts like: Trucking Container Bill of Lading #2090, the cost is always the same, FREE. We only charge for printing and $20.00 shipping.
One Stop Printers enjoys working with independent truckers and will ship to you whether you are based out of Augusta, Maine, Rochester, New York, or Allentown, Pennsylvania. So give One Stop Printers a call at: 800-406-0982, we will be please to assist you.
---
One Stop Printers is Your Solution for Dental Lab Script Receipts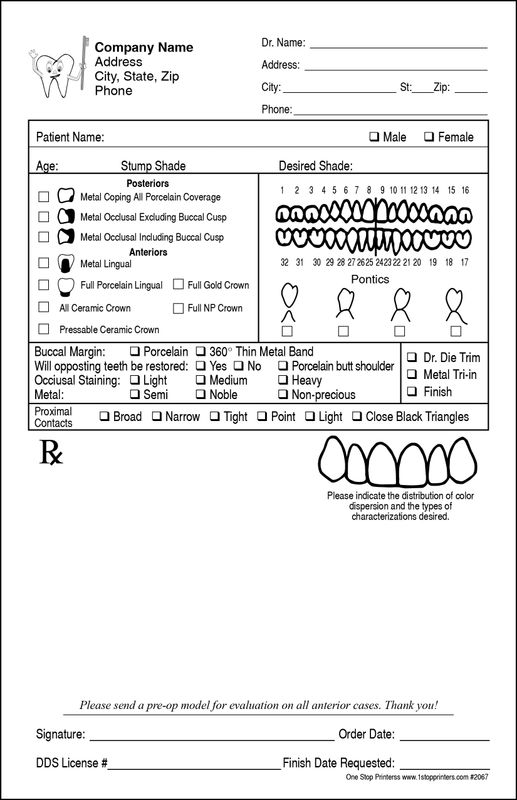 One Stop Printers just added a new Dental Lab Script #2067 to our library of business forms. This comprehensive dental lab slip has everything the dentist needs to communicate to your lab what is needed to denture repair or place a new order. This script is available in duplicate and triplicate carbonless sets, which you can order on our website, if you need it in pads of 50's please call our office: 800-406-0982. Don't forget to send us your logo, and we make all changes to this form for FREE.
It doesn't matter if you own a dental lab in New York or Merrimack, New Hampshire and want to use one of our standard scripts or you have been using the same lab slip for years and don't want to change, send it to us and we will redo the
artwork for FREE
with you printing order. We keep all artwork on file for our customers and include a handy reorder form for when you run out.
---
Introducing Septic System Service Work Order #2091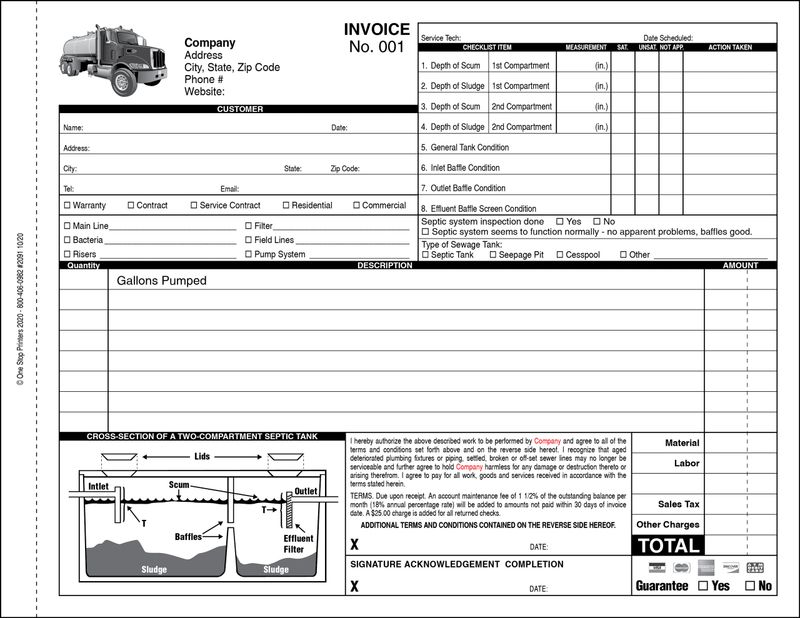 Posted October 27, 2020

Introducing One Stop Printers newest septic system service invoice, it is available in 2 part NCR (white, and yellow sets), and 3 part NCR (white, yellow and pink sets). It includes sequential numbering to assist with your bookkeeping. Finish size is 11" x 8.5" with a tear-out size of 10.5" x 8.5", making it ideal to book in sets of 50 with wraparound covers, for easy use out in the field.
This septic receipt has a cross-section of a two-compartment septic tank illustration making it easier to explain to your customer how the system works and the issues encountered. One Stop Printers understands that a septic service company located in Orlando, Florida may have different requirements then ones located in Mason City, Iowa or Topeka, Kansas, which is why all changes to our plumbing invoices and work orders are FREE. Call today: 800-406-0982 to find out One Stop Printers can assist you.
---
Posted August 3, 2020
California Cannabis Weighmaster Certificates and Manifest by One Stop Printers
Thank you Matthew from HEB Management LLC, in Whitethorn, California for having One Stop Printers print our Cannabis Weighmaster Certificate #2054 and Cannabis Sales Invoice Shipping Manifest #2074 for your company.
As long as our state continues to regulate and tax the cannabis industry, forms like this are necessary. What I have seen happen is growers are constantly under scrutiny by regulators and if their paperwork is not in good order they get fined (revenue enhancement). This is where we can help. The aforementioned receipts are based on the templates from the California State regulators' samples which makes it harder for them to say something is missing or incorrect. We make it easy to make changes that fit your operation and recommend that they submit a proof to the regulators before we print. This will save a lot of headaches in the future. All alterations are made quickly and FREE.
It doesn't matter if your grow operation is in Willow Creek, or Mariposa, California, One Stop Printers is here to assist you with your duplicate and triplicate receipts. Give us a call at: 800-406-0982 to find out how we can help.
---
Posted July 31, 2020
No on the Town of Apple Valley's 1% sales tax increase!
The Town of Apple Valley has voted to put before the voters a 1% sales tax increase to paper over it recklessly shutting down businesses and destroying its tax revenue base. According to Doug Robertson its town manager FY 2019-20 will have a revenue shortfall of $1.27 million and FY 2020 -21 will be about $3.5 million, this amount is due to its response to COVID-19.
The town arrogantly shut down local business and drove sales online, moving the point of tax collection out of the area, all in the holy name of COVID-19. Could nobody in our local government figure this out? After all we pay some pretty high wages to these smart guys; Mr. Robertson earns a cool $296,000 per year!
There have been four deaths in four months in our town attributed to Covid-19, which amounts to $317,500 in lost revenue per month to the town. This doesn't count the economic damage it has wroth down on it businesses and citizens.
As far as the town spending $16.3 million for the Sheriff's Department services in FY 2020-21, the county gave the sheriff's union a 3% annual wage increase for the next five years for its employees. Since the Town of Apple Valley is on the hook for these increases, why doesn't it along with other cities that contract to the county, have a seat at the table when these negotiations are being held? These contracts are not sustainable, and the town council is missing in action.
Sheriffs are already grossly overpaid; don't tell me it because their jobs are so dangerous. If that were true, city tree trimmers and street maintenance workers would be earning what safety personal receive; and safety personnel would be earning what tree trimmers and street maintenance workers earn. Heck safety personnel don't even make into the top 20 most dangerous jobs.
We are not the town council, and its employees subjects, they work for us! They need to remember this, if the town wants to fix it budget, it needs to stand down in its abuse of businesses, and citizens, get out of the way, and become business friendly! With that said throw the bums out and clear out town hall of deadwood! Oh, and NO on sales tax increase!
---
Flooring Store, Tile and Carpet Contract for California #2031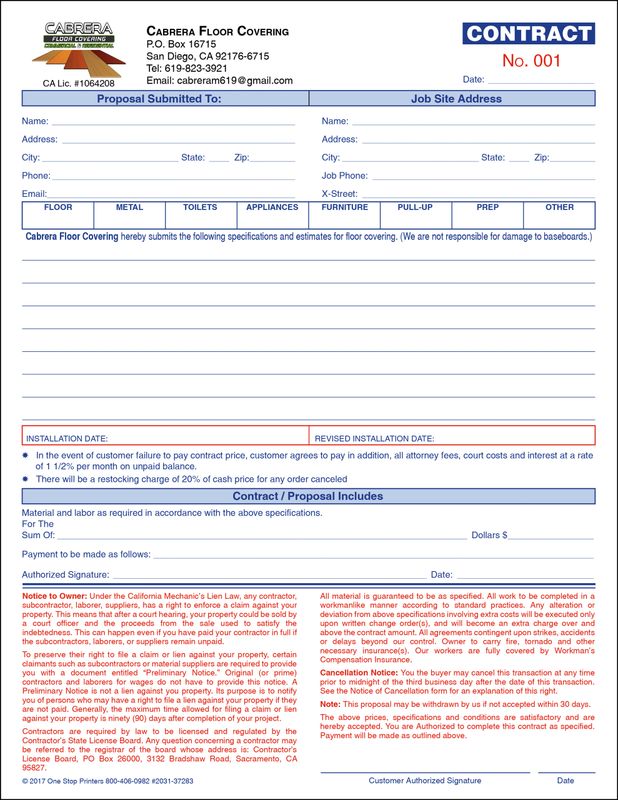 Posted August 4, 2020

Miguel, owner of Cabrera Floor Covering in San Diego called me to say he liked our Carpet Company Contract #2031, but needed to add a Notice of Right to Cancel to the back of the yellow copy of a two part NCR, and could he add his logo. My answer to both questions was, "No problem." The logo he sent was in color, so we added color to the contract making it more attractive, which also communicates a professional look to his clients. Thank you Miguel for your business!
This flooring contract disclaimer pertains to California, but can be modified to fit any state's requirements. We will make these changes and any other to better fit your company's needs, and we do it for FREE. So, whether your flooring company is in Bakersfield, California, Denver, Colorado, or Atlanta, Georgia, One Stop Printers has the solution. Call us today at: 800-406-0989.
---
Posted June 5, 2020
Voting the lesser evil
By Brian Ryman,
Victor Valley Libertarian Alliance
I have been admonished that if I don't like what is going on in the country, I should vote for Biden.
What, if anything does Biden bring to the table that is palatable for a libertarian? He is a proud architect of the 1994 Crime Bill and has been the author of or advocate for some of the worst authoritarian legislation to come across the Washington beltway in the last 40 years. His paternalistic racism (while overblown by Republicans seeking to deflect from their own) is apparent in just about every statement he has made about the current unrest. Like Trump, he sees no relation of his actions to the disenfranchisement felt by so many in our culture.
Yes, Trump is disgusting and dangerous and should never have been president much less be reelected. As things progress, it becomes less likely that he will be. But Biden is not an acceptable alternative.
If Trump is somehow reelected, he will come into office under a cloud of his own making. Many legislators who have supported him to assuage the ire of their MAGA constituents will feel less of a need to do so this time and his power will be effectively reined in. Biden, on the other hand, would be seen as a savior after the years of desolation under Trump and will have license to propel his alternate authoritarian agenda.
Some people would say, "At least he is the lesser evil" but I contend that he is simply a repackaged evil. The lesser evil argument is the soft sell approach to implementing evil.
I myself will back the Libertarian ticket. Perhaps Jo Jorgensen doesn't have a chance at winning, but I have a chance to vote my conscience and for a person in whom I believe. The establishment parties have never given me that opportunity.

---
Posted June 4, 2020
Voting for a third party candidate is not a wasted vote.
I hear all the time, I like the libertarian candidate for president, but if I vote for Jo Jorgensen I will be wasting my vote, the evil blue or accursed red team will get elected and we all will be doomed. This election is to important, libertarian candidates don't stand a chance to get elected, maybe the next election, or the one after that I could consider it. Or my favorite, I am an independent and it looks like I will vote for the lesser of two evils. Then there is, I align with libertarians but there are some policies I can't get behind, as if the democrats and republicans don't have them.
For me, I don't accept voting my conscience is a waste. The libertarian party is the only third party that has ballot access in all 50 states, well, not so much since the pandemic shut it out of about a dozen states. The democratic and republican parties have work very hard to make it as difficult as possible for third party ballot access. Independent candidates have some success at the city level, but Independent's have no way of putting a candidate on the state and federal ballots. So when people say they are independent and vote for the best candidate it is always one of the two flavors above.
Candidates don't own voters or their vote, it has to be earned, and as far as I can tell we will only get more of the same by voting for more of the same. Jo Jorgensen is the only candidate who vows to bring our troops home, end the war on drugs which hurts minorities the most and end qualified immunity.  So, I choose to vote my conscience, and for change, I support Jo Jorgensen for President 2020.

---
Truckers from San Francisco to Cleveland Ohio choose One Stop Printers, Carrier Bill of Lading #2065 and California Dropped Trailer Proof of Delivery POD #2060 to keep their companies running smoothly. Call Today: 800-406-0982

---
Posted May 14, 2020
Time for a Little Gardening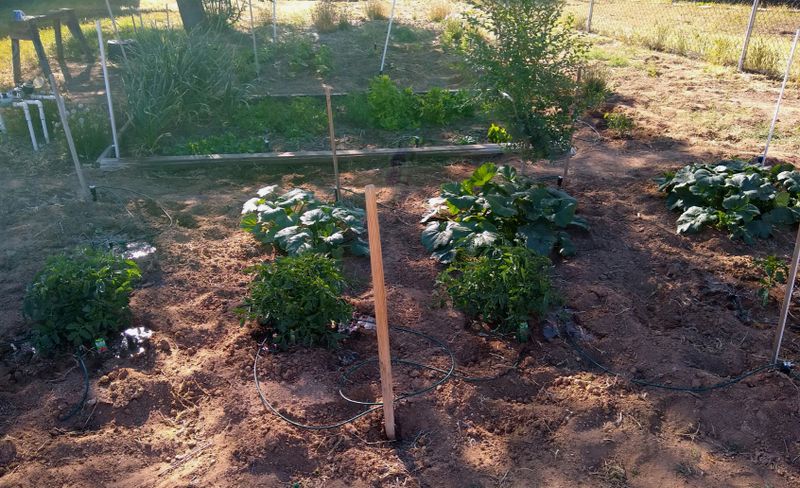 I was only going to do a small garden this year with just some salad items, tomatoes, and some flowers, thought it might be a better idea to use all three beds. Tomatoes for canning and drying, spaghetti squash to use in place of pasta. Zucchini, and yellow summer squash along with green beans for freezing. Let's not forget cucumbers for pickles, salsa, and relish. The middle bed has garlic, green peppers, onions, beets, lettuce and spinach. This small area will produce more veggies than I will know what to with.

---
Posted: May 13, 2020

All Jobs are Essential
Governor Newsom along with other governors around the country seems to think there are two classes of businesses, and jobs, namely essential and non-essential. Nothing could be further from the truth. I bristle every time I hear a TV commercial espousing the virtues of all our front-line and essential workers, as if everyone else is second class and expendable.
The division of labor along, with ownership of the means of production are the two main components of a free market, I don't think our elected governor even know what that means. I truly believe Newsom thinks you can just throw a switch to turn off the economy, and then just flip it back on with no repercussions. He has no clue that all jobs and businesses are interrelated and $54 billion deficit is a result of his arrogance. Businesses depend on a stable government and fulfilling customer wants to succeed, of which neither is present at this time.
Businesses don't dictate to it employees or customers. It's the other way around, the consumer reins supreme and vote with their dollars which entrepreneur and business succeeds or fails. The definition of consumer is everyone, from the housewife, to employees and customers. Any business or product which consumers deem non-essential is eliminated, and those which satisfies the consumers wants, succeeds. One need only think of how consumers snapped up smart phone and killed off Fotomat Corporation to understand this concept.
Socialism in action is what Newsom is giving us, dictating what we can or cannot do, or buy. He as mandated companies shut down, leaving many small business owners with no options but to starve, and if they reopen endure the full wraith of Newsom and the state. If you have a Hair Solon or Bar and require a license he will send in his thugs, close you down, and revoke your license to operate. It that is not a despotic tyrant, I don't know what is. I would like to think that the damage Newsom has done to the state budget and economy will wake people up, in particular public employee unions and demand his resignation, but I don't think so.
---

Pest control and termite exterminator companies are choosing One Stop Printers for their duplicate and triplicate receipts. Check out our Pest Control Service Slips #1072 and Pest Control Service Agreements #1073 or Termite Exterminator Service Agreement #2046, you can make changes for FREE to fit your companies requirements. Don't forget if you have a business form you have been using for years and don't want to change, no problem we will redo the artwork for FREE and keep it on file for easy reordering.

---
Posted: May 6, 2020
Despotic tyrants are in every level of government
I never thought I would ever see the day when a Judge in the United States, would sentence a person to jail for working. This is exactly what happened on May 5, 2020 when Judge Eric V Moye of the Texas 14th Civil District Court of Dallas sentence Shelly Luther to seven days in jail for opening her business, Salon A La Mode, and Hot Mess Enterprises in defiance of Governor Abbott order to close non-essential businesses.
Luther was not sent to jail because she violated the governor's unlawful order, but because she refused to comply with the courts cease and desist order and close her Salon. Judge Moye said if she apologized to the court and elected officials, Luther could avoid jail but still have to pay the fines. Luther refused, saying she had no choice, it is either close the shop and starve, or open against the stay-at-home order and feed her family. In my mind Shelly Luther is a hero!
The officer who arrested her, Judge Moye, and Governor Abbott who swore an oath to protect our constitution against all enemies both foreign and domestic along with every government regulator should be ashamed of themselves! Now, Governor Abbott is saying the judge overstepped his authority, yet it is Abbott who put it in motion with his illegal stay-at-home order. Correct me if I am wrong, but Abbott has the authority to order Luther's release; why hasn't he done so?
All these government officials and employees have not missed one paycheck, yet have the arrogance to demand business owners shut down and starve! Remember, the Auschwitz Concentration camp guards and workers under Commandant Rudolf Höss were just doing their jobs. Budget revenue at every level of government is in a freefall, I won't shed one tear when these tyrants start loosing their jobs. We are getting a first hand look at what socialism looks like and it isn't pretty. I hope Shelly Luther sues everyone involved and gets a million dollar payday!
---
Plumbing contractors know One Stop Printers save them time and money when they choose Plumbing, Drain cleaning & Septic System Invoice #P1067 or Septic Tank Pumping Small Receipt #2061 for their businesses. Whether you plumbing company is in Akron, Ohio, or Charleston, West Virginia, One Stop Printers is here to serve you.

---
Posted April 3, 2020

End the Shut Down Now!
Your right to irrational fear does not negate my right to engage in commercial activity, nor any other. It never has, but somehow COVID-19 hysteria has unleashed a tirade of despotic actions by every level of government. Libertarians believe it is the individual's responsibility to ensure their safety first, not the governments.
None of us think that a person should be reckless and put others in danger and we recognize this virus spreads quickly and is dangerous to people with underling health issues. We think it is the government's responsibility to provide transparency, which it has not, and to get out of the way of the free market so it can quickly provide solutions. Not hinder it with agencies like FDA, which stopped companies from providing testing kits, face mask, respirators and such.
Instead of our government at all levels providing immediate medical and finical support to the victims. It shut down businesses throwing over 10 million out of work creating panic by ordering its citizens to stay home. On one hand it says going out and exercising is good, then closing down beaches, trails and other recreational areas because people are trying to relax. One size doesn't fit all, ignoring some may be in abusive homes and their only escape is school or work.
We are adults and are capable of making our own decisions as to the risk we wish to expose ourselves to, like we have done every other flu season. It is time for Trump, our petty governors and mayors to lift business closures and stay at home order NOW, or I advocate civil disobedience!
---

Truckers from Bozeman, Montana to Shreveport, Louisiana need DOT Daily Vehicle Inspection form to keep them on the road to their next destination. They know to choose One Stop Printers, Driver's vehicle Condition Report #DVCR1058, call today: 800-406-0982.

---
Posted April 2, 2020

Horse Sense
Working with horses has taught me more about human nature then any book learnin' ever did. Horses are prey animals…Mountain Lion food. When confronted with danger it panics and has only two responses, the first is to run because by nature they are cowards, or when cornered fight and are as lethal as the Mountain Lion. With good training most of its re-activeness can trained out. The majority of horses when left alone are at best "civil."
So when you're at the store and all ticked off at the other person hoarding something you need, keep in mind: When a horse is trapped and panics; fight or flight takes over. It doesn't matter whether the danger is real, or imagined, the out come is always the same, that horse intends to live another day. Happy Trails.
---
Posted March 27, 2020
Newsom is crushing us under his despotic boot!
On the Town of Apple Valley's Facebook page it encourages its citizens to snitch on your neighbor for gathering in to large of groups, and non-essential businesses still open. I am here to tell you my non-essential business, is essential to the wellbeing of my family. Is the town going to pay my bills? Am I to remain civil while by business is bankrupted and I am sent to the welfare line? Just who does our town think donates to our local charities, ball clubs and churches? I know there is a pandemic and we need to do everything we can to stop it; Mr. Nassif, show me the bodies, how many people have come down with Covid-19 in our town? You have driven a wedge between businesses and the town which will not be soon forgotten. Shame on you!
Instead of providing a measured response to get medical attention and financial support to those affected by the Covid-19 virus, Mr. Newsom decided it best to devastate state, county, city and school budgets. The damage will be breathtaking. One twelfth of California's budget of $222 billion is $18.5 billion, Newsom has virtually pissed away our $21 billion reserve in four weeks. Then there is Calpers $69 billion loses to pension funds, and we haven't gotten to how we will fund massive unemployment and Medical claim because of him shutting down the private sector.
Our state budget is in freefall from Mr. Newsom recklessness, and I would not be surprised to see the state's revenue shrink by 40%, about $88 billion, this is a yawning gap to bridge, in addition too the looming financial tsunami for meeting pension, unemployment and Medi-Cal obligations for the poor. Not to mention our county, city, school and safety budgets.
Mr. Newsom must rescind his order to close businesses NOW, because many won't make through today, and our elected officials need to get a grip, or we are all doomed!
---
Posted March 2, 2020
Make California Legislature Part Time
Back in 2008 when I ran for the California State Assembly I learned that our state legislature annually enacted 800 to 1000 laws. To my knowledge not much has changed, which means in the last 12 years there are now somewhere around 11,000 laws or crimes now on the books. This doesn't include regulations created by over 200 state agencies which mirror the legislature pace and have the force of law.
There is not one single tax proposal which our legislature doesn't get behind, and will stop at nothing to keep taxes from being repealed by the voters, through the initiative process, case in point Proposition 6 the gas tax repeal. The ballot statement written by California State Attorney General Xavier Becerra was intentionally misleading, it was intended to sway just enough uninformed voter to keep the tax, and the handmaiden public employee unions carried the ball with it political advertising. The legislature had no intention of using the taxes for what was stated, it has mostly been used to prop up the underfunded pensions. If I as a business owner mislead my customers to this extent through my advertising, I would be sitting in a jail cell right now.
The California legislature, Governor's office, and leadership are owned by the top three; public safety, teachers, and classified, public employee unions. We have tried term limits, which have failed miserably, elected officials play round robin with elected offices and if one fails to be elected and is favored, they are appointed to a well paying board position on a regulatory agency.
A good start on fixing California dysfunctional state government is to return it to part-time, preferable meeting every two years!
---

Ohio wrecking and towing companies are you looking for a printing company to print your towing receipts? Look no farther One Stop Printers has the solutions for you; check out our, Wrecking Company Towing Receipt TFP20100 or Towing receipt TFP20101. If you need to make changes, no problem they are FREE. Have you been using the same receipt for years but need a reliable source? No worries, we will redo the artwork for Free with the printing and keep it on file for easy reordering.

---
Posted February 25, 2020

This isn't the Prop 13 I voted for back in the '70's, which was to rein in Sacramento's insatiable appetite for taxes. Our state legislature had no self control then, nor now. We are lead to believe that Prop 13 is for the kids, nothing could be farther from the truth.
First of all, Sacramento bond issue for borrowing $15 billion over 35 years and pay back an additional $11 billion in interest, when it currently has a $21 billion budget surplus. Why not just use a portion of the surplus and save the $11 billion? It will favor school construction projects that use union labor which will drive up cost by about 25%, why not select the lowest qualified bidder and do away with prevailing wage requirements and fix more schools? Because, its really not about the kids.

It will only fund about 60% of a project and will require the local school district to float bond issues to provide its matching funds. This puts lower income areas at a disadvantage, because not only are property values less, voters are less inclined to raise their property taxes. If Sacramento did away with this requirement money would flow to the areas most in need.

The one requirement in this Proposition 13 is too limit overhead to 5%. This raises a interesting question: If Sacramento politicians can operate this program with a lean 5% overhead, why not for all of its programs? In particular, the education department. Less than a third of spending actually makes its way to the district level. That means only about $5,400 of the $17,964 spent gets to your local school district, notice it hasn't gotten to the class room yet, more will be skimmed before that happens.

It is time we demand we get our moneys worth and demand education limit its overhead to 5%, this would make $50 billion immediately available in the classroom. No more need for bond issues!

All this does is highlight a bigger problem, which is that Sacramento politicians' are owned by public employee unions and do its bidding. It is time to throughout Prop 98 which guarantees minimum funding for education, and move to a voucher system where parents have a choice where to educate their children.

---

Houston and Dallas truckers check out One Stop Printers, Trucking Bill of Lading #TDR1054, starting at $101.91. Need to make changes, no problem. Changes are
FREE!
---
Posted February 20, 2020
Socialism verses Capitalism verses Corporatism
For some odd reason the popular train of thought is the average person will fare far better under democratic socialism verses capitalism. There may be good reasons, but I think they are confusing capitalism with corporatism. Capitalism is what created the high standard of living we now enjoy; it is the free exchange of goods and services between willing buyers and sellers, serves the masses, where the will of the consumer reins supreme. Whereas corporatism (individuals, companies, corporations and unions) uses ones position of power with politicians and government to buy favoritism in the marketplace.
Government action is political action, and those with the most access to politicians (money) have more say as to how policy is written, which is always to their advantage. Democratic socialism seeks to fix this by making everyone equal with government intervention. Yet, even under this system, it comes down to who has the most money to buy favors from the politicians and government.

I have a friend who is a big Bernie Sanders fan and wants to tax away the wealth of the top 1% because they have too much money, and it should be spread around to those with less (pretty much everyone else). This sounds like a noble cause; although she didn't realize others may be envious of her, too. Even though her family isn't a 1%er's, they do own several rental properties, their income and wealth put them in the top 25%. She was taken aback when attacked on Facebook for being hypocritical and not advocating spreading her own wealth around to the less fortunate. She didn't understand why people would be envious of what she and her husband had worked so hard for (which they have).

Envy is such an ugly thing and brings out the worst in people, making them do things they normally wouldn't. I hear things like; this person didn't earn what they got, and if they did, they don't need that much money, tax it and give it to me. Yet, in a free market every penny, nickel… dollar has a vote, and consumer vote daily which entrepreneur is successful or fails. If enough consumers are buying a product in overwhelming numbers because it is what they desire, then the entrepreneur deserves the money. If they think different, then don't buy the product.

If social justice warriors are concerned with the welfare of those less fortunate, they would do well to work on breaking down the barriers to full employment erected by corporatism and leave capitalism alone!

---
Plumbing companies do you need a plumbing work order tailored to your requirements, look no further than One Stop Printers. Check out Plumbing Invoice #P1060 or Plumbing Estimate and Invoice #P1065 and customize it for FREE. If your services include septic system repair and service we have receipts especially for you, Septic Tank Inspection Report #2066.
---
Posted: May 8, 2019
The elusive 28 cent gas surcharge?
While California motorist are enjoying $4.00 a gallon gasoline, there is much to do about the unaccounted for 28 cent surcharge. Taxes account for about 98 cents and $2.74 for the cost of oil, refining, producers and retail profit.
It's worth noting that Chevron and Andeavor account for about half of the states gasoline production, and some say there could be antitrust concerns. Gov. Newsom and legislature are scurrying about exclaiming, "We must investigate why gas prices are so high and punish those responsible!" Gov. Newsom need go no further then to look in the mirror with it regulatory (which created this monopoly) and taxing policies.
Trucking companies which drop trailers to be loaded and unload now have a source for One Stop Printers, Dropped Trailer Proof of Delivery POD #2060. This form has the California disclaimer, but it can be changed to meet your state requirements. We print POD's for trucking companies from Seattle Washington to Bangor Maine and everywhere in between. Prices start at: $101.91 for 250 duplicate receipts. And don't for get you can make changes for

FREE

, call today: 800-406-0982.
To my knowledge no refinery has been built in California in the last 40 years (same with water infrastructure), even though our population has more that doubled. Refineries have been working at near capacity for years and any interruptions whether planned or not, spike prices. Why would oil companies welcome additional refinery capacity, when it can sit back and let our state government restrict supply, ensuring higher profits, at least here in California.
A quick look at Chevron's current financial report shows a profit margin of 8.45%, so even if Chevron is reaping the benefit of the surcharge, when added to its profit, taxes are still three times higher. Who is greedier the oil companies or our government?
Our governors and legislature have been meddling in the economy for years, it is time they started to listen to us and stop driving up the cost to live here, whether it is by driving up prices by restricting supply or taxing us to death.
---
Posted: May 3, 2019
Flexing your power doesn't pay unless you own the power company!
I listen to a classic country music station over the internet located in Houston Texas and hear commercials all the time from electric companies which are competing for costumers. One comes to mind, TXU Energy advertising free electricity for your seven highest usage days a month, and rates as low as 9 cents per kWh. So, I did a little research and found Texas deregulated its power industry back in 2002 and Texans have 41 power providers to choose from.
Meanwhile here in the High Desert we only have good ol' Southern California Edison (SCE) and no other choices. I have a business in the High Desert and remember California's failed attempt at deregulation back in 2000. I recall my electric bill in a very short period of time going from about $350 per month to $1,300 for the same usage (kinda like my AVRW bill, too). Having the power go out in the middle of the workday and washing up presses by hand before ink dried rock solid on the rollers. Californians are still paying off the bonds from this fiasco, somehow Texas succeeded where our politicians failed! Article continued below:
Attention: California plumbing companies when you need an expert to get your plumbing work orders printed choose One Stop Printers, we have a full line of plumbing receipts from our Plumbing, Drain Cleaning & Septic System Invoice #P1067 which includes Conditions and exclusions on the back to our simple Plumbing Invoice #P1060 with plenty of room to write on. Prices start at $127.50 plus shipping and tax and as always all changes are FREE! But wait there is more, send us your logo and we will include it in black and white for FREE, too!
Now California power companies along with the California Public Utilities Commission just forced time-of-use on us so we will conserve even more. We have been told all these years to "Flex Our Power", use major appliances after 7:00 pm and turn up the thermostat, which a lot of Californian's have done. Conveniently for SCE High Peak time-of-use charges kick in roughly around the time when people are getting home from work. Greedy Californian's better not turn up the AC and try to relax, or maybe do some chores before going to bed, unless they want to pay dearly for the privilege.
Looking at my latest bill there are Mid Peak charges of 14.5 cents per kWh, and Off Peak charges of 12.8 cents per kWh and by the time all the adding is done the total comes to 15.2 cents per kWh. There are so many different charges on my power bill trying to decipher it gave me headache, and we have not even got to the summer months... boy I can hardly wait.
No wonder my friends and family are leaving California for greener pastures.

---
Posted: March 27, 2019
It's Time To Eliminate Corporate Welfare
There is a lot of political noise about welfare and its recipients should work for any benefits received, yet nary a word is said about corporate welfare. Here is the High Desert we got to witness it first hand when the Mojave Air Quality Management District (MDAQMD) gave $323,000 grant (welfare) to a multinational Cement Corporation which has a mine located in San Bernardino County.
 The news release in the Daily Press stated it would be used to replace old equipment with a new Viking Trackmobile which is used to move rail cars at is facility. MDAQMD officials touted that replacing the outdated equipment will significantly improve air quality in the surrounding area of operations at its Highway 18 location in Lucerne Valley.
This sounds all well and good, until you consider this corporate welfare's grant money was raised by a $4.00 a year fee which is taken from each and every vehicle owner in the MDAQMD's service area. Keep in mind that over half of its residents are on some kind of aid. This is clearly a transfer of wealth from the poor to a corporation that can well afford to pay for its own equipment replacements.
 
Our out-of-touch Sacramento politicians see this as only $4.00, who couldn't afford that? It's for a good cause: Who doesn't want clean air to breath? Except it's 12 cents more a gallon gas here, 7.75% sale tax there, 13.3% income tax... with no end in sight. This out of control tax and spending has resulted in California having some of the highest taxes in the country.
 
No doubt, the proverbial Maria-the-maid with her anchor baby is chuckling, "And they think I'm the problem!"
---
Introducing One Stop Printers Termite Inspection and Work Completed Label #2059, prices starting at $149.08 for 500 labels. Labels are 5" x 3" on an orange fluorescent label. Don't forget you can make changes and add your logo for free.

---
Posted: March 1, 2019

Why the post office is will never be self self-sufficient and why I really dislike dealing with them.
I have been in the printing industry for over 43 years. Before I purchased One Stop Printers I like most of you had very little contact with the Post Office other than paying bills and mailing first class and occasionally going to the post office to buy stamps. That all changed 24 years ago, when I purchased One Stop Printer and starting doing direct mail marketing. In addition we had a contract post office for the first nine years.
As long as congress has its finger in the pie, the USPS will always be subjected to political will and will never have adjust to market forces and be a true competitor in the Free Market.
Let me give you a little background on the post office:
The post office was changed to a quasi- private company by congress back in 1971 and became the United States Postal Service. From the USPS website it states: The Board of Governors of the US Postal Service is comparable to a board of directors of a private corporation. The board includes nine governors, who are appointed by the President with the advice and consent of the Senate.
509 Million mail pieces are delivered each day by 315,950 carries and each carries delivers an average of 1,611 pieces of mail to, anywhere from 500 to 1000 mail boxes. It is obvious that they do a lot right. But with the internet things have changed dramatically,  USPS First Class mail volume has dropped from 104 billion pieces to  62 billion pieces by 2016 a 40% drop. Advertising mail has dropped about 21% since 2008 most of it happening during the recession, the post office is not going away.
Congress has carved out its own little benefit for itself, have you ever heard of "Franking Privileges?" Well the short explanation is congressmen get to mail to constituents, officials and supporters at the governments expense… or for FREE. They can send correspondences, press releases and questionnaires with their signature in lieu of postage applied and dates back to 1775. The post office keeps track of postage due and sends a bill to congress. So if you ever wondered why you get questionnaires before and election, it is just free campaign money.
The same can be said for non profit mailing. It mandates that the non-profit rate be about half of what marketing mail postage cost. What looks like a saving in postage in reality is the taxpayer footing the bill. This buys a lot of support from Non-Profit Corporations.
Karl Marx's vision for a socialistic society use the post office as a model for efficiently operating private companies, this alone dooms socialism. No private company that faces competition in the free market would survive very long operating like the USPS and how it treats it's customers, and if we ever reach this point, god help us all.
The post office is supposed to be operated like a private company with a profit motive. However, as Mises stated: The profit motive is of little value without the corresponding component of loss. With out the possibility of loss, profit becomes nothing more than entitlement.
The USPS has a protected market where no competitors are allowed. No other entity can deliver mail to your home, whether it is first class or junk mail. An exception being newspapers which home delivery is protected by law, too.  Packages delivered by companies like UPS and FedX rates are mandated to be double what the USPS charges. If the USPS is not making enough money, it can simply increase its prices, and UPS and FedX gets a raise.
Starting at the top, the USPS board of directors may be set up like real board of directors but it is subjected to political winds. The post office can't make changes to its system without a congressman getting involved, even though mail volume has dropped, reducing the number of delivery days from 6 to 3 will never happen, consumers will complain, not to mention the postal union, and it won't even consider closing post offices.
For example 10 years ago to save money the post office started to consolidate bulk mail entry units, locally it started in San Bernardino which has an Sectional Center Facility (SCF) facility and large bulk mail unit. Every post office which had a bulk mail entry unit within 10 mile radius was closed and bulk mail customers were transferred to the SCF, this worked well and in my opinion saved money and improved service. Up here, Victorville was chosen to be the mail entry point. Even though the always treated the bulk mail entry as the redheaded stepchild (I can say this, redheads run in my family), they fought this change because they figured out real quick they lost claim to the postage, which was significant, and it took another 5 years to make the transition.
The clerks I work with are pretty knowledgeable and pleasant, but collectively the post office is insane!
Changes to the postal system are made by committee and what doesn't make sense in our world is perfectly acceptable in its. When we had the contract post office UPS had a strike and I was told by the Hesperia Postmaster not to accept any packages we thought might be from UPS's customers. When we had a contract post office UPS went on strike and I was told by my supervising Postmaster that if a shipping customer came into our store and we suspect that they were a UPS customer we were to refuse shipping there package. I was quite taken aback by this. I told him our contract was based on our volume of postage and why was he restricting our income? He could not give me a straight answer. I accepted packages anyway, most were from my printing company and I was not going to make them angry, as far as I was concerned the post office own the packages once I accepted them and it was there problem.
I would never be able to treat my customers like this and stay in business. But then again I would never offer discounts for mail perpetration and presorting like the post office does, I am not aware of UPS or FedX offering such things.
The post office operates in a competitive vacuum and doesn't have to compete like the rest of us, or do they? Email decimated its person-to-person correspondence very few people send a letter anymore, and business-to-business is down, too. I print very little letterhead anymore that doesn't apply to direct marketing. I think you will see a dramatic drop in advertising mail pretty soon, too, because SEO is taking that market share. InfoUSA and Dunn & Bradstreet are the major compiler of mailing list, which are based on models and credit reports (except list like homeowners, etc which are derived from tax rolls), yet Facebook and Google are targeting their ads using facts about consumer searches. I have not done a personal business mailing in about a year and am relying on SEO.
Does it really cost 55 cents to send a letter cross county in 2 to 3 days, we don't know foresure, the same thing applies to the rates the UPS and FedX charges for delivering packages, because the USPS has a monopoly on home delivery.
Until the board of directors have skin in the game and the possibility of a personal loss exist, and it is able to set its own rates and products to sell. Its postmasters are responsible for the profit and loss of each post office and the very real possibility of losing his job if it doesn't perform and that post offices will close if they are not profitable, and route deliveries can be changed to fit the market without congress interfering, there is no hope for the post office.

---
Now featuring Rental Yard - Ready for Rent, Yard-Check & Service Tag #2053.

---
Posted: January 7, 2019

Who writes this stuff?
"The Dollar Store backlash has begun" article by Tanvi Misra is a very interesting read. The first paragraph starts out with a semi-complement regarding dollar stores locating in under served low income areas, then states they are responsible for trapping residents in poverty and ill-health. The rest of the article drones on about how these companies don't provide the products that residents need and deserve.
What is failed to mentioned, is prior to the dollar stores opening stores in depressed areas, usually the only choice was a liquor store, with way higher prices and way fewer selections. Or, in the cases of areas such as Watts, small family owned store which were destroyed in the riots and never able to recover or rebuild.
Lawrence Brown at Baltimore's Morgan State University calls them subprime groceries, which maybe true. However, when you don't have transportation to get to a store of any kind, but can walk to a dollar, there is a savings. In addition, the management of these corporations have risked there own capital to locate in these areas with the expectation for making a profit. The one thing I have learned about free markets is it is very hard to keep secret, high profits. High profits brings competition, competition improves service and drives down prices. Will other competitors enter the market, will they offer other scarce items (such as fresh produce) for sale in these areas in order to different themselves? Only time will tell.
This article is nothing but propaganda disparaging companies for just doing business, if these intellectuals are so concerned, it might be wise for them to pull there resources and open a store to provided just such products they laminate are not being provided by those who are risking there money. As far as local governments subsidizing big corporations to locate in its community, we have found common ground to agree on, however when zoning requirements are put in place to inhibit competition because someone doesn't like something, then it is simply un-American.

---
Plumbers, save time and money by using One Stop Printers Plumbing invoice #P1060.

---
Posted: December 10, 2018
Climate Change Leader has Trouble Convincing French Citizens to Accept Gas Tax Increase!
France is one of the countries that has pushed the climate change agenda and criticized the United States for not taking a harder stand. I have said all along that the policies to raise gas prices and taxes fall heaviest on those who can least afford it, namely the poor, elderly and middle class families. President Macron is finding out first hand just what happens when you force these policies.
The Yellow Vests protesters have taken to the streets and rioting to protest the additional gas taxes and other taxes and regulations forced on the citizens. The poor have suffered the most because they have to make the hard choice of getting to work or feeding themselves. All the while the ruling class including Macron benefit from the higher taxes. Those in power can feel good about themselves while they ship champagne. I guess if here were smarter and more savvy like out governor Brown and Xavier Becerra and just lied to the citizens he wouldn't have found himself in his current predicament.
President Macron finally gave way to the demands of the Yellow Vests protesters and delayed the implementation of the gas tax increase for six months. I wonder if the results will be the same in June or will Macron let the gas tax die and hope no one will notice. Such is politics.

I only wonder how long it will take the citizens of California to realize that we are following the same path and demand change. Macron was quoted saying, "He would find the people responsible for the riots and destruction and make them pay." Too bad he doesn't have a mirror to look into and see the real person responsible.
---
Computer Technicians check out One Stop Printers Computer Repair Work Order #CR2007. This versatile form helps you capture all you billable time and materials, saving you time and more importantly money.
---
Posted: November 20, 2018
There is no such think as income equality
There is a lot of talk these days about income equality and a living wage. The figure that politicians bandy about is $15.00 per hour. This all sounds well and good, but the market place is fluid and as soon and everyone making minimum wage reaches this benchmark the target gets moved.

The next thing I hear is from industries effected that it will cost jobs. In the short term they are correct, however this is fluid, too. In effect, what happens is workers at the bottom of the scale will get a few extra dollars in their paychecks and will notice the difference in being able to afford some extra's for awhile. So will the tax man, (this is something that is never mention) and some jobs will be lost, so those at the bottom who are lease employable are hurt the most. However it doesn't stay this way for long.

This puts upward pressure on wages for those who have learned something a little extra and worked hard to advance. They are right in the bosses office demanding to be paid more than the person at the bottom who just got a raise courtesy of Uncle Sam or in California's case Uncle Jerry. And of course most union contracts have a provision when minimum wage goes up so does the union workers'. This is where the tax man really makes out.

If our politicians were really concerned for the poor (poor is a state of mind) they would work to reduce redundant regulations and in the case of California it massive regulatory machine who's tentacles which wraps around every businessman's neck and reach into his pocket. Real wage growth comes from a growing economy, educated employees bringing something to the employers table other than a warm body, and not taking so much of the business person money which inhibits them from investing in future growth.

---
Heating and air conditioning service technicians are you looking for a duplicate or triplicate work order receipt? Check out One Stop Printers Heating & Air Conditioning Invoice #HVAC1050

---
Posted: November 16, 2018
What the heck is income equality?
My first real job, you know, where they actually withhold taxes, was with TG&Y as a stock clerk. I was making a whopping $2.25 per hour minimum wage. It was part-time after school and weekends. It got me a little spending cash and gave me my first glimpse at the working world.

The one lesson I will always remember from that job, is when I asked for my payroll check one hour early on Thursday from the girls in the accounting office and got by butt chewed. I was told, "Checks are not available until after noon, period!" Now mind you, Ed the assistant manager who ran the sporting goods store a couple doors down got his check earlier all the time, with these same office girls laughing and joking with him.

It got me to thinking, what did he do different than me? After watching him for a couple of weeks, it was quite obvious. Whenever he saw the girls in the office he always talked nice and had a complement or two, never over done though, took time to acknowledge the hard work they did. And, if they need something, he would take care of it, even if it was not a task he would normally do. So, I though I would give it a try, too.

You know what, it worked! After about a month of following Ed's lead I got up enough nerve to ask for my check early, I said, "I normally would not ask, but I'm not scheduled to work today and I have to go out of town, would it be possible to get my check a little early?" I braced for the worst, there was a pause, then they whispered, "Okay, just don't tell anyone else."

When I got that job I basically had no experience, other than to know to work hard, be nice and do whatever job I was give to the best of my ability. I never intended to stay with TG&Y, nor at that pay, I was studying printing and wanted to get into that industry where I knew I could advance faster and grow my pay. TG&Y gave me the opportunity.

When I started in the prep department at A to Z Printing at a higher rate of $2.65, Wu-hoo. I learned the industry from the ground up and now own a printing company where I swear some weeks I'm not sure after all my efforts I am making more than what I did at A to Z Printing.

All kidding aside, I have made a good living in printing and never drawn a day's unemployment. I can't figure out why people think everyone should be earning the same amount of money, no matter the job. We all bring different abilities and skills to the table, in the past if the boss gave someone better pay than me and I was higher skilled and worked harder, I moved on to greener pastures. In our somewhat free market economy where we have a system of division of labor, we have equal opportunity, but equal outcome can't be guaranteed. If those who want equal income or the correct term, higher income, I suggest you learn what you can from that crappy entry level job, learn life skills, never stop learning. Find something you enjoy doing and build your career, money will follow.

---
Hey all you bug killers, aka: Termite Pest Control, One Stop Printers Termite Inspection Order Tag #PC1079 gets the job done!

---
Posted: November 8, 2018
It is okay to lie to voters if it is for their own good!
California's Prop 6 illustrates how deceiving our elective officials are with the failure of this measure. The deceptive ballot subtitle which reads: Eliminates Certain Road Repair And Transportation Funding. Requires Certain Fuel Taxes And Vehicle Fees Be Approved By The Electorate. Initiative Constitutional Amendment, belongs in the arguments not the title. This ballot initiative was to repeal a very unpopular gas and vehicle registration tax increase forced on us by the state legislature and governor.
Our California Attorney General Xavier Becerra knew that most voters don't look beyond the title when deciding which way to vote, taking advantage of voters who have not educate themselves about propositions on the ballot. If a private company mislabeled a product to the same extent as Mr. Becerra, its would be sued and have criminal charges filed against it and its management, resulting in at the very least, large fines. Yet, our elected officials' can lie to us and get a free, get out of jail card.
Statewide, Prop. 6 failed, 55% to 45%, yet in San Bernardino it passed 57% to 43%. I tend to think the voters are more aware of how Sacramento picks our pockets, yet 43% who voted against the measure in San Bernardino is till a significant number. My guess is that 15% were fooled and the rest being state union members who will benefit from supporting those in power in Sacramento, and those who have had enough of sitting in Cajon Pass gridlock and believe that Sacramento really intends to fix the roads.
We are suppose to have a representative government, however the only ones represented in Sacramento are those interest such as public unions, tribes, corporations and utilities, who can afford to pay-to-play. The only to fix it, is to cut the size of government at every level. We need to get rid of top two and give voters choices in the general election.
---
Medical Doctors, are you looking for a reliable source to have your appointment cards and Rx pads printed. Look no farther than One Stop Printers and our Doctor Appointment card #600 and Doctor's Rx Pads & Slips #M1091.

---
Posted November 6, 2018
Was there ever a simpler time?
One Stop Printers has been printing political campaign mailers for local High Desert candidates since before I purchased the company back in 1994. One common element  has always been that the candidates were quite cordial to one another. And in the beginning for quite a few election cycles it a candidate spent $5,000 on their campaign to get elected, it was quite a lot of money. If a candidate had a difference of opinion with the incumbent, the policy was attacked, not the other candidate, much has changed from those quaint early days in the Victor Valley.

Now it is not unheard of for a candidate for city council in one of our local cities to spend upwards of $100,000 in one campaign and the gloves have come off, and some pretty ugly campaign mailers have hit the street. So, I speculate what has changed? At first glance when Hesperia and Apple Valley were formed back in the late 80's the cities followed in the foot steps of the county in regards to development, and the city of Victorville has always been friendly to both developers and business interest.
The High Desert has always relied on development to drive its economy with affordable housing, which brought many young families to the region seeking the American dream of home ownership. With the influx of people to the valley and the resulting problems that come with a growing population, now affordable housing is synonymous with low income housing, and developers and considered builders of tenements, putting profits above the community, resulting in the local city councils being more polarized than ever.

It has become a long drawn out process to get a housing project, or commercial development from concept, to design and build. For someone who has tired of the commute down-the-hill to work and plans to open a business, the process with each city's planning department is both a terrifying and daunting task, fraught with many dangers. Throw in unions who's only goal is to pack school boards, city councils, governor's office and the legislature with anyone who will support bloated pensions and pay, you have a recipe for contention.

Although, I believe that local government is the best kind, I still think our local cities and town council's are involved way too much in the lives of its citizens. Their focus should be on roads, parks and water when necessary. Contract out services whenever possible, and eliminate exclusive franchises so citizens have a choice. For example in the Town of Apple Valley, if the two major water companies didn't have exclusive franchises, where it is against the law for any other water company to compete in its area, we quite certain would have lower water cost, because we would have a choice and they would have to compete for our business. Keep government small and give us choices.

---
If you got tired of commuting down-the-hill to work and opened a pest control business, check out One Stop Printers, Pest Control Service Slips PC1072 to get you started!
---
Automotive Tire Shop Repair Order #AT1035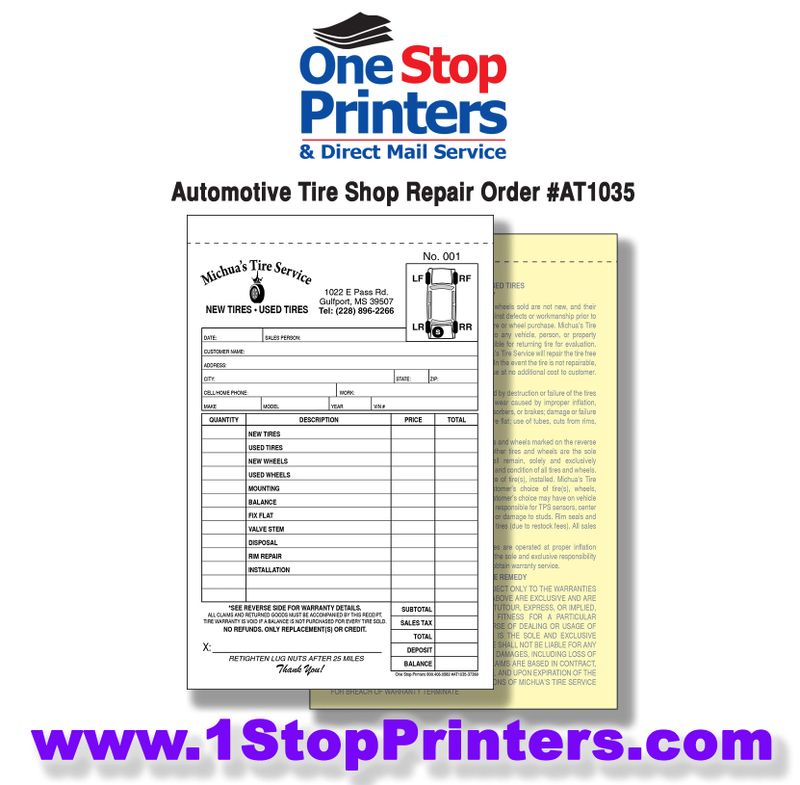 Posted October 30, 2020

Patricia from Michua's Tire Service in Gulfport, Mississippi, found One Stop Printers Automotive Tire Shop Repair Order #AT1035 online but the disclaimer didn't provide enough protection for her company. She needed to add a limited warranty to the back and make minor changes to the front. We made all the required alterations for FREE, the only additional cost was for printing on the back side. We now have standard cost for printing a two sided 5.5" x 8.5" receipt.
In addition, we would like to thank some of the many tire companies we have supplied sales invoices to such as Brightway Tires in Ceres, California, M & M Tire Shop & Accessories in Phoenix, Arizona and Xpress Tire and Auto Services in Gresham, Oregon. Give One Stop Printers a call at: 800-406-0982 to find out how we may assist you.
Proof of delivery receipts available in 2 ply and 3 ply carbonless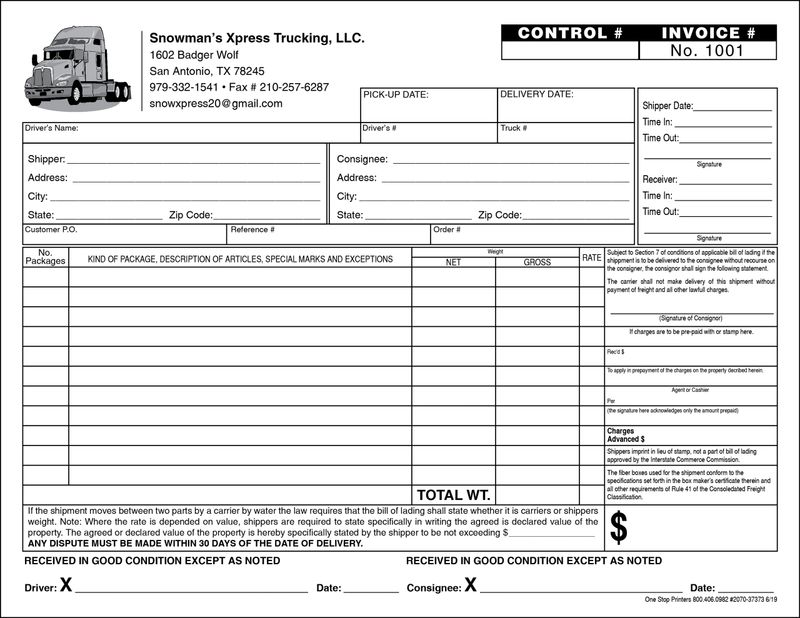 Posted October 21, 2020

Thank you Debbie from Snowman's Xpress Trucking, LLC located in San Antonio, Texas, for ordering One Stop Printers' Independent Trucking Company POD #2070. Even though this was a straight-forward order from our website: 1StopPrinters.com, and all we had to do was drop in the address, phone, fax, and email address, every order is important to us. We provide the same attention to detail and customer service whether it is a simple proof of delivery, or new complex vehicle inspection report. And remember changes are always FREE!
After working with independent truckers for the past few years, I have come to appreciate the hard work they do, on the road for weeks at a time keeping America running. It doesn't matter if your trucking company is based out of Corpus Christi, Texas, hauling freight out of Denver, Colorado, or Bozeman, Montana, One Stop Printers can assist you with printing your delivery receipts, manifest, and bill of ladings, and shipped them to you quickly. Give us call today at: 800-406-0982, we would be pleased to help you.