Your Business Card May be Your Only Chance at A Great First Impression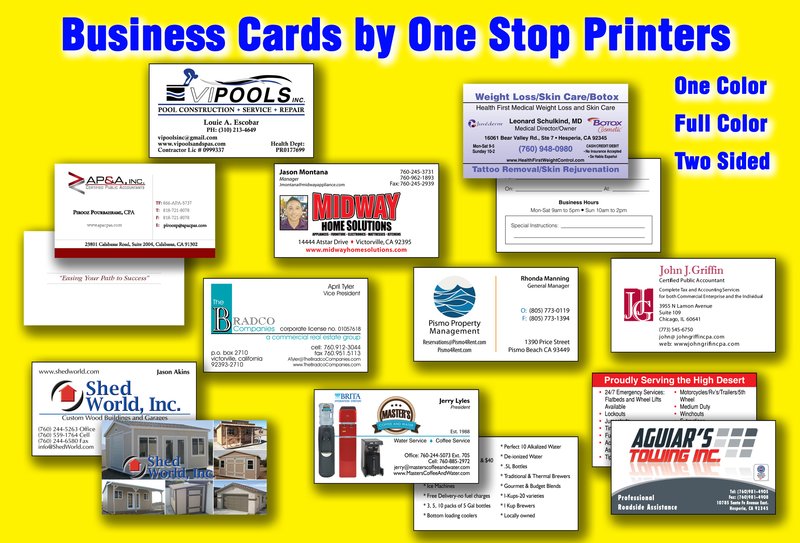 Posted March 1, 2018

You don't get a second chance at a first impression, which is why it is so important that when you hand a client your business card, it projects a professional image.
I have seen it too many times and can't stress this point enough: In your presentation you state that you will take every care in providing excellent customer service and you have an eye for the smallest detail. However your business cards states something totally different: From the email address being so small it is impossible to read, to it looks like you just printed them off your home computer and cut them out with a pair of scissors.
A business card is a small canvas, so keep the front simple, and elegant with the most important contact information. When too much information is crowded on, it becomes very difficult to read. Keep in mind the back side of the business card can be used for bullet points, a tag line or, for doctors and such, an appointment card.
Some simple tips are: Don't put your copy in all cap, it is very difficult to read. Vary point sizes, making names and phone numbers larger and bold and the less important items like the address smaller.

If you would like assistance with your business card and company image, please call One Stop Printers today at: 800-406-0982.
---
Save Money With One Stop Printers' Pest Control Forms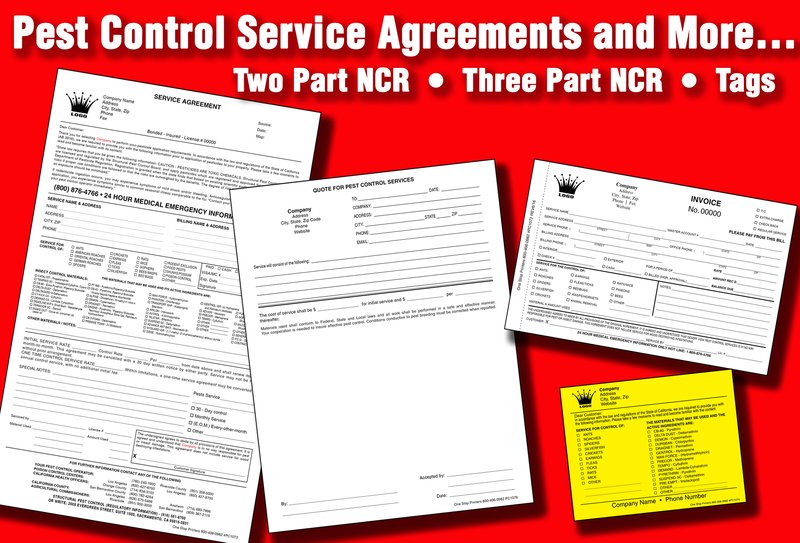 Posted: February 26, 2018
Out of all the forms One Stop Printers provides to its clients that scream customization for individual use, it is the pest control service agreements, and invoices etc. Pesticides are dangerous chemicals and lives are at stake (I don't mean the vermin) it is imperative that your customers know what chemical(s) are being applied and in what quantity. In addition you must have your license number and all applicable phone numbers in case there is an emergency.
One Stop Printers has worked with many pest control companies through out its many years in business and works with its clients to get them just exactly what they need to operate a safe company. Choose one of our many standard business forms, from Service Agreements, Quote for Pest Control Service, and invoices to tags, such as our Notice of Chemicals Applied. You can modify any of our business forms at no cost to you. You only pay for the printing.
If you have been using the same pest control form for years, no problem! Send it to us and we will redo the artwork for FREE and keep it in our files for your future use.
Brochures are Important Tools for Projecting a Companies Image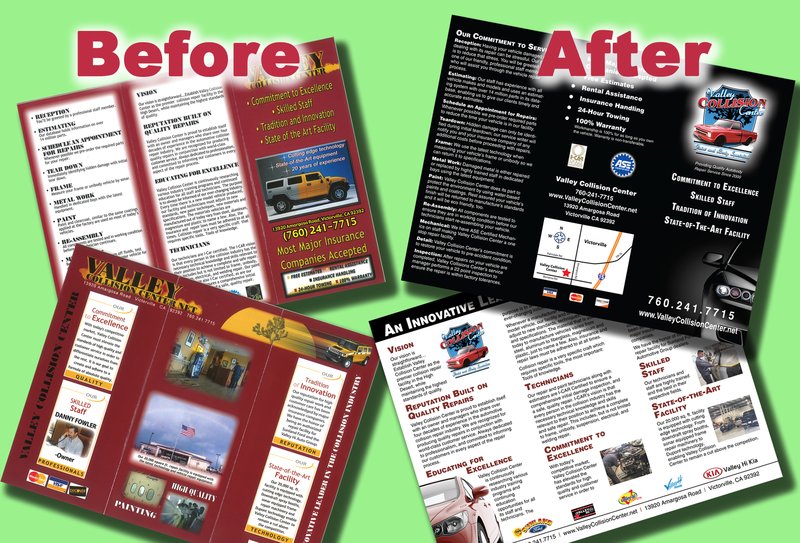 Posted February 19, 2018

No Virginia, printed brochures are not dead, there is a place for them in the digital age. Brochures are versatile and inexpensive per copy to hand out at trade shows, place in point-of-purchase for consumers to take, and in direct mail to communicate directly with prospective clients.
It is important your brochure projects a professional image, this might be the only chance you get at a first impression. It must look good, be well written, and be printed on high quality paper. For us here at One Stop Printers it is not about selling brochures or any other product we offer, if it doesn't do what it is intended to do, like increasing sales or streamlining production, we have not done our job.
When producing a brochure, we interview you to learn about your company, what you sell, what is important to the corporate image and its intended use. If you currently have a brochure like the sample above on the left, we read and evaluate it because it usually has important information, and review your website so your sales message is consistent across multiple platforms.
If you don't look good, we don't look good!
Call Today: 800-406-0982
we would love to consult with you.
---
Another Direct Mail Marketing Campaign Completed by One Stop Printers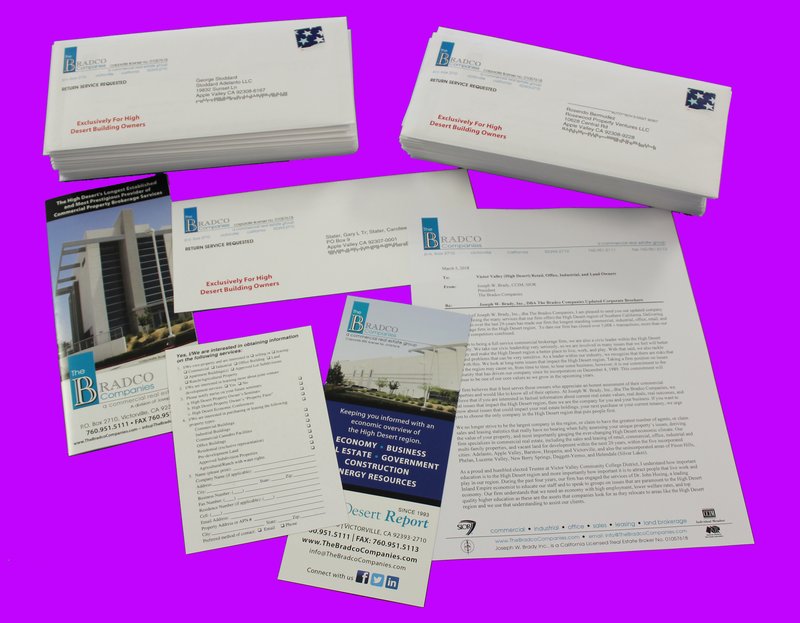 Posted March 23, 2018
One Stop Printers just completed another Direct Mail Campaign for Joseph W. Brady, CCIM, SIOR president of The Bradco Companies. Some may think that marketing mail is dead, I assure you it is not. When companies migrated to email and social media it opened up space in the mail box, and people like getting marketing mail if it applies to them.

The only thing that makes mail or for that matter email spam is not reaching the correct person. If your mail is highly targeted like The Bradco Companies which uses its own mailing list you have a much greater open rate and it will be read. This project included a corporate, and one specialty brochure along with a two page letter and business reply postcard and are quite effective. If you would like to learn how One Stop Printer can help you grow your business, give us a call at: 800-406-0982.

---
Political Campaign Postcards and Mailing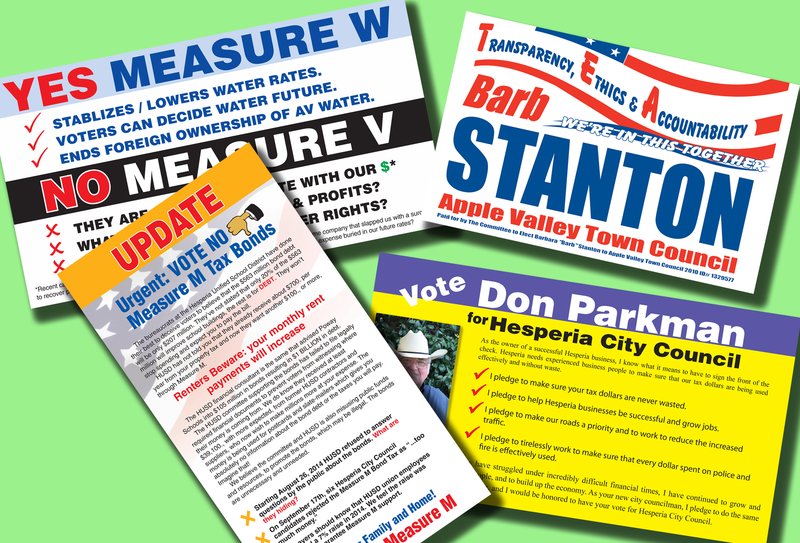 Posted February 16, 2018

Political season is upon us, although has it ever left, 2018 will see a slew of offices up for election from city councils, special districts, to county, state and federal offices. One Stop Printers caters to the local candidates running for office because that is where we can be of the most help.

County, state and federal candidates have the funds and backing to hire consultants for their campaigns which is not usually the case for city and special district candidates. That is where I can help, I have assisted many candidates through out the years with getting there message out using direct mail, some have even won : )

Seriously, most local candidates don't know where to start, One Stop Printers does. We will assist you in tailoring your message, targeting the most effective voters and timing. We only accept a limited number of candidates, so contact us today at: 800-406-0982 and see how we will help get you get elected.
---
Shipping Container Hand Tickets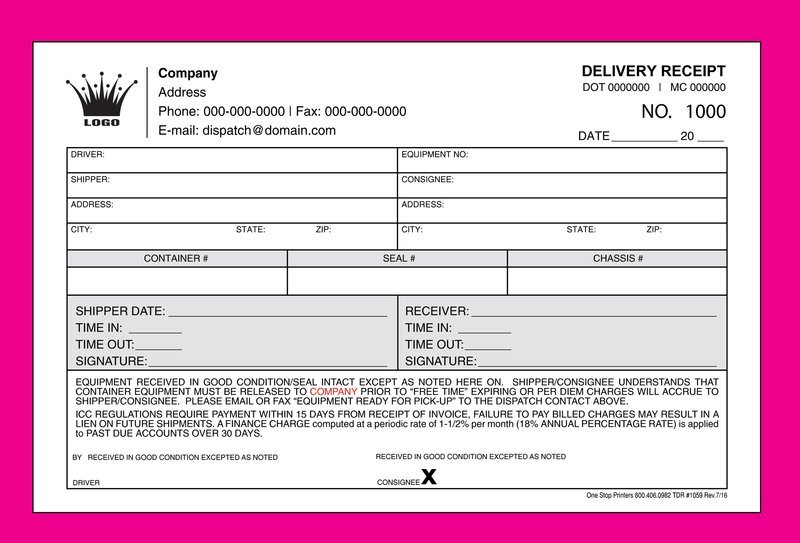 Jennie from a Southern California trucking company contacted me and said she liked a couple of trucking delivery receipts on One Stop Printers website but needed something just a little different.
She explained that her company carried containers and each truck only shipped one container at a time and did not need all the other information, just the container, seal and chassis number. In addition the disclaimer need to specific to her operation. Would I be able to help her? It didn't take long to create a hand ticket TDR #1059 to meet here requirements  that helped streamline the shipping process.
Once One Stop Printers has printed a form for you, we keep your artwork on file so reordering is as simple as a phone call and a reorder form is included with every order shipped.
Posted: February 6, 2018
---
Roll Labels by One Stop Printers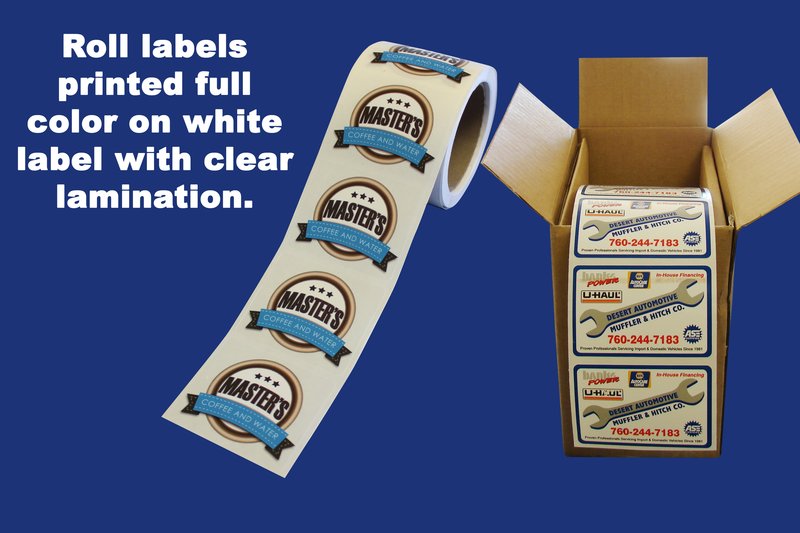 Labels come in many shapes, sizes and there is a large selection of substrate (papers) options. Whether you need a label for packaging or advertising One Stop Printers has the solution for you. We specialize in printing roll labels which are placed on jars, bags and boxes and can be printed one, two or full color. Some label applications only require that the label be printed on 60# white litho and others are use in more harsh environments and need to be on vinyl with a clear lamination.
Posted November 20, 2017

Business Forms Made Easy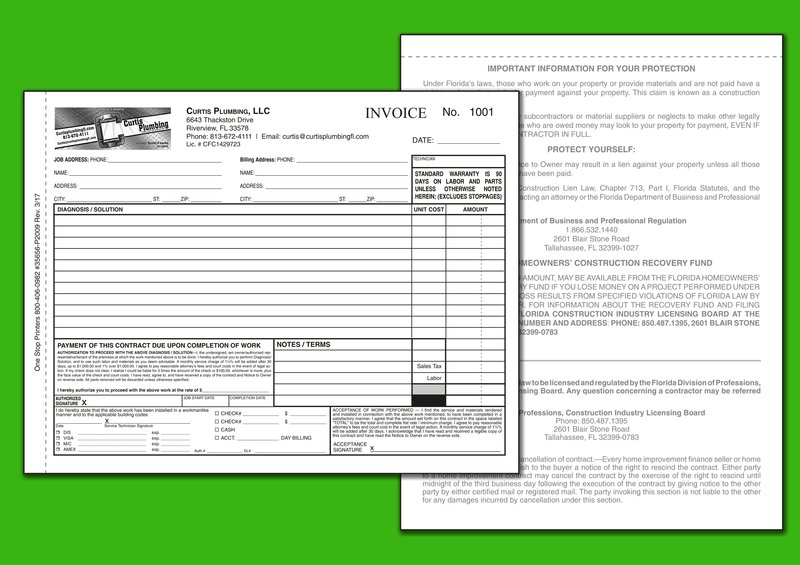 It turns out California is not the only highly regulated state; Florida is a contender, too. A little bit ago, I got an email form Curtis in Florida, and he liked One Stop Printers plumbing invoice # P2009 and would need to make changes. I let him know the changes to the form are no problem and would not cost anything extra.
The next question is where it got interesting: He wanted to know if I had anything specifically for plumbing repair work in Florida. I told him no, but if he got me the information I would make the changes, I didn't hear from him for a couple of weeks, when he did contact me again, he was still interested, but he didn't know where to start.
After over 40 years in the printing industry this statement didn't surprise me. What I have found is that my customers are very good at what they do, whether it is operating a store, manufacturing boats or plumbing. Where the difficulty comes in, is complying with government regulations. I told him give me a few days and I would see what I could do.
I looked up the Florida civil code for contractors and found what was needed, such as consumer protection, and contractor licensing notices, etc. With a little collaboration with Curtis and a couple proofs One Stop Printers was able to get him a plumbing repair order that met his and Florida's requirements and we saved him money, too! One Stop Printers disclaimer: It is our customer's ultimate responsibility to make sure that whatever is print for them, meets their requirements, but we will do everything in our power to assist them in the process.
This project went rather smoothly, but it really helps if a pamphlet from the supervising agency is provided when the order is placed, it provided an easy reference to get the job done quickly, minus that, we will do what we can to look up the requirements.
One Stop Printers recommends, and has found that if a proof is provided to a representative at the agency (in this case the Florida State Division of Professions, Construction Industry Licensing Board) before printin, they are pretty helpful and will recommend changes to ensure your are in compliance. If you are using a standard form and a complaint is filed by a costumer and inspection results… not so much. Email or call One Stop Printers today to see how we may assist you.
Posted: September 30, 2017
Every Door Direct Mail (EDDM)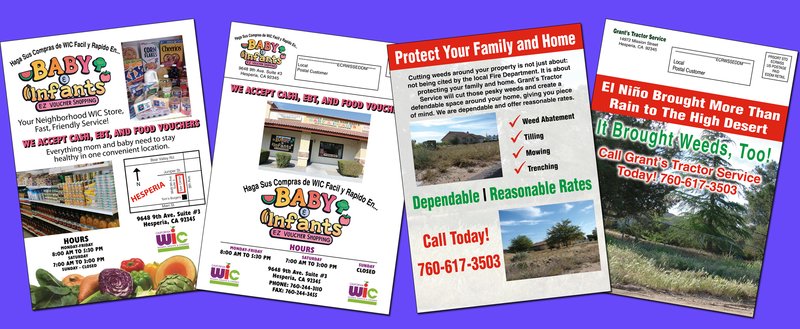 Every Door Direct Mail (EDDM) is a unique advertising mailing program offered by the US Postal Service. Whether you have a locally owned pizza restaurant in Hesperia, small retailer in Victorville or own a plumbing company in Apple Valley, EDDM gives small companies the ability to compete with the big guy's on a small advertising budget.
Postage is cheap at around 19 cents each and you can target those most likely to buy from you. Choose homes close to your store or in areas with incomes that more closely match people currently patronizing your store. You can start small and only mail postcards to one carrier route (which is between 700 and 1,000 households), or many more, it all depends on your budget.
Your message is up front and personal, mail boxes are no longer crowed like in the past and consumers are more likely to read something sent from a local company. You don't need to be an expert in design and EDDM when you have One Stop Printers in you corner. One Stop Printers & Direct Mail Service in Hesperia is a leader in direct mail marketing and has been helping business owners grow sales and profits in the High Desert for over 30 years.
The most popular size One Stop Printers & Direct Mail Serves prints is 6.5" x 9" and is printed full color both sides. Most include a map and coupons, no longer is you company lost in all the internet noise or the back page in the newspaper. When you compete with national company's with deep advertising pockets One Stop Printers levels the playing field with it Every Door Direct Mail program.
In all the years I have been assisting customer, is that your company,  If you need to increase your sales and profits give One Stop Printers & Direct Mail Service a call at: 800-406-0982, we would be please to consult with you.

Posted: September 25, 2017