One Stop Printers a trusted source for all your pesticide business receipts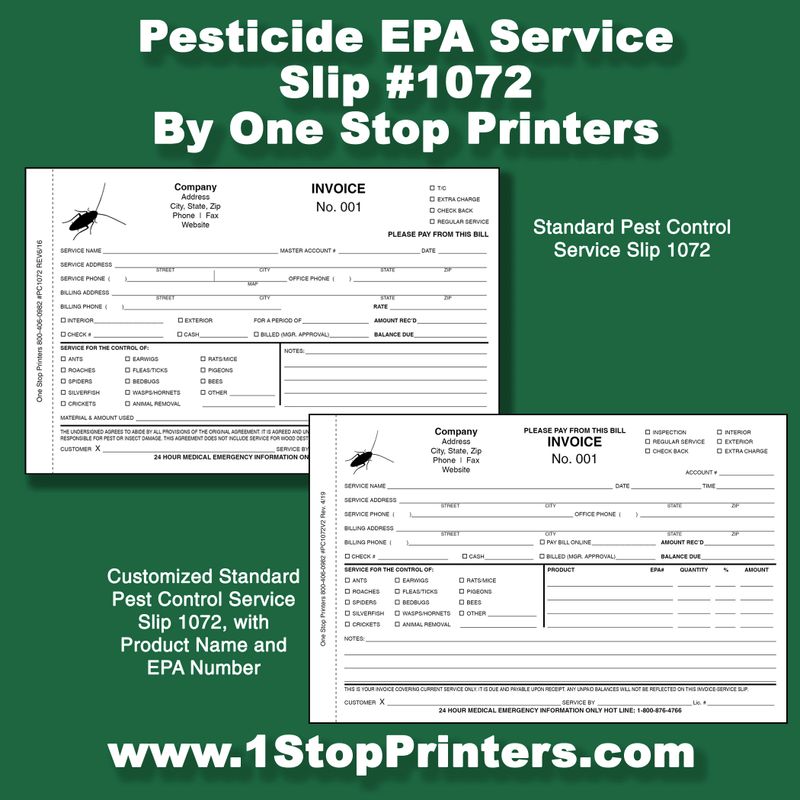 Posted April 8, 2019
What was old in now new again. Internet ordering is just catalog sales of the past with a twist. It is much easier for a vendor to change products to meet customer demands, and faster communication. Instead of printing and mailing catalogs, there are online catalogs and where you mailed in your order and payment and waited two to three weeks for delivery; you click a couple of buttons and the order shows up at your doorstep by the end of the week.
For the printing industry it has made it easier to serve our customers interest. One Stop Printers sells a large selection of invoices, work orders, sales receipts, proof of delivery POD receipt and weighmaster certificates, for a wide variety of customers, such as plumbing and roofing contractors, trucking industry, growers of grain and cattle and grain elevators.

When ordering from One Stop Printers on-line catalog it can be as simple as ordering and supplying us with your imprint information; or using one of our standard business form as a starting point, which is what we did for a pest control company in Moreno Valley Calif. The first printing of One Stop Printers' Pest Control Service Slip PC1072 the owner Daniel only required a couple of changes to better serve his needs, which we did for free and printed.

When it came time to reprint apparently an agricultural regulator had reviewed his pest control service slip and required changes, being that up to four pesticides would be applied to a clients property he required that there be spaces for the pesticide name, EPA number, quantity, dilution rate and amount applied be on the receipt, so if there was a problem the customer was fully informed. We see this as a good thing and one of our goals it that our customers get what they need quickly, with no muss or fuss. We have found in situations where state or county regulators are concerned the quicker you give them what they want, the happier they are, and will move on to someone else to make an example out of.

Our customer had his pest control work order in a week, customized to fit his needs. Keep in mind we make all changes to existing business forms or set up new one's for free, all you pay for is the printing and shipping. So if you are looking for a responsive company to print your sale receipts, look no further than One Stop Printers at 800-406-0982 or www.1stopprinters.com
---
California Termite Inspection Date Label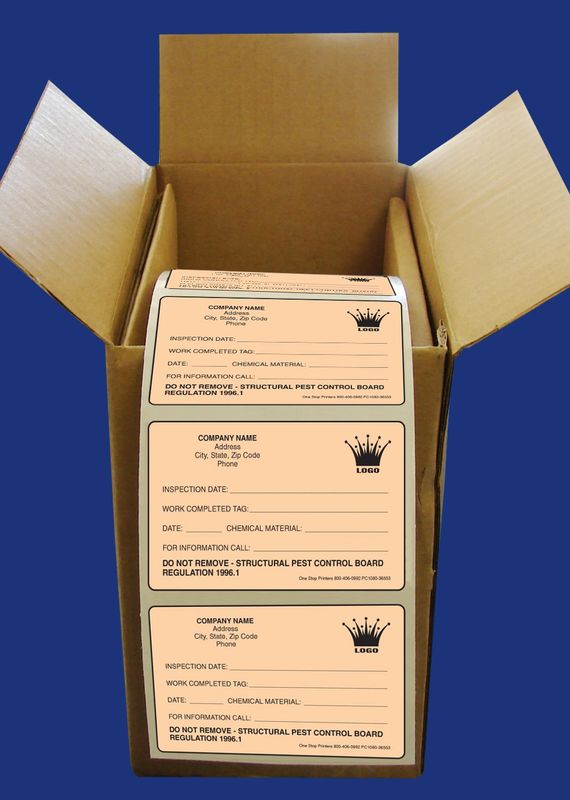 Posted March8, 2019
One Stop Printers introduces our new Termite Inspection Date, work Completed Label. This handy label is printed on a Orange Fluorescent label, it is easy to write on with a pen and you can place it where it is needed, the Fluorescent makes it easy to find when coming back to the job site. This Pest Control Inspection Work Completed label #2059 is printed with black ink, finish size is 5" x 3" and comes on a roll for easy use and storage.
---
Weekly Manifest for the Trucking Industry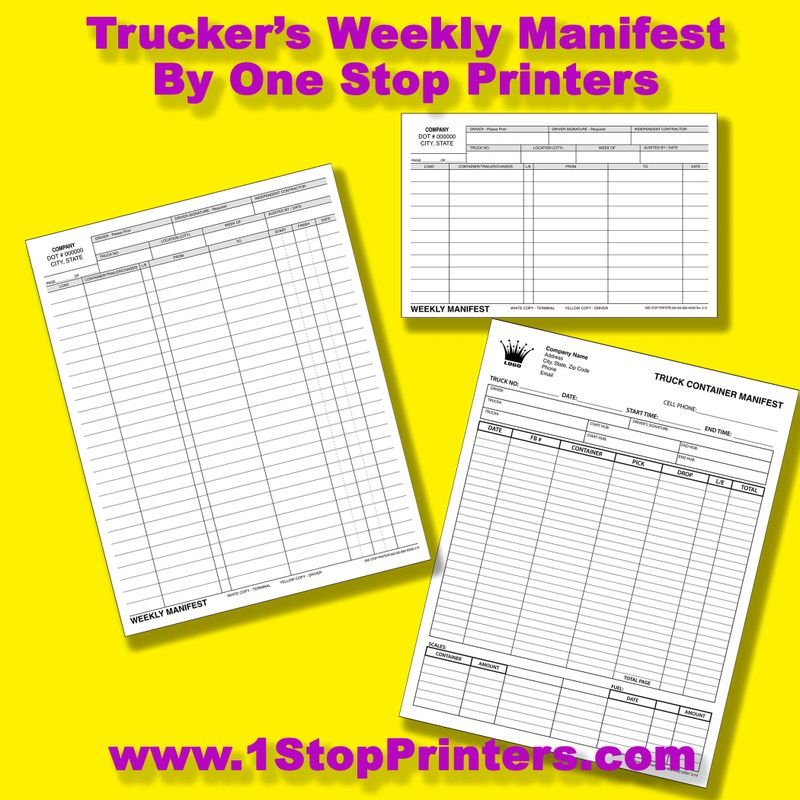 Posted February 11, 2019

If truck drivin' is your way of life and how you put food on the table, the more time you spend on the road and less time doin' paper work the more money you make. However you still have to have accurate records to ensure you can verify the loads you haul are delivered and you get paid on time. There is nothing worse that counting on money hittin' your bank account, only to find out some bean counter missed somethin'. This is where One Stop Printers with our large selection of trucking forms can help.

We have just added three weekly manifests to our library. That's right, count 'em three: Trucking Container Record 2057, Weekly Trucking Manifest 2058, and Trucking Small Weekly Manifest 2059. These manifests have everything to assist you in keeping accurate records at your fingertips, from areas to record load and container information to, pick and delivery destinations.

W
hat is great about buying your weekly manifests from One Stop Printers is that they are fully customizable for

FREE

. Even if you have purchased a manifest from us and later you need to make changes, it is no problem, it's still

FREE

.
---
Pool & Spa Service Receipts Available at One Stop Printers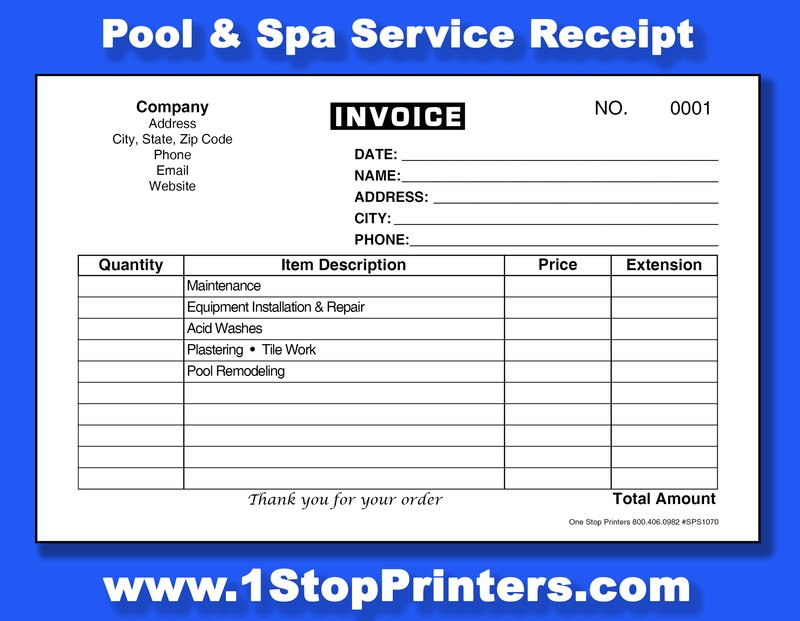 Posted: December 7, 2018
For all of you who own companies who do swimming pool service and maintenance and need a handy swimming pool service receipt either in duplicate (2 part NCR) or triplicate (3 part NCR). One Stop Printers has the solution with our Swimming Pool Service Invoice #SPS1070.
Record all of the services you performed on our simple to use form and record all supplies use for handy billing. No more writing it down on a yellow pad and then transferring it to an receipt when you get back to the office. Just place he pool service invoice in and envelope and send. Don't forget if you need to customize this versatile work order, just let us know what you need changed and we will do it for FREE. In addition if you have been using the same Pool and Spa Service Receipt for years and don't want to change, no problem. We will redo the artwork for free and keep it on file for easy reordering.
---
Patio Repair Receipts Made Easy for Roofing Contractors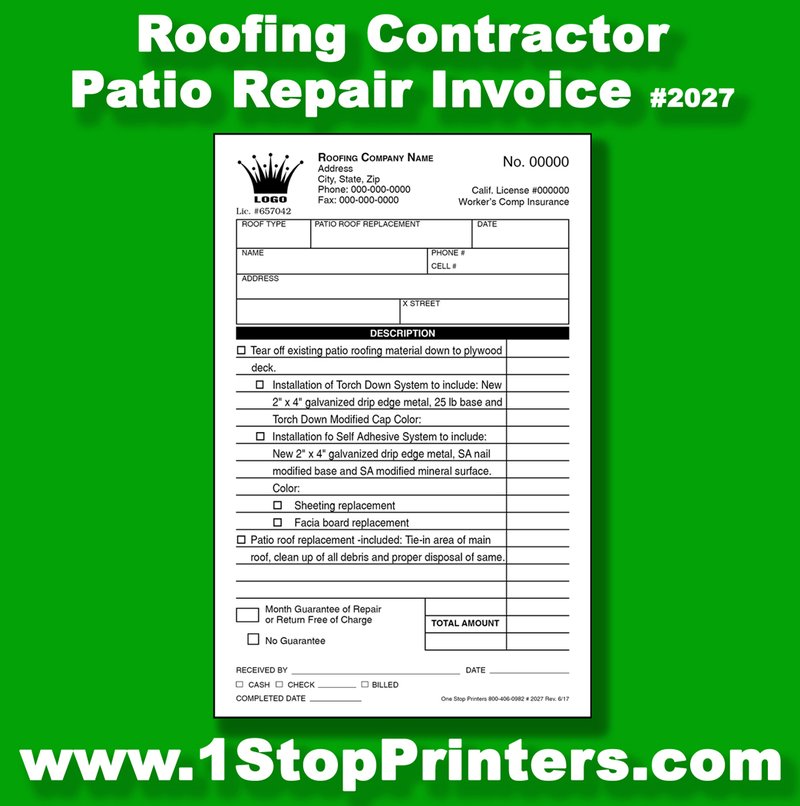 Posted: November 19, 2018
Roofing contractors, have you ever got to a customers home and needed to give an estimate to repair their patio and wished you had a simple and easy estimate form that is easy to use? Well, One Stop Printers has the solution for you with our Roofing Contractor Repair Invoice #2027.
Like most contractors you specialize in certain repairs and you find you fill out the same information every time, and maybe sometimes in your rush you forgot and item, you get the job, only to find you lost money. Well no more, our roofing invoice has boxes to check off services to be preformed, making it simple and easy to give a cost and convert it into a job order.
You say that the way you do patio repairs is a little different that what we show on One Stop Printers standard roofing repair order, no problem! We make all changes to our existing work order receipts for

FREE

, you only pay for printing and shipping. You say, you would like your logo included, again, no problem! Send us your logo and we include it in black and white for

FREE

.
---
Quote for Pest Control Services Field Receipt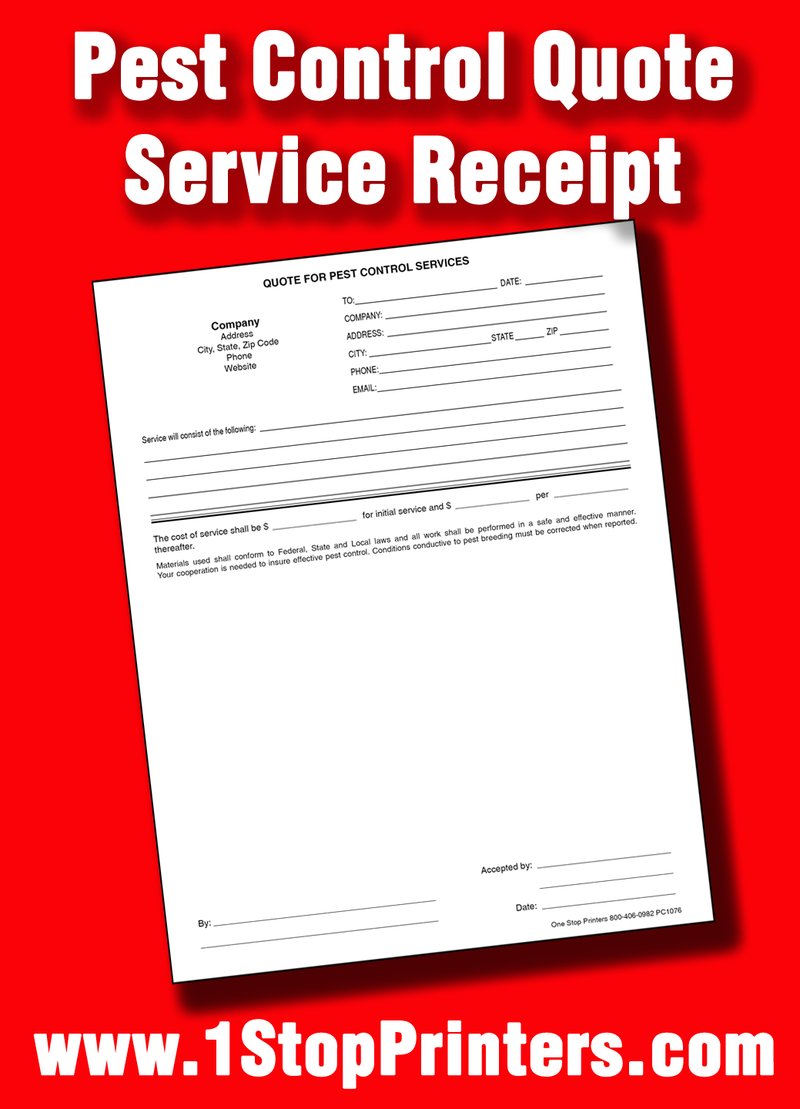 Posted: November 16, 2018

If a pest control companies service technician is not in the field doing service work (assassinating bugs and vermin) or inspections with prospective clients it is loosing opportunities and money. One Stop Printers in Hesperia California makes it easy and efficient to keep your technicians productive with our unique pest control business forms.

One Stop Printers has been assisting pest control companies with their printing needs for over 25 years, with products like our Pest Control Quote Service Form PC1076, your technicians can provide an accurate cost estimate and provide your clients with a receipt. It can easily be converted into a work order by using One Stop Printers, Pest Control Service Slip PC1072, which will provide an accurate receipt for pest control services performed.
So, save time and money by choosing One Stop Printers, a leader in printing pest control receipts. Remember that your can change any of our forms at no cost, all you pay for is the printing. Not only that we keep the artwork on file, making reorders simple and easy. We don't require you to remember passwords on how to navigate our website when it comes time to reorder, just give us a call or email us, you will get a real person to assist you, so you can get back to work doing what you do best... Pest Control.
---
Home Appliance Repair Receipt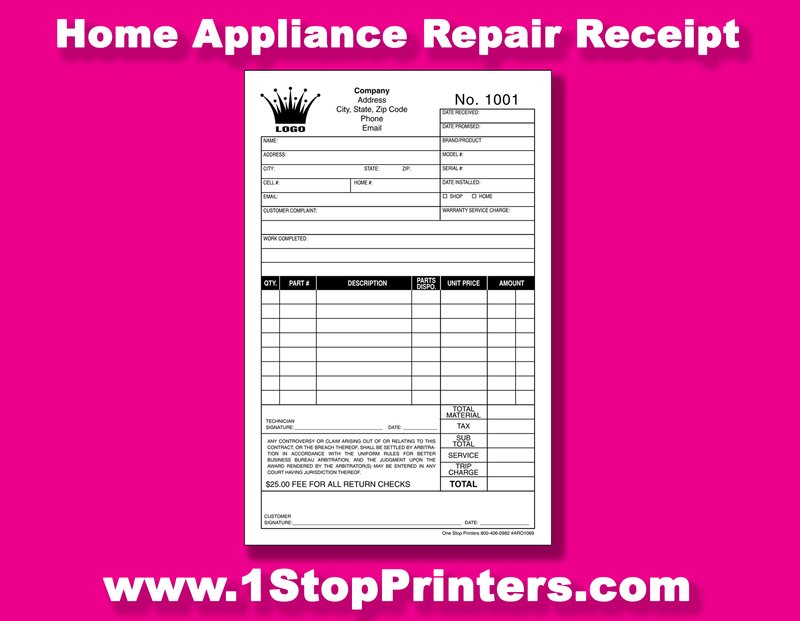 Posted: November 9, 2018
Attention home appliance service technicians, are you tied of not having a handy repair receipt when you make a service call? Well, One Stop Printers has the solution for you with its Home Appliance Repair Order 1069. It includes all the information you need on it appliance repair receipt.

One Stop Printers appliance receipt is available in duplicate and triplicate sets which can be booked with wraparound covers for easy storage. All of our receipts can be changed to fit your needs for FREE. We also make it easy to have your logo on it, no need for you to learn file formats that will make your head swim, just send us your logo color or what ever you have and we will convert it to grayscale.
Need it in a hurry, no problem most orders ship in 3 to 5 days and we ship nationwide.
---
Proof of Delivery Receipts POD for the Trucking Industry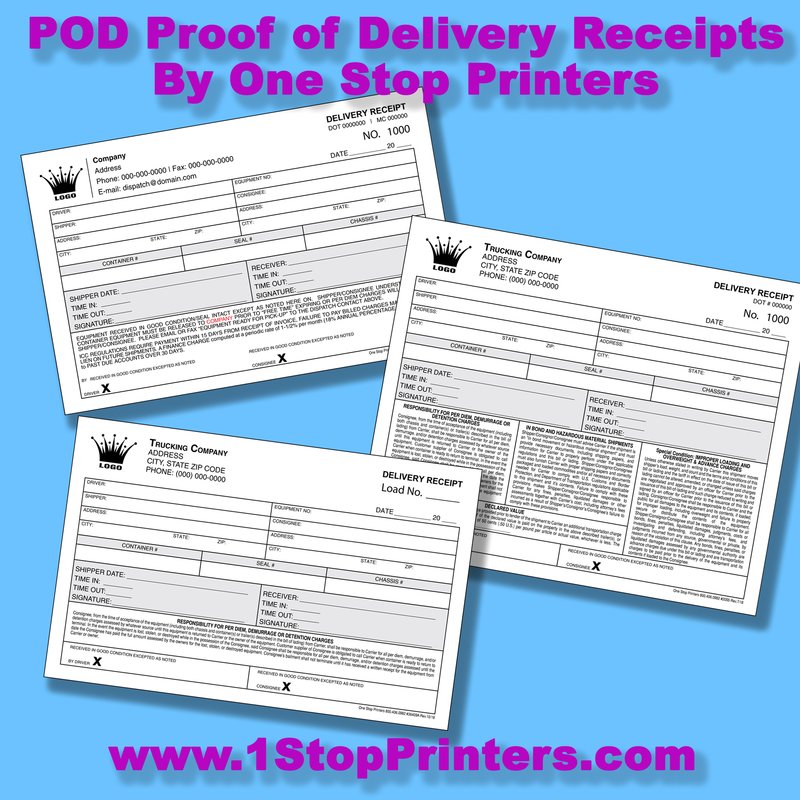 Posted: November 7, 2018
The picture above is a good example for how trucking clients like one particular form such as Trucking Container Delivery Receipt 1059 but needed to customize it to its operation. They liked the simplicity of the form but needed to have a Responsibility for Per Diem, Demurrage or Detention Charges, In Bond and Hazardous Material Shipments, Special Conditions: Improper Loading and Overweight & Advance Charges and Declared Value disclaimers which they supplied.
It also changed the size of the form to 8.5" x 7" which was no problem, we print plenty of this size receipt and have a standard cost for it. This illustrates why sometimes it is best to contact One Stop Printers before ordering so we can custom tailor a proof of delivery (POD) receipt just for you.
The other example our customer only wanted to change the disclaimer to Responsibility for Per Diem. Non of these changed to he POD cost our customers, we did them for FREE, and they range for very simple to more complex. So if you need a POD to fit your needs or you have been using the same one for years and need a new printing company, select One Stop Printers, you will not be disappointed.

---
Towing Receipts Available in Duplicate and Triplicate


Posted November 5, 2018
If you own a towing company and looking for a duplicate towing receipt you need look no further than One Stop Printers Towing work order #TFP20100. Not only can you have it booked in sets of 50 with wraparound covers for easy use in the field, it is also available as a triplicate receipt, too.
One Stop Printers gives you the edge with our fully customizable towing receipts. You can select from four different disclaimers or provide the one you have been using. We have found that our competition tries to include everything possible on their standard towing receipts cluttering it up and possibly overlooking an important item. We let you change the duplicate or triplicate receipt for
FREE
, getting rid of unwanted information and including what is most important for your particular towing company.
Order today, One Stop Printers will supply you with a towing receipt to fit your needs
---
Reducing Our Customers Stress One Weighmaster Certificate at A Time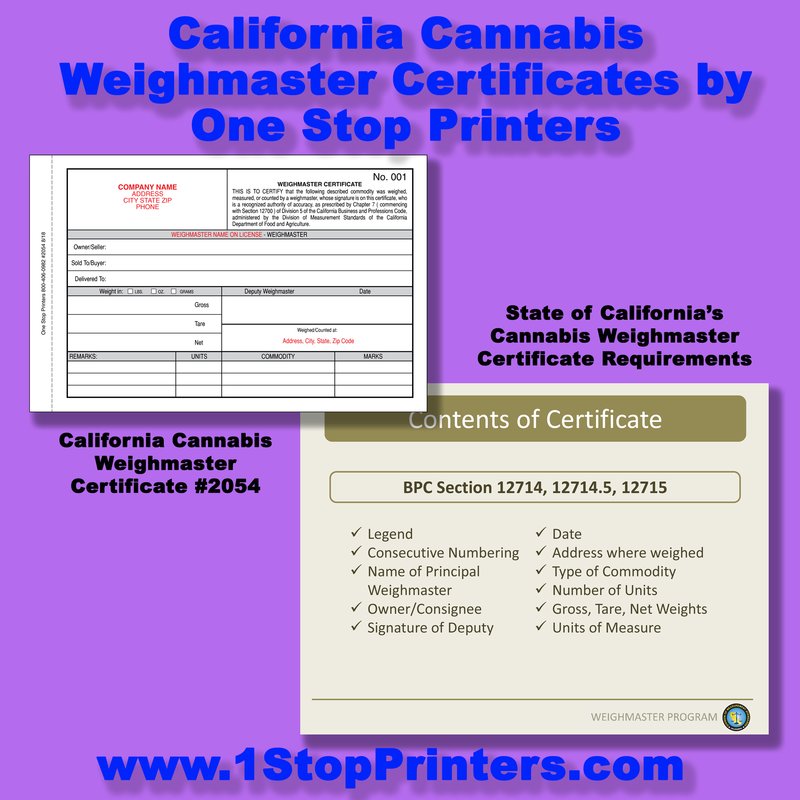 When Cannabis became legal on January 1, 2018 in California it left some producers unprepared for just how many regulations and hoops they would have to jump through to sell their product. One area is accurately accounting for their product with the state, namely having scales, a weighmaster license and certificates.

Now pretty much each weighmaster certificate for different industries and applications are the same. Just the required information is in different places. I find this true with the California Cannabis Weighmaster Certificate we just produced for a couple of growers.

We started out with one of the growers selecting what he thought was best for his operation from my library of weighmaster certificates, and One Stop Printers staff made the modifications and sent off the proof. The state regulator didn't like it and provided a pamphlet with the requirements (this is always best). So instead of modifying an existing weighmaster certificate, we just created a new one based on how the regulator's what them.
The staff here at One Stop Printers are used to reading through dry regulation and interpreting them, and applying it to the forms we produce for our customers. Disclaimer Alert: Although One Stop Printers makes every effort when producing a weighmaster certificate or any other of our business forms, it is the responsibility of our customers to ensure it meets their requirements. This is why when a state regulator is involved that you forward your proof to them for review before we print. This is where One Stop Printers makes it easy for you, it for whatever reason the regulator wants something changed, we do it for you quickly and for free.
---
Today One Stop Printers is Featuring Towing Invoice TFP20094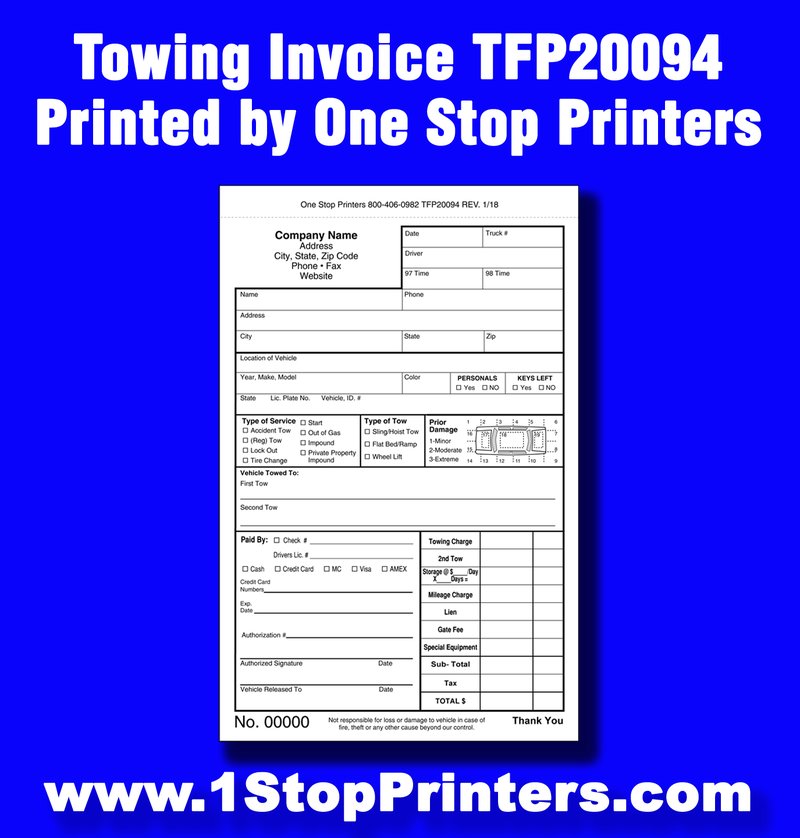 Posted July 13, 2018
One Stop Printers carries a full line of business forms for the towing industry such as our towing invoices TFP20094. This is a compact form which makes it easy to handle and saves money, too. Capture all the required information so you can present the vehicle owner with a detailed cost and the type of services you are rendering.

It has a handy "Prior Damage" car illustration to record damage before hooking-up, and an easy to use payment information section. In addition you can choose different disclaimers or provide one unique to your towing company. Don't forget you can make changes to this towing report to fit your requirement, and it won't cost you extra, you only pay for printing and shipping.

This is one of our more popular towing invoices and most tow truck drivers prefer two part NCR which is white and yellow paper. It is also available in three part NCR white, yellow and pink paper and we can book it in sets of 50 with a handy wrap around cover.

So if you are tired of buying standard towing invoices that don't meet your needs, give One Stop Printers a call.

---
Tow Truck Invoices, Impound Authorization and Many More Forms for A Towing Company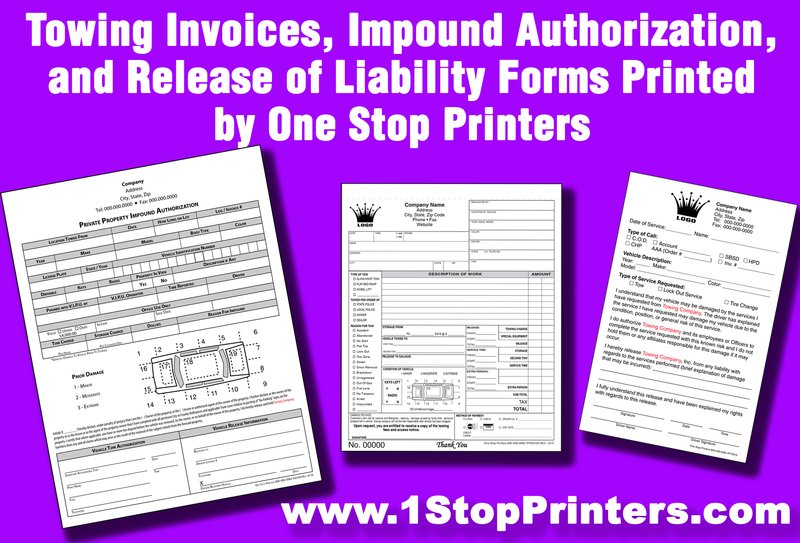 Posted July 10, 2018
State law requires that vehicle owners be given a written receipt in the form of a towing invoice when their vehicle is towed, listing where it is taken, services performed and the cost. With each state having different requirements it is difficult for a towing company to use a standard towing work order. This is where One Stop Printers will assist you.
One Stop Printers has a full line of standard tow truck invoices which are fully customizable at no cost to your, that's right changes are free. Not only that, if you have been using a towing invoiced for years which has been approved by the state patrol, or CHP and the printing company you have been using is no longer in business, we will reset the form, make any changes your require and keep the artwork on file for future reprints.
Not only that One Stop Printers has release of liability, impound authorization, truck equipment check list and many more form to make your life easier.

---
One Stop Printers Your Source for Septic and Plumbing Contracts and Proposals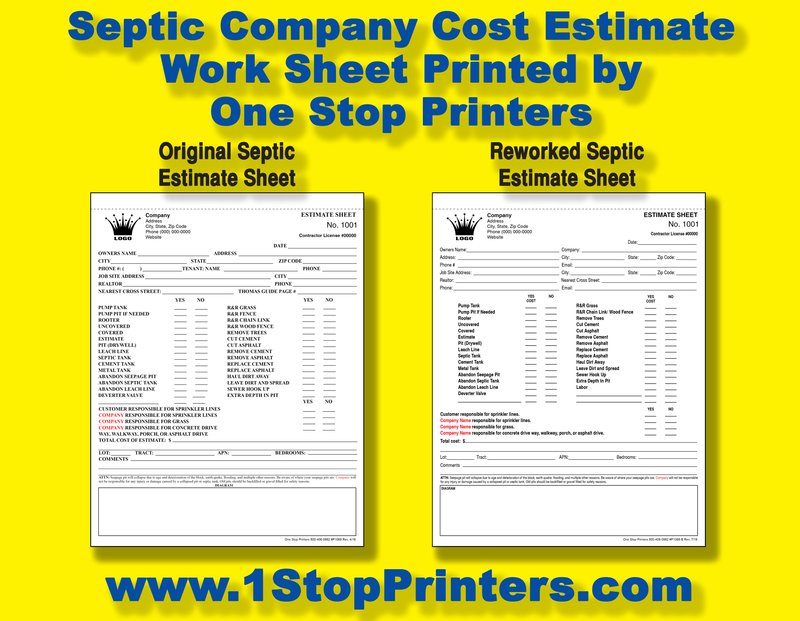 Posted July 3, 2018

One Stop Printers carries a large selection of plumbing and septic company, work orders, contracts, estimates and proposal that are customizable for
FREE
. We have been printing these forms for customers for over 30 years. Our septic company estimate sheet #P1068 was recently ordered and I starting working with the standard form making changes our customer required. I quickly discovered that this form had issues with it I didn't like, the main one is it was done in all Caps and the type style Times New Roman.
Now to most people this is not an issue, however all Caps is difficult to read if it is used in a sentence or paragraph and when used with Times New Roman it takes up a lot of space that can better be used for writing critical information for the job. In addition I didn't like how the contact information was set up. Pretty much now I take the information from our client and combine it with how I would like to see a business form set up. In this case it was one of our business forms.
I am still going to leave the original septic estimate sheet in our library, however I am adding the reworked version so our clients have an additional choice. If you like what you see and need a business form to fit your particular company requirements, give us a call so we may show you how easy it is to have One Stop Printers, design and print for you.
---
Featuring Locksmith Work Orders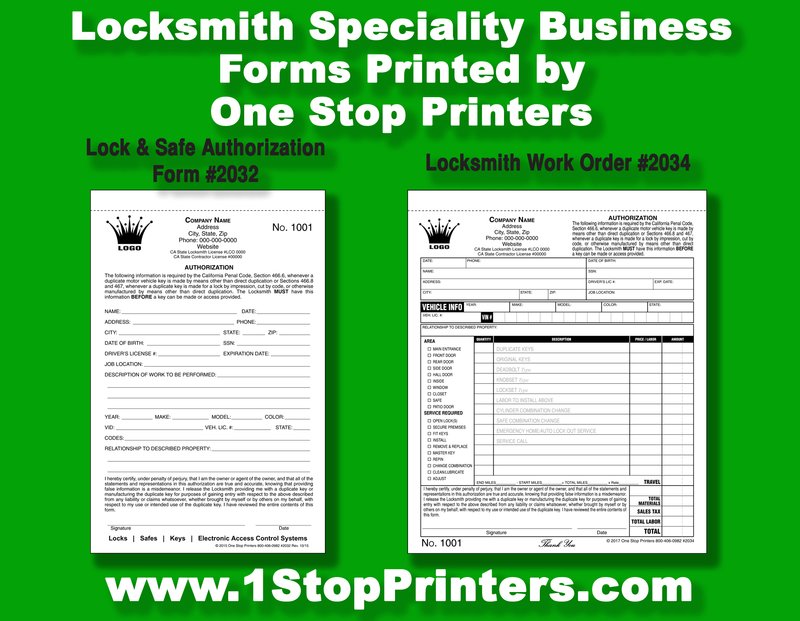 Posted June 8, 2018

The more I delve into what our fare state of California requires just to make a living, the more I appreciate what trades people like Locksmith's must do to take care of their customers and comply with the law.

When developing forms such at the Lock & Safe Authorization #2032 and Locksmith Work Order #2034 I go to the state's website and read the regulations (usually at night when I can't sleep). What I have learned is a locksmith must get certain information such as driver's license number and birth dates, etc. so in case there is a problem they can verify that the person authorizing work to be done on a lock or safe is the correct person.

Most of our business forms customer's just added their contact information and sometimes minor changes, others require major alterations and One Stop Printers makes it easy all changes are FREE!
---
Keep freight moving smoothly with One Stop Printers POD's
Posted: June 6, 2019
When you see semi trucks rolling down the road, it seems that they are all doing the same thing, heading to the same place. However every trucking company and independent driver are unique and have different requirements to get the job done right and freight delivered on time. This is where One Stop Printers can assist you, whether you just need one of our standard forms, or a complete custom receipt you have come to the right printing company.
One Stop Printers has a complete line of duplicate and triplicate receipts for the trucking industry such as proof of delivery receipts, invoices, container deliver receipts, and vehicle inspection reports as required by Federal Law 49 CRFR369.11 and 369.13.
If your receipts don't contain the proper disclaimers your motor carrier company is opened up to unnecessary liability, and if something is not recorded correctly on your receipts you might not get paid or it's a nightmare to correct and delays payment. All of our trucking receipts and forms are customizable so this doesn't happen and we make all changes for free and keep the artwork on file for easy reprinting.
Something new customers have been using a POD for years and the printer they have been using is no longer in business. Don't worry, send us your receipt and we will reset it for free and keep it on file for you. In addition, we include a reorder form with every order, making reordering simple and easy. So call One Stop Printers today at: 1-800-406-0982 to see how we can help keep your freight company running smoothly.
---
Brand X Verses One Stop Printers, Which Would You Choose to Print Your Business Forms?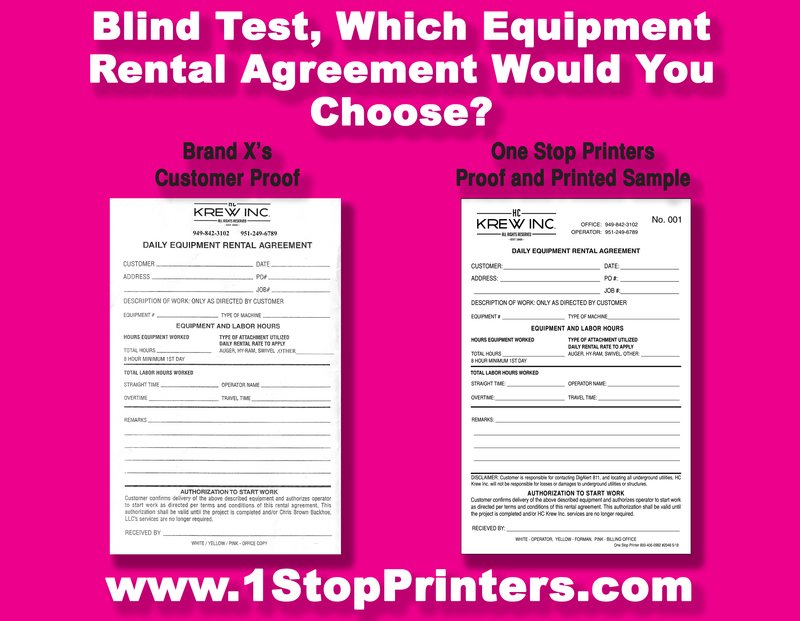 Posted May 26, 2018

The brand X equipment rental agreement on left is usually what I expect to receive from my customer so I can set up a new business form. However, and I am not making this up, this is what was provided back to Victoria as a final proof before printing. That is how I met her.
Victoria called me and said, "I'm on your website and looking at equipment rental agreements and they are good, however we have been using one for years, and would like to stay with it,  I have some changes and want our logo on it, can I help." I told her, "Yes, just send me what you have and I will reset it, make changes and send you a proof." In disbelief she asked, "You are resetting the whole business form, not just making changes to the areas I need, right?" I said, "Yes, you are correct, it is the only to make the equipment rental agreement look good, and project a professional image for your company. In addition, the set-up and changes were FREE, she would only pay for the printing." I'm not quite sure she believed me at this point.
When I got the email, I called her because I had a couple of questions, which she answered and told her I would have a proof tomorrow. Sent her the proof the next day and recommended that a disclaimer be added regarding DigAlert and underground utilities, which we did. After another round of minor changes, we printed and shipped the equipment rental agreements in a couple of days.
The old adage: Do the job right the first time, it will same time and money in the long run. Holds true today. Just because we use the internet to do business, does not mean that customer service has to take a back seat.
---
Dropped Trailer POD's
Posted: May 8, 2019
When dropping a trailer at a customers dock terminal to be loaded or unloaded requires more that just your ordinary delivery receipt or bill of lading. It is imperative that any preexisting damage be noted in advance so that if any damage is incurred while the trailer is possession by your customer your trucking company will be compensated for it loss. The same goes for keeping the trailer too long in port, your company doesn't make any money with it just sitting there.
At One Stop Printers we like to keep it simple for our trucking customers. That is why we make it easy and free to make changes. The sample above is for California as noted in the disclaimer, which is easily changed to meet the requirements for your company and state. This all encompassing Proof of Delivery receipt includes everything you need to document the load and condition of the trailer, including spaces for dates, times, charges and drivers signature.
Our dropped trailer delivery receipts come standard in duplicate and triplicate carbonless, but we also do four part carbonless, just let us know. Don't forget that we can book them with wraparound covers for easy use and storage in the truck. If your trucking company is looking for a reliable and quick printing company to print your forms, look no farther than One Stop Printers, call today to see how we may assist you: 800-406-0982.
---
Keep Your Automotive Repair Shop Running Smooth with One Stop Printers Repair Orders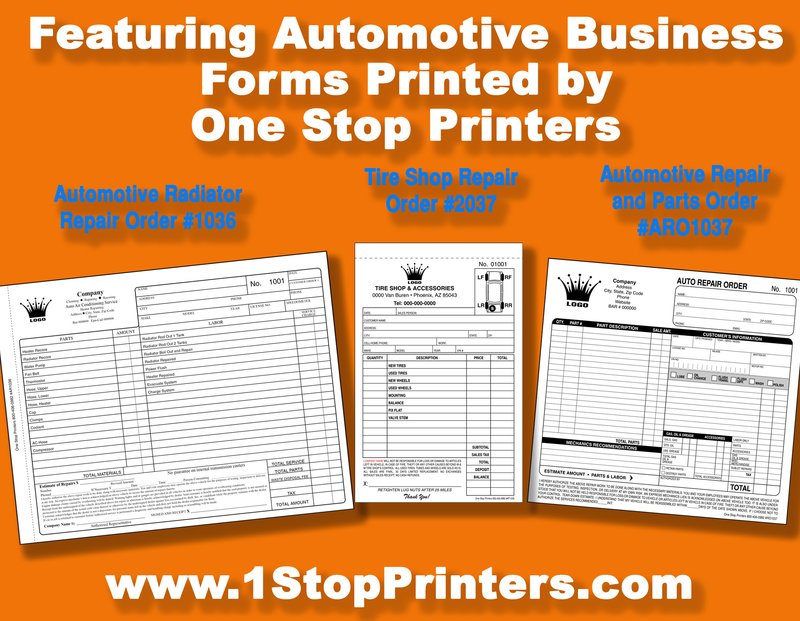 Posted May 10, 2018

One Stop Printers offers a large selection for automotive business forms such as Tire Shop Repair Order #AT1035, Auto Body & Paint Repair Order #2037 and Radiator Repair Order #1036, just to name a few. We have been in the business of assisting automotive shop owners for over 30 years by providing quality automotive forms that are useful.

Standard business forms are handy when you first open you business, but over time business owners find that they need to be modified to meet their particular companies needs. That is where One Stop Printers come in. All of our forms are fully customizable at no cost to you, that is right, changes are FREE. We know that it is important to have the proper disclaimer to match your repair shops policies and here in California where everything is regulated to the point things barely move, it is more important. The last thing you need is to have a regulator from the Bureau of Automotive Repair, cite your company because something not correct on your work order.
So give us a call at:
800-406-0982
to see how One Stop Printers can help you with your repair order printing.
---
Order Weighmaster Certificates and Weight Receipts from One Stop Printers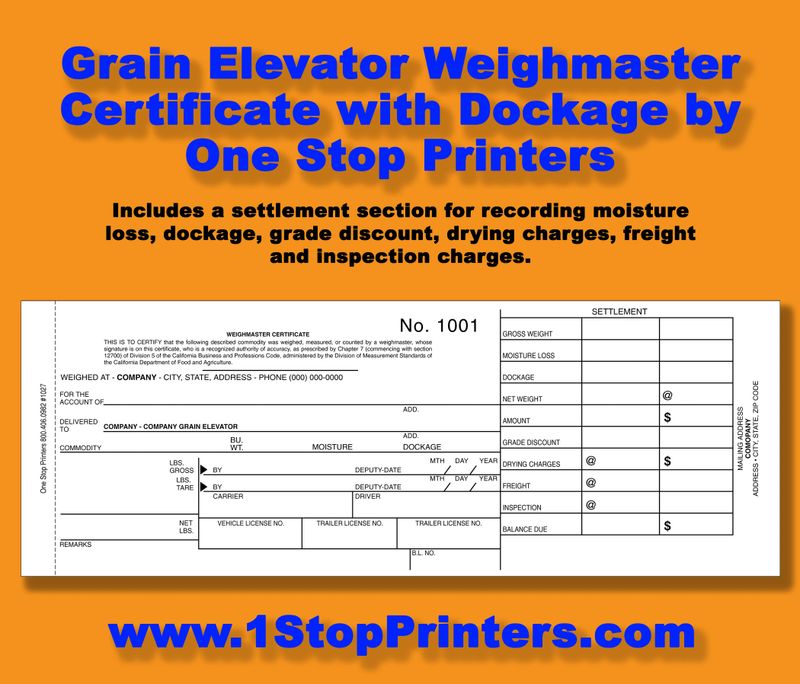 Posted: April 10, 2019
When operating a grain elevator it is very important to record all the information required when receiving or shipping grain. Producers depend on it when storing and selling grain, so do the end users, and their lenders.
One Stop Printers' Grain elevator weighmaster certificate with dockage 1027 not only contains the required area for recording truck, trailer, license, and weight information, it contains a settlement section for recording moisture loss, dockage, grade discount, drying charges, freight and inspection charges.

State's Department of Agriculture Weights and Measures like California, Washington and Oregon require a certification paragraph citing their professional codes but such as Texas as far as I can tell only requires it contain pertinent information cited above, but bound in a well bound book. One Stop Printers know that each companies requirements are different, which is why we make it easy to do business with us. We can print weight receipts for any state and make changes to conform to our customers requirements, and don't forget all changes and new weight certificate artwork is Free. Don't wait, contact One Stop Printers today for all you weighmaster certificates: 800-406-0982 or tony@1stopprinters.com

---
One Stop Printers Makes it Simple and Easy to Customize Business Forms!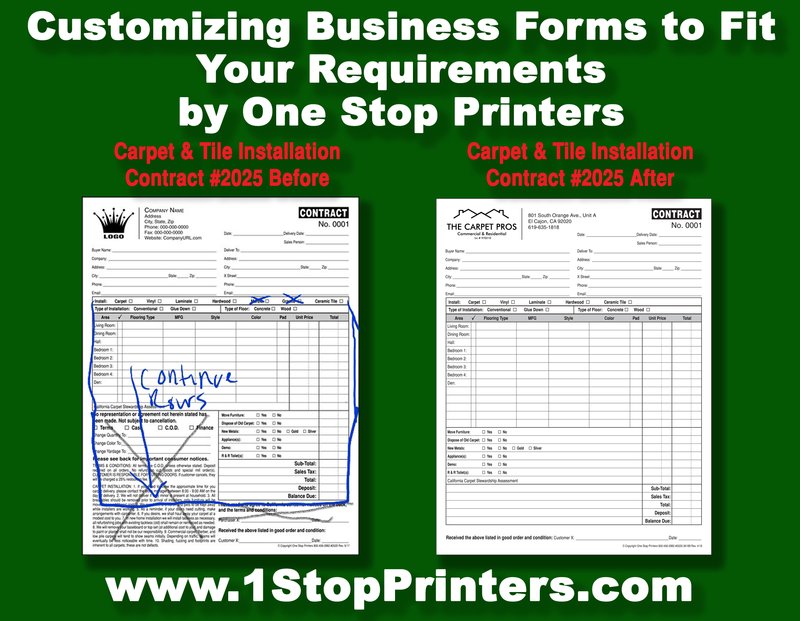 Posted April 27, 2018

Typically when a client wants to customize one of One Stop Printers business forms they contact us and we send them a high resolution PDF to mark-up. One of the reasons is because the images on our website are hard to read and they need to see what exactly is on it before deciding what to change. In the sample above our customer copied an image off our site and marked it up, and sent it along with their logo. Another reason is some are surprised and want to confirm that the changes are
FREE
.
One Stop Printers has an extensive background in designing and printing business forms and we understand that every company is unique. Here in California throw in our regulatory agency's that has to have its thumb in everyone's pie, it can make life interesting. This contractor in the sample above didn't sell directly to the public so some of the stuff on the contract was not necessary, plus he need more room to write. Please keep in mind, if your business is in a state other than California we will customize the form to meet your needs.
After the proof is approved (We don't even ask for money up front before making changes, does it get any better than that?) we provide a link to the corresponding item and have you order through the website and in the info area put our job number. We take if from there. If you are looking for a printing company that is responsive to your needs, you have come to the right place. Give us a call, we would be pleased to assist you:
800-406-0982.
---
Need Construction Proposal & Contracts, or Estimates?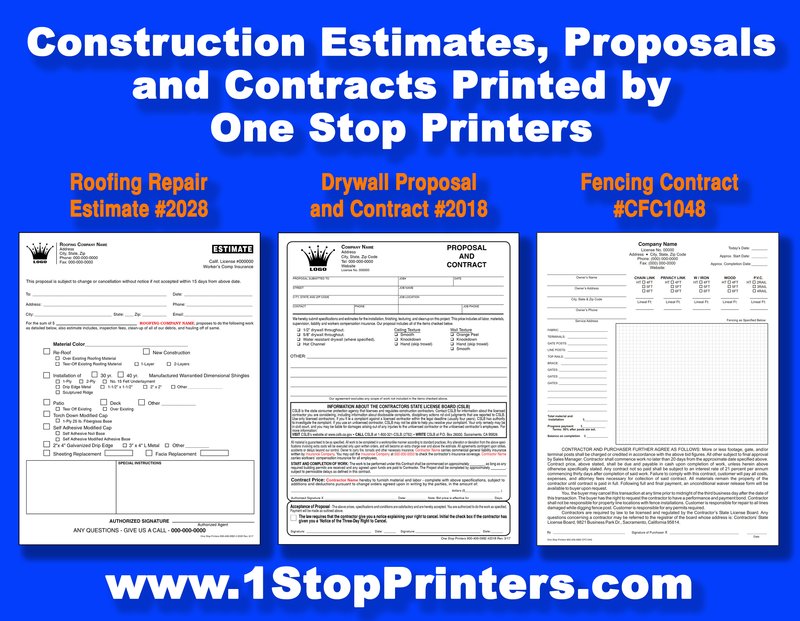 Posted April 17, 2018

Illustrate above are three of our most popular construction forms: Roofing Estimate #2018, Drywall Contract #2018 and Fencing contract #CFC1048. What is handy about these forms are that they are easy to use in the field at your customers location. This forms contain all the necessary items to provide a timely and accurate estimate and or proposal that can serve a duel propose as a contract.
These forms usually only require minor modifications to meet One Stop Printers customer's requirements, however your can make any changes you like to any of the business forms for FREE. Email your logo and it will be included, too in black and white.
One of the issues most customers  experience with online companies when they order a printed item such as the business form offered One Stop Printers is getting their logo included. They become frustrated because the other companies require certain file formats and customers don't know printing language. One Stop Printers takes the strain off of you, we will convert your color logo and we take most file formats. Don't get me wrong, sometimes even we have trouble, however 99% of the time, it is no problem. So give us a call at
800-406-0982
, we would be pleased to assist you.
---
Customize Your Business Form for Free, You Only Pay for the Printing



Posted April 6, 2018
Here is a good example of how we alter business forms for our customers, a local pest control company in Las Vegas Nevada contacted me and asked if I would send a high resolution PDF of One Stop Printers #PC1077 Sanitation Report and ask if they could make changes. I assured them they could make all the changes they wanted and they would only pay for the printing.
In the picture above on the left is our standard sanitation report, and in the center are the changes submitted. On the first set of alterations, only the top and bottom portions changed. After I sent the proof they gave it to their service manager and after review made changes to the center with the check boxes. The final version on the right is what we printed and shipped to them.
This is pretty standard procedure and it doesn't matter if it is one of our construction contracts, estimates or a repair work order we provide the same service. If the business form doesn't work for you, it won't work for us either. Just because orders come over the internet doesn't mean that customer service must suffer and you have to settle for less. So give us a try, we will be pleased to print for you,
Call today: 800-406-0982
.
Inspection Reports, Delivery Receipts, Container Hand Tickets for The Trucking Industry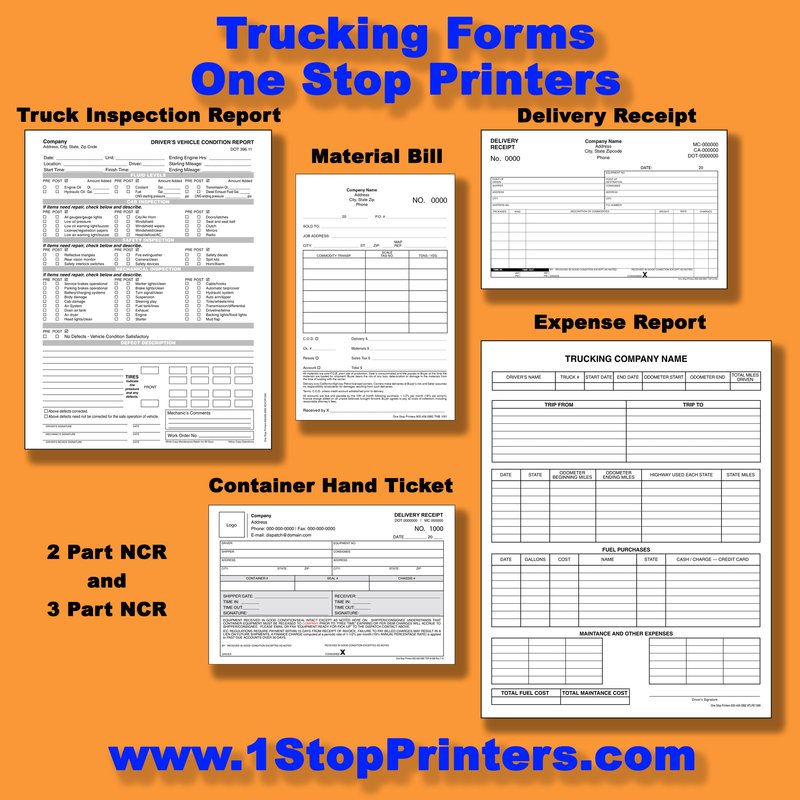 Posted March 28, 2018

Truckers live a busy life, the last thing they need is to worry about whether they have the correct information on there inspection report, delivery receipts or container hand tickets. That is where One Stop Printers located in Southern California can help.
One Stop Printers carries a full line of business forms for the trucking industry. If we don't have exactly what you are looking for we will create it. If you have been using the same bill of lading for years, no problem. Send it to us and we will redo the artwork at no charge and keep it on file for future orders. Our customer's are located all a crossed the nation, don't worry we will ship it to you.
Most of the trucking business forms we print are on two part NCR (white, and yellow) along with three part NCR (white, yellow, and pink). However some clients require a four part form, if this something you need just give me a call at
800-406-0982
.
---
Weighmaster Certificates for Public Weighmaster's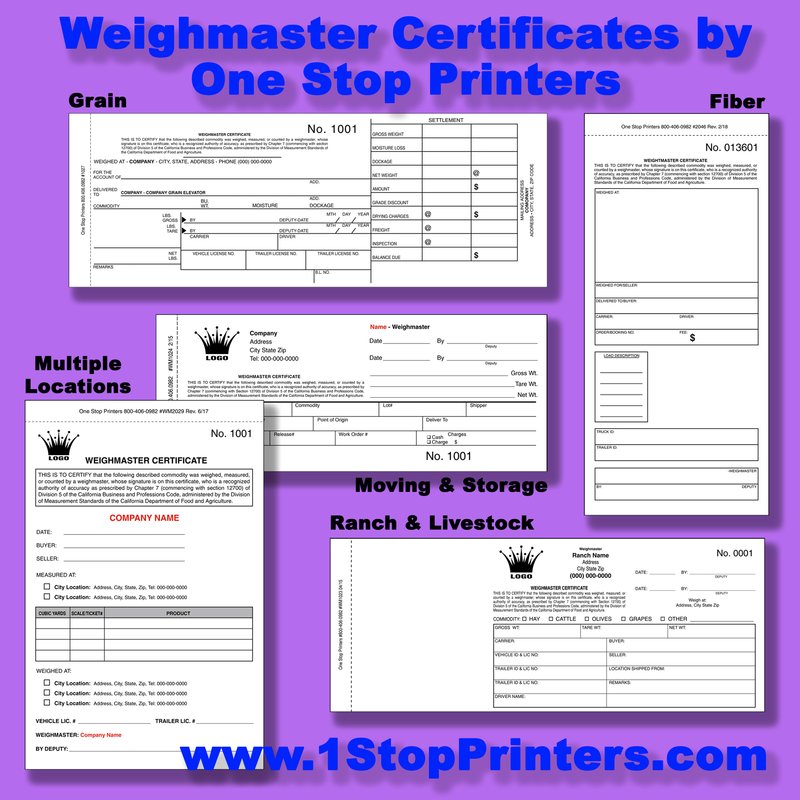 Posted March 23, 2018
Weighing and shipping of commodities usually requires a licensed Public Weighmaster and must use a weighmaster certificate to record accurate tare weight and the weight of commodity contained. Whether you have a scale in California or a peach farm in Georgia you must comply to ensure your customers get what they are paying for.
With few exceptions weighmaster's are regulated by the Department of Weights and Measures through each state's Department of Agriculture. Weighmaster Certificates are pretty much the same from state-to-state with the exception for the legal notice. Most have minimum requirements for what must be included and may be required to be approved by your state's Department of weights and Measures.
No worries, when you have to have your Public Weighmaster Certificates reprinted. One Stop Printers will make any changes for FREE to our existing certificates or send us a sample of what you have using and we will recreate exactly what you have for FREE and keep in on file for easy reordering.
Speaking of reordering, One Stop Printers in Hesperia California makes that simple, too. You don't have to worry about remembering passwords to log on to our site. We enclose a reorder form with each order toward the bottom and all you have to do is fax it, email or just call us and we will take it from there.
---
Professional Looking California Termite Inspection and Work Authorization Form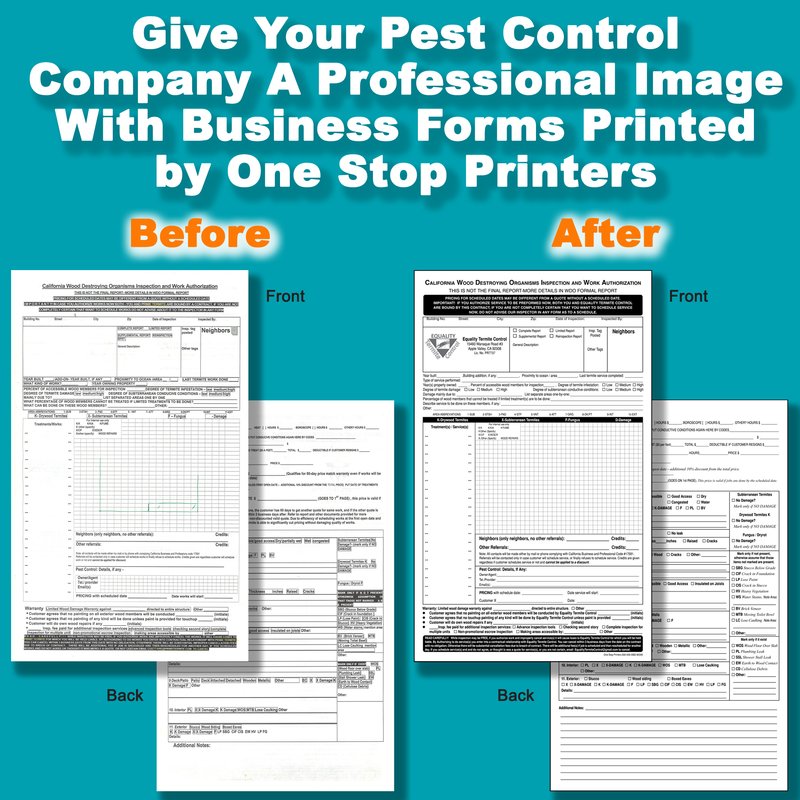 Posted: March 16, 2018
The California Wood Destroying Organisms Inspection and Work Authorization form was just completed for Equality Termite Control and is a prime example of how important it is for a company to have a professional appearance to its customers. The before version is a sample from a company the owner, Edward did contract work for in the past. He liked it because it provided customers with information at the time of inspection instead of waiting for the final report.

When this work order was brought to me I told Edward that I just charge for printing and the artwork was free, which is my policy for business forms. When the graphic artist started to work on this form it was brought to my attention that there were a lot of problems with it, I contacted Edward and told him that I understood the just of the form and function for use in the field. I was going to make major alterations to it, making it more user friendly, and correct errors.

Business forms such as, work orders, proposals and invoices, need to be functional, have a flow, and be easily understood by both the technician and customer. When a proposal is presented to a customer where there are misspellings, and is hard to understand, it opens the door to problems down the road. This sample we worked with, didn't even have a signature line for the customer to authorize work.

I have just as much criticism for the printing company that did the original printing. The mentality in our industry is, just get job in, get it printed and collect the money. No thought is ever given to advising the customer there are major issues with the project and they need to be corrected before printing. These printing companies are not dying off fast enough and in my opinion, if they can't provide their customers with a high level of service they should exit the industry.
If you are looking for a printing company who will put its customers interest first and consult with them so they have a professional image, then One Stop Printers located in Hesperia California is the company for you. Call:
1-800-406-0982
or email:
tony@1stopprinters.com
today to see how we may assist you.
---
One Stop Printers Makes It Easy to Customize Towing Reports and Invoices



Posted March 6, 2018
Whether you call them towing reports, towing invoices, towing work order or towing receipts you are referring to the same thing. One Stop Printers has provided these forms to the towing located across the United States since 1987 and know it has to be functional and include everything required to make sure the services provided are charged correctly.
In addition you have to comply with regulations in your state, here in California if you are going to tow from a freeway you fall under the California Highway Patrol, in neighboring states it may be the state patrol or the transportation department. Regardless the towing industry is heavily regulated. States like Texas requires certain things and disclaimers are on the receipt for both towing and storage. This is where One Stop Printers can be of assistance.
Our company recognizes that you may have been using a towing receipt that has been approved, you need them reprinted and don't want to change the format because it is a hassle. We also realize that the printing industry has changed considerably in the last few years and the printing company you have been using is no longer in business. No worries, One Stop Printers will redo the artwork for your towing report for
FREE
and keep it on file for reprinting in the future. We include a re-order form in your order, just simply fax, email or just call us, yes it is that simple.
---
Your Business Card May be Your Only Chance at A Great First Impression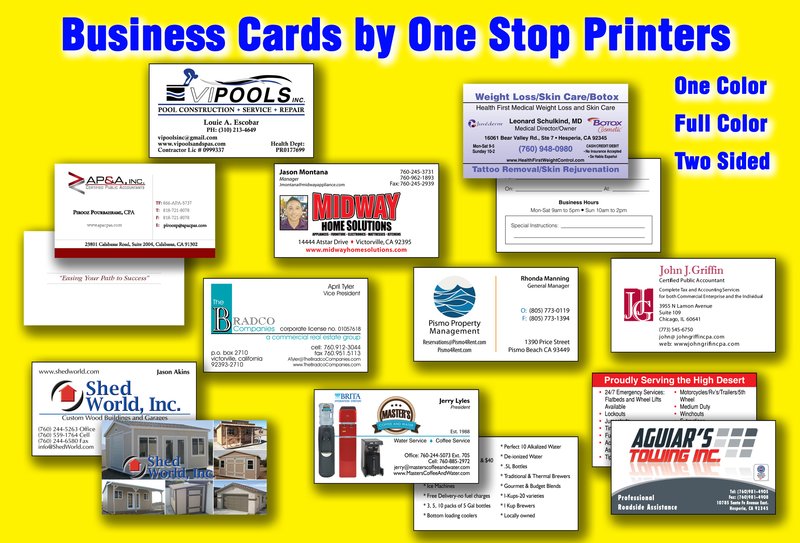 Posted March 1, 2018

You don't get a second chance at a first impression, which is why it is so important that when you hand a client your business card, it projects a professional image.
I have seen it too many times and can't stress this point enough: In your presentation you state that you will take every care in providing excellent customer service and you have an eye for the smallest detail. However your business cards states something totally different: From the email address being so small it is impossible to read, to it looks like you just printed them off your home computer and cut them out with a pair of scissors.
A business card is a small canvas, so keep the front simple, and elegant with the most important contact information. When too much information is crowded on, it becomes very difficult to read. Keep in mind the back side of the business card can be used for bullet points, a tag line or, for doctors and such, an appointment card.
Some simple tips are: Don't put your copy in all cap, it is very difficult to read. Vary point sizes, making names and phone numbers larger and bold and the less important items like the address smaller.

If you would like assistance with your business card and company image, please call One Stop Printers today at: 800-406-0982.
---
Save Money With One Stop Printers' Pest Control Forms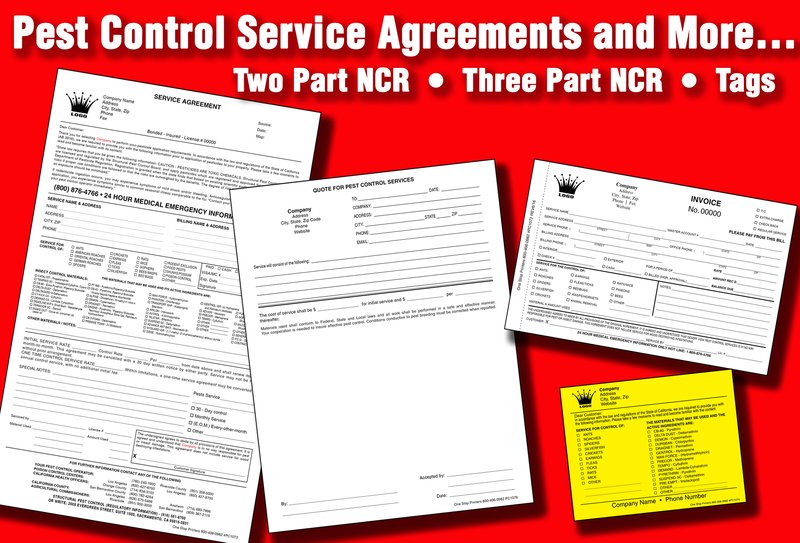 Posted: February 26, 2018
Out of all the forms One Stop Printers provides to its clients that scream customization for individual use, it is the pest control service agreements, and invoices etc. Pesticides are dangerous chemicals and lives are at stake (I don't mean the vermin) it is imperative that your customers know what chemical(s) are being applied and in what quantity. In addition you must have your license number and all applicable phone numbers in case there is an emergency.
One Stop Printers has worked with many pest control companies through out its many years in business and works with its clients to get them just exactly what they need to operate a safe company. Choose one of our many standard business forms, from Service Agreements, Quote for Pest Control Service, and invoices to tags, such as our Notice of Chemicals Applied. You can modify any of our business forms at no cost to you. You only pay for the printing.
If you have been using the same pest control form for years, no problem! Send it to us and we will redo the artwork for FREE and keep it in our files for your future use.
Brochures are Important Tools for Projecting a Companies Image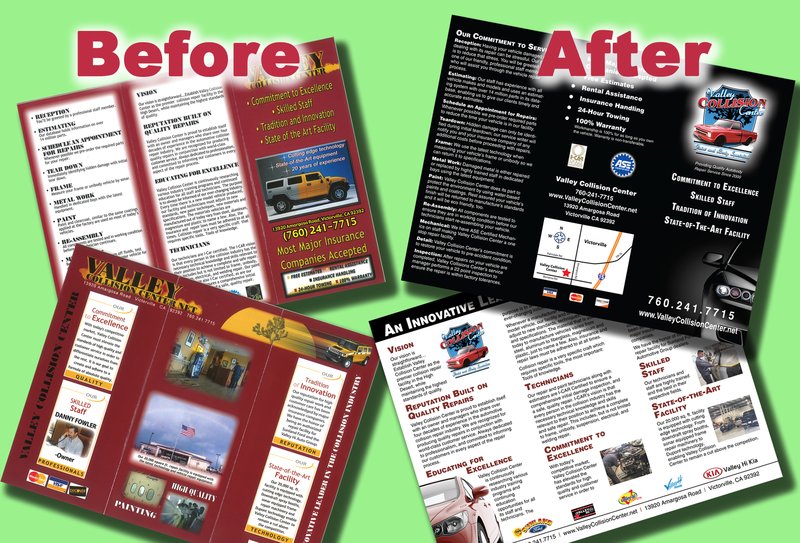 Posted February 19, 2018

No Virginia, printed brochures are not dead, there is a place for them in the digital age. Brochures are versatile and inexpensive per copy to hand out at trade shows, place in point-of-purchase for consumers to take, and in direct mail to communicate directly with prospective clients.
It is important your brochure projects a professional image, this might be the only chance you get at a first impression. It must look good, be well written, and be printed on high quality paper. For us here at One Stop Printers it is not about selling brochures or any other product we offer, if it doesn't do what it is intended to do, like increasing sales or streamlining production, we have not done our job.
When producing a brochure, we interview you to learn about your company, what you sell, what is important to the corporate image and its intended use. If you currently have a brochure like the sample above on the left, we read and evaluate it because it usually has important information, and review your website so your sales message is consistent across multiple platforms.
If you don't look good, we don't look good!
Call Today: 800-406-0982
we would love to consult with you.
---
Another Direct Mail Marketing Campaign Completed by One Stop Printers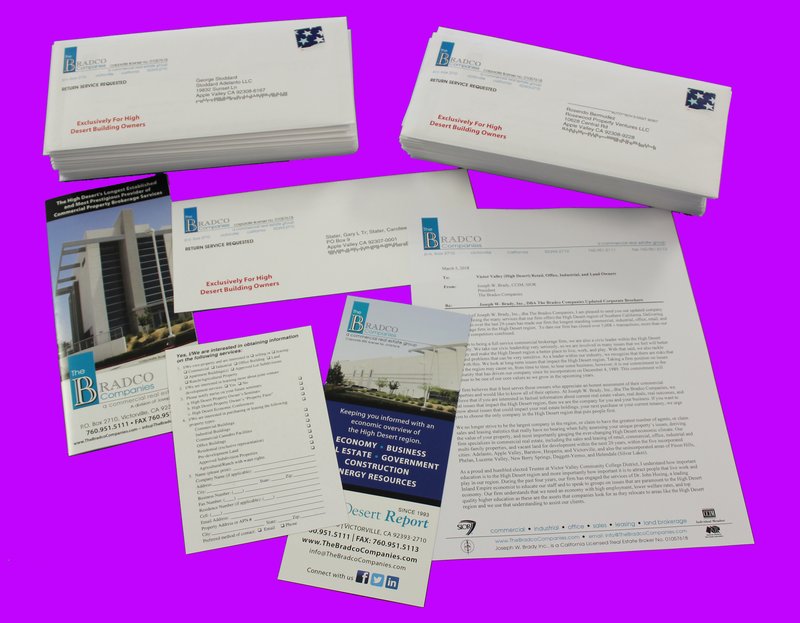 Posted March 23, 2018
One Stop Printers just completed another Direct Mail Campaign for Joseph W. Brady, CCIM, SIOR president of The Bradco Companies. Some may think that marketing mail is dead, I assure you it is not. When companies migrated to email and social media it opened up space in the mail box, and people like getting marketing mail if it applies to them.

The only thing that makes mail or for that matter email spam is not reaching the correct person. If your mail is highly targeted like The Bradco Companies which uses its own mailing list you have a much greater open rate and it will be read. This project included a corporate, and one specialty brochure along with a two page letter and business reply postcard and are quite effective. If you would like to learn how One Stop Printer can help you grow your business, give us a call at: 800-406-0982.

---
Political Campaign Postcards and Mailing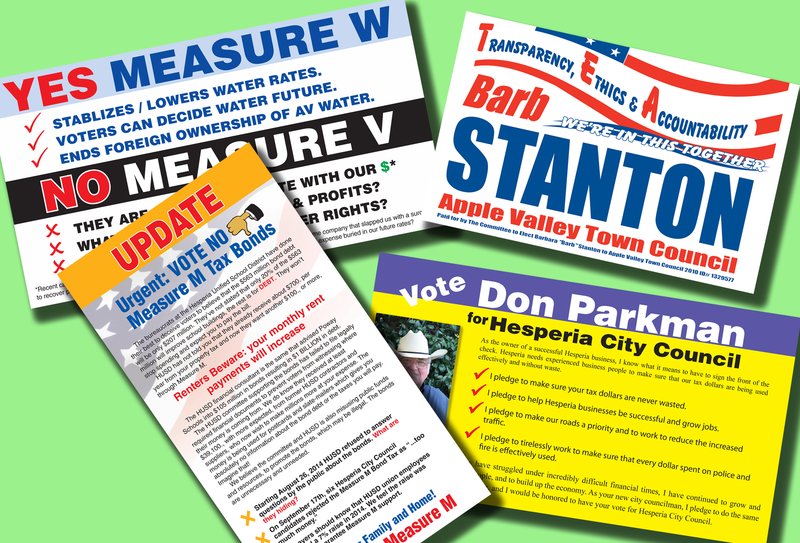 Posted February 16, 2018

Political season is upon us, although has it ever left, 2018 will see a slew of offices up for election from city councils, special districts, to county, state and federal offices. One Stop Printers caters to the local candidates running for office because that is where we can be of the most help.

County, state and federal candidates have the funds and backing to hire consultants for their campaigns which is not usually the case for city and special district candidates. That is where I can help, I have assisted many candidates through out the years with getting there message out using direct mail, some have even won : )

Seriously, most local candidates don't know where to start, One Stop Printers does. We will assist you in tailoring your message, targeting the most effective voters and timing. We only accept a limited number of candidates, so contact us today at: 800-406-0982 and see how we will help get you get elected.
---
Shipping Container Hand Tickets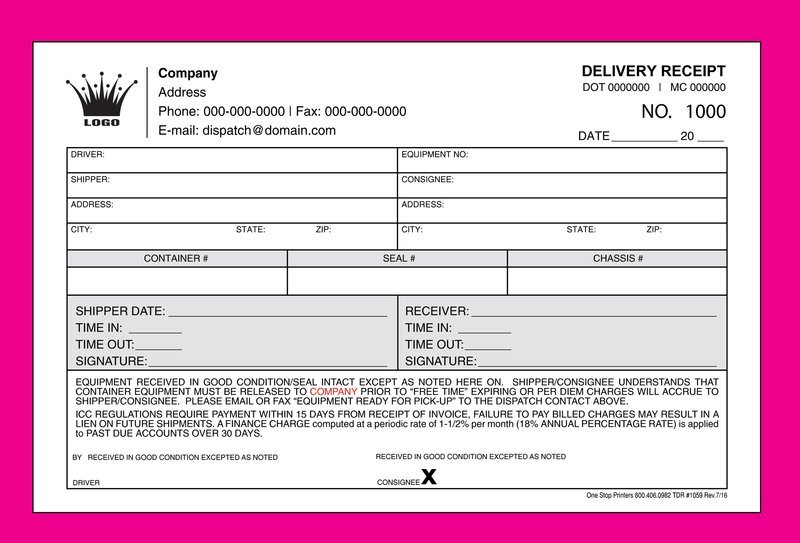 Jennie from a Southern California trucking company contacted me and said she liked a couple of trucking delivery receipts on One Stop Printers website but needed something just a little different.
She explained that her company carried containers and each truck only shipped one container at a time and did not need all the other information, just the container, seal and chassis number. In addition the disclaimer need to specific to her operation. Would I be able to help her? It didn't take long to create a hand ticket TDR #1059 to meet here requirements  that helped streamline the shipping process.
Once One Stop Printers has printed a form for you, we keep your artwork on file so reordering is as simple as a phone call and a reorder form is included with every order shipped.
Posted: February 6, 2018
---
Roll Labels by One Stop Printers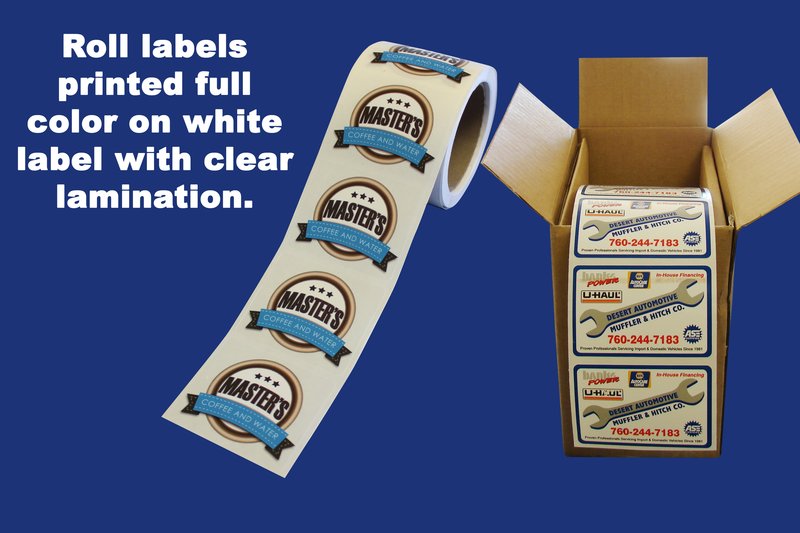 Labels come in many shapes, sizes and there is a large selection of substrate (papers) options. Whether you need a label for packaging or advertising One Stop Printers has the solution for you. We specialize in printing roll labels which are placed on jars, bags and boxes and can be printed one, two or full color. Some label applications only require that the label be printed on 60# white litho and others are use in more harsh environments and need to be on vinyl with a clear lamination.
Posted November 20, 2017

Business Forms Made Easy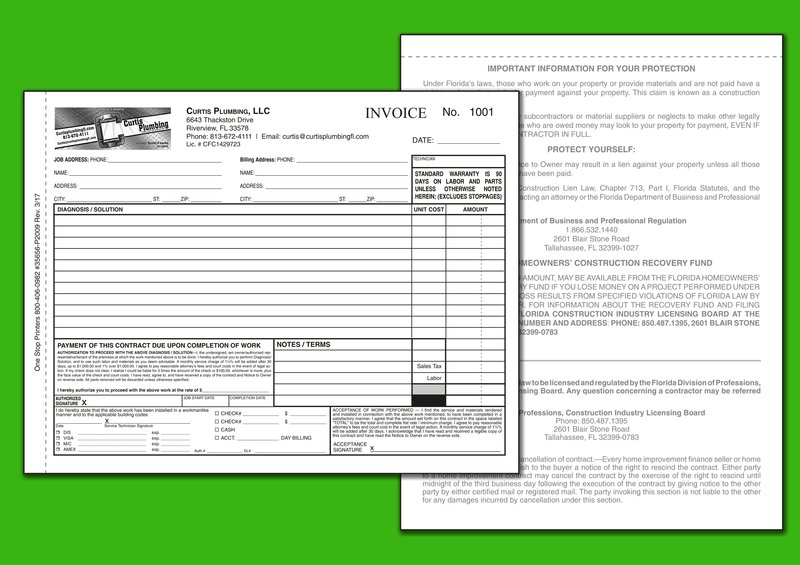 It turns out California is not the only highly regulated state; Florida is a contender, too. A little bit ago, I got an email form Curtis in Florida, and he liked One Stop Printers plumbing invoice # P2009 and would need to make changes. I let him know the changes to the form are no problem and would not cost anything extra.
The next question is where it got interesting: He wanted to know if I had anything specifically for plumbing repair work in Florida. I told him no, but if he got me the information I would make the changes, I didn't hear from him for a couple of weeks, when he did contact me again, he was still interested, but he didn't know where to start.
After over 40 years in the printing industry this statement didn't surprise me. What I have found is that my customers are very good at what they do, whether it is operating a store, manufacturing boats or plumbing. Where the difficulty comes in, is complying with government regulations. I told him give me a few days and I would see what I could do.
I looked up the Florida civil code for contractors and found what was needed, such as consumer protection, and contractor licensing notices, etc. With a little collaboration with Curtis and a couple proofs One Stop Printers was able to get him a plumbing repair order that met his and Florida's requirements and we saved him money, too! One Stop Printers disclaimer: It is our customer's ultimate responsibility to make sure that whatever is print for them, meets their requirements, but we will do everything in our power to assist them in the process.
This project went rather smoothly, but it really helps if a pamphlet from the supervising agency is provided when the order is placed, it provided an easy reference to get the job done quickly, minus that, we will do what we can to look up the requirements.
One Stop Printers recommends, and has found that if a proof is provided to a representative at the agency (in this case the Florida State Division of Professions, Construction Industry Licensing Board) before printin, they are pretty helpful and will recommend changes to ensure your are in compliance. If you are using a standard form and a complaint is filed by a costumer and inspection results… not so much. Email or call One Stop Printers today to see how we may assist you.
Posted: September 30, 2017
Every Door Direct Mail (EDDM)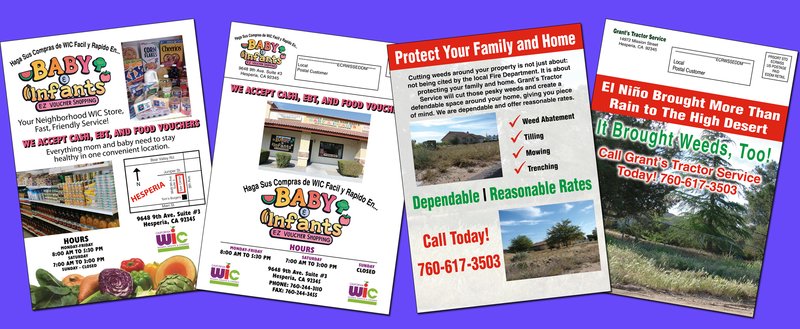 Every Door Direct Mail (EDDM) is a unique advertising mailing program offered by the US Postal Service. Whether you have a locally owned pizza restaurant in Hesperia, small retailer in Victorville or own a plumbing company in Apple Valley, EDDM gives small companies the ability to compete with the big guy's on a small advertising budget.
Postage is cheap at around 19 cents each and you can target those most likely to buy from you. Choose homes close to your store or in areas with incomes that more closely match people currently patronizing your store. You can start small and only mail postcards to one carrier route (which is between 700 and 1,000 households), or many more, it all depends on your budget.
Your message is up front and personal, mail boxes are no longer crowed like in the past and consumers are more likely to read something sent from a local company. You don't need to be an expert in design and EDDM when you have One Stop Printers in you corner. One Stop Printers & Direct Mail Service in Hesperia is a leader in direct mail marketing and has been helping business owners grow sales and profits in the High Desert for over 30 years.
The most popular size One Stop Printers & Direct Mail Serves prints is 6.5" x 9" and is printed full color both sides. Most include a map and coupons, no longer is you company lost in all the internet noise or the back page in the newspaper. When you compete with national company's with deep advertising pockets One Stop Printers levels the playing field with it Every Door Direct Mail program.
In all the years I have been assisting customer, is that your company,  If you need to increase your sales and profits give One Stop Printers & Direct Mail Service a call at: 800-406-0982, we would be please to consult with you.

Posted: September 25, 2017